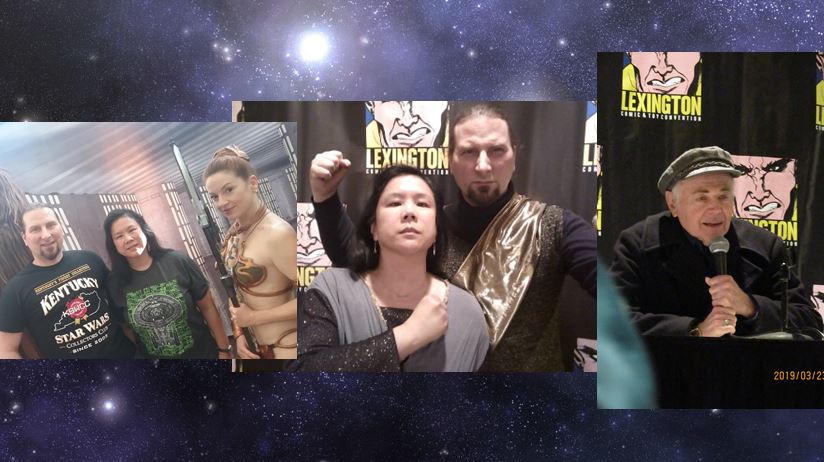 Intro: This AER covers a sci-fi/media con as experienced by the Phoenix Rising Quadrant Commander N'ayr sutai-K'cep and Executive Officer IXL Major Kavura vestai-K'cep of the IKV Predator. Yes, they attended another con. Will these two ever get a life?
Imagine a big corporate con that has guests from every fandom: Val Kilmer from Batman, Michael Biehn from Terminator, Michael Colter from Luke Cage, Sam Jones from Flash Gordon, and way too many more to name here. The biggest draw being Billie Piper, who played the first companion Rose Tyler on the modern-day relaunch of Doctor Who. The biggest draw for Trekkies was Walter Koenig, best known as Chekov on Star Trek. Or was he best known as Bester on Babylon 5? Either way, it was great to see him. The con was held at the Lexington Convention Center, which happened to be undergoing major construction at the time, with much of the building closed off. But that didn't stop the con organizers, who spread the con over three floors, forcing us to get in our daily steps as we made sure to visit both vendors rooms, one on the first floor and one on the third floor. The panels too were off in no man's land, somewhere in the building. But we found them, by golly, because there was no way were were going to miss our favorite celebrities doing their Q&A sessions.
Walter Koenig looked happy to see everyone. He was the only member of the original cast who was not a regular on the animated Star Trek series (TAS). But he did get to write an episode of TAS. Many think he was cut from TAS and then wrote a script, but he said he submitted the script first, and then was told he wouldn't be voicing the show for budgetary reasons. Of course, he loved doing Babylon 5 because he had more of a major role on that show. When asked about Gene, he said he could always tell that Gene Roddenberry was a great man, even though he wasn't that close to him. Walter is writing another autobiography coming out soon. When asked about Anton Yelchin, the actor who played Chekov in Star Trek 2009 and died tragically in 2016 at the age of 27, Walter said he met Anton on the set of Star Trek 2009, and that he was very intelligent and gracious, and they talked for a long time. Walter's son Andrew, who committed suicide in 2010, and Anton Yelchin were coincidentally buried only a few feet away from each other, so whenever Walter visits his son's grave, he also visits Anton's grave.
Billie Piper was very friendly on her panel. With her eyeglasses and a ponytail on each side, she looked every bit the girlish and feisty companion we remember alongside Christopher Eccleston and David Tennant on Doctor Who. She also has a history in show biz as a successful singer. She just directed her first film, and she also just had a baby a few months ago. She's staying pretty busy! She relishes her days on the very popular Penny Dreadful series. She loves brownies; it doesn't matter if they're from the edge or the middle. And she loves both British and American fans. We certainly like our companions to be easy going like that!
Once we finished with the panels, it was off to the fan tables. There weren't any Star Trek fan tables at this one, but we did find the 501st and the Rebel Legion. Crossing batleths and light sabers, we made friends as best we could. The two vendors rooms had everything from action figures to comics, jewelry to costumes, and mugs to paintings. We also walked around and saw comic book artists, wrestlers, and, oh, Power Rangers. Lots of superhero cosplayers too. And a few friends of ours were there getting their geek on too. And what would a con be without autograph signings and photo-ops? The autograph lines for Billie Piper and Val Kilmer were especially long. And the convention center had plenty of eateries, because fast food is another pretty common thing at cons. There was a huge turnout, and we heard it was actually smaller than usual. The building construction caused limited space and, therefore, limited memberships. But still, the space was packed, and we wouldn't have it any other way!
This AER was written by The Honorable Kavura.
Listen to Nayr and Kavura's podcast on vintage sci-fi, "StarPodLog", and their podcast on Star Trek, "StarPodTrek", on Blogger, iTunes, and Spotify. Join their Facebook group "StarPodLog & StarPodTrek". Friend Nayrand Kavura on Facebook. Follow them on Twitter and Instagram @StarPodLog.