SyFy Bartow 2019 Invasion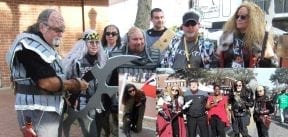 KAG is in Florida!
I know this for a fact now, because 6 months ago I was asked to gather all available warriors and invade Bartow Florida on February 16th during their annual SyFy Bartow Street convention. I could not pass on this opportunity to rally the warriors in Florida and possibly surrounding states. After all, I am the Games Chancellor, this is what I do. This is when I obtained Commander Jorn sutai-VamPyr's wisdom for the journey ahead. I know how to connect people but setting up for an event is different.
Before the Invasion could happen there had to be a battle that didn't and one that did. .
The road to Bartow was covered in many obstacles and enemies wanting to stop our mission . Our enemies tried many tricks to defeat us, and acted like the Romulan Tal-Shiar but their numbers were few and their tactics were transparent. They twisted my words, questioned my abilities and even used lies. This alone was worth a battle to the death but I had not the time to spend on it. The Terrans have a saying " Give them enough rope to hang themselves." something like that. We had ignored each annoying word battle like a mosquito bite. It was not easy but doable and worth it in the end.
Thinking this was all behind us another battle arose. On the eve of the invasion a supply transport was lost, forcing us to procure a few items at the last moment. What we could not obtain, we dealt with out it and dealt with it well, like the Klingons we are. I am happy to report no casualties.
On February 16th, 8 uniformed KAG warriors along with several other Klingons, some that now hear the call of the Klingon Assault Group, ascended upon Bartow, Florida in Klingon fashion. We quickly won the respect and camera attention from all around us. Our biggest fans were the smallest and the cutest. We gave out brochures, business cards and coloring sheets.
Though our schedule changed due to unfortunate circumstances, we were still able to invade the stage with "molor and Kahless" and again with "Klingons Have Vision". As always Starfleet was around to toy with, as well as a few other aliens. At the end, we invaded a local restaurant for food and drink with the day's reflection.
The Crew of the IKV Invictus and all Klingon Assault Group warriors in Florida , Thank you . We made some Klingon and Terran friends and everyone pitched in and helped.
In attendance
Cadet Lieutenant 'etlh mach vestai-lungqIj                         2nd Lieutenant cho'aq tai
Lance Corporal jaqwI'                                                              2nd Lieutenant modet tai- keres
2nd Lieutenant K'ogor tai-Kaku                                             Commander Jorn sutai -VamPyr
2nd Lieutenant Wayne tai-K'Ran
Special Thanks to : Commander tlhIn'toq sutai- toMeD and K'rum epitai-Urussig ( who could not be there due to last minute unfortunate circumstances  but were there in spirit.) .
It was a great day for the Klingon Assault Group, not only did other Klingons hear us loud but so did the Terrans.
KAG is in Florida and will no longer be silent!!!
Qapla'!