AER: Dark Star Quadrant – KAG KON 2020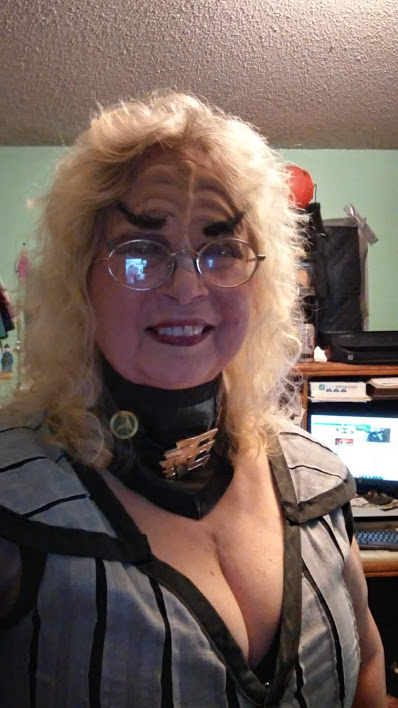 The Klingon Assault Group live streamed a virtual con on Discord and Twitch on June 5th, 6th and 7th. Dark Star Quadrant was represented by both attendees and participants in the panels, miscellaneous videos art show, and KAG radio. Notably were the Nefarious Ferrets (Frank and Donna Parker) of the XLV Hnoiyika who did an awesome concert in Romulan attire for KAG Radio and the IKV Executioner who presented a video of the ship's KAG room where two panels were held during the KON. I was also happy to submit some of my Trek art to the Art Show.
KAG KON 2020: Home Invasion started at 4 pm on Friday, June 5, but the Opening Ceremonies occurred at 6 pm with a great pre-recorded program by KAG Command. I attended that day in my KAG tee. Also most enjoyable was the 10 pm panel "Klingon Bar Tender: A Drink Mixing Class."
On Saturday the 6th at 3 pm, Kavura (Kathy Graham Peck), IXL Liaison for Phoenix Rising Quadrant, and I co-presented a panel on the "Imperial Xeno Legion." It was well received and most enjoyable to present. I think that the notion of Aliens in service to the Klingon Empire had a win that day. IDark Star Quadrant – KAG KON 2020 attended that day in armor and with me was the XO of the IKV Executioner, IXL Major Grakus vestai-Mjolnir.
At 6 pm was a fantastic concert from the Klingon Pop Warrior, followed by a very informative Klingon language panel and then the Axanar panel on how they designed Klingons for their production. That day Grakus and I enjoyed the KON very much, and feasted on much good food and drink, including a new way to serve cheesecake… Klingon style.
On Sunday the 7th at noon, marSal (Robert Poole) and I co-presented a panel on "KAG and Charities." marSal unfortunately had technical issues and our Fleet CO, Captain chIswI' sutai-lungqIj assisted with that as best she could. It fell to me to do most of the presentation and I hope it was beneficial for all who attended. Charitable support is a noble venture, but it does require a commitment to due diligence regarding money handling. A humorous note: the Klingon sunglasses that I ordered for use at conventions arrived on Saturday, so I modeled a pair on Sunday for fun!
It was an amazing virtual experience and one that can be enjoyed not only on Discord, but hopefully soon on Youtube so we can post links and spread the word about it. I am looking forward to the next one in 2021. Thanks to all the hard work by all who contributed and made it happen.
IXL Brigadier Keela zantai-Septaric
CO, Dark Star Quadrant
CO, IKV Executioner
DSQ IXL Liaison