AER: Vul-con, Vulcan Alberta Canada July 22-23 2017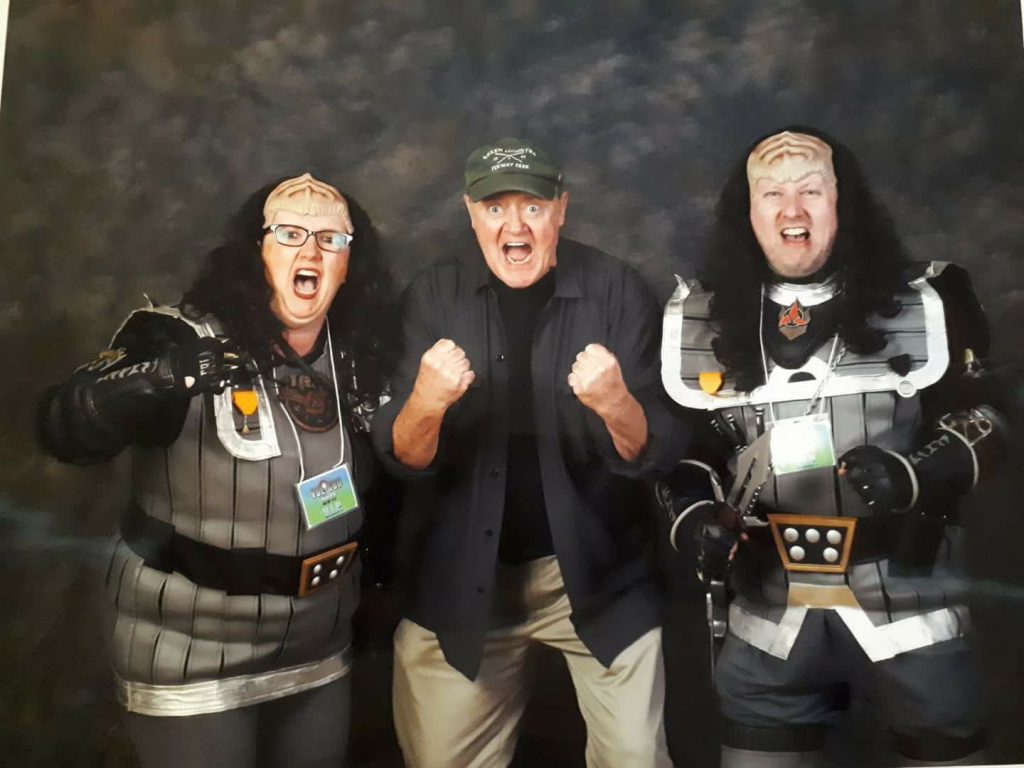 After event report for Vul-con, July 22-23, 2017.
Location, Vulcan Alberta, Canada.
Star Date 58542.7 (Friday July 21, 2017)
Myself (2Lt Vangor tai-Ragnar, now Lt) and L/Cpl Vixsor, (now Lt and tai, see Star Date 58548.1 for reason), departed home starbase about 0900 on course for starbase Vulcan for the annual gathering of the convention. The 2.5-hour travel to said Starbase was rather uneventful with little to look at, but did enjoy listening to an audio book about the first emperor of the empire, Kahless.
Once arriving at Vulcan, we checked into our quarters for the next few days, a place called The Vulcan Country Inn. The room was more then appropriate for a pair of warriors. After moving all our luggage from our shuttlecraft to our room, we proceeded across to the Trek station to procure our VIP passes for the convention and inspect the swag included with the VIP passes. We then made ourselves at home in our room watching human non-holographic videos (tv), after getting some food from the near by Subway.
After a while, Vixsor noticed Thought Admiral Kris epetai-Kurkura (John Halvorson), and Admiral Qel'lv zantai-Satir (Paul Carreau) wandering around the landing pad out front of the Inn. Greetings were exchanged between us and some conversation before retiring to our rooms once again.
Later on, we felt the need for sustenance again and decided to try the restaurant in the Inn we was staying at. Service was slow, took the better part of 10 minutes by staff to acknowledge we was there. While waiting for our drinks, Admiral Kris came in with Lt.CMD K'trok sutai-majjas (now CMD, see stardate 58548.1) (Troy Mcadams, CO IKV Restless Star, Coeur d'Alene Idaho USA) and Klara sutai-majjas (rank unknown, Angela Waycaster, XO IKV Restless Star). Conversations took place during eating including the next days plans. Half way threw the evening meal, Capt. K'Rau zantai-qulpach (Jaymz Smith, CO IKV Swifthawk, Edmonton Alberta) made his presence known, and took a seat at my table for a quick drink and talk. After our evening meal, which was sort of disappointing, greasy fries, over cooked chicken, we all went back to over separate quarters.
Around about 2030 hours, the federation personnel staying at the Inn proceeded to engage in a yearly pre-con Friday night parking lot/tailgate party where food and drink was plenty, and socializing was a must. We the members of the IKV Kabar took part in this activity meeting many interesting and fun people. Admiral Qel'lv engaged with some non-Klingon personnel for an impromptu jam session and music and song could be heard all about, although it not being Klingon opera, it was good listening. Captain K'Rau made an appearance at said party with lots of conversation taking part between all gathered. We left the gathering at approximately 2300 to get some sleep.
Stardate 58542.7 (Saturday July 22, 2017)
Waking at 0630 hours, Vixsor and myself went about our morning business of waking up, washing up, and dawning our armour and ridges so that we might meet our fellow Klingons at the designated location in prep for the up coming parade and naming ceremony at the park with the federation garbage scow, (battle cruiser). Location for the meeting was on the landing pad between the Inn and the Subway eatery next door.
When we rounded the corner, Admiral Kris had moved his shuttlecraft to the location as he had all the stuff needed to make a grand Klingon entrance, banner, drum, and symbols. Also, there waiting was Lt.CMD K'trok and Klara. We assembled the banner for which myself and Vixsor had the honor of carrying. Capt. K'Rau emerged from his quarters as we were meeting pretty much outside his door. We then noticed that the rest of the IKV Swifthawk crew who was attending the con had arrived but parked over at the Trek center so K'trok walked over and informed them of our starting point that morning.
Once Lt.CMD A'Kiel vestai-Daw (now sutai, see stardate 58548.1) (Cindy Burkholder XO of the Swifthawk), and Lt K'lay tai-Ar'Dur (Clay DeBeurs), Admiral Kris handed A'Kiel the symbols and K'lay the drum. After some practice of the drum and symbols, and some disapproving looks from those suffering from a hang over in the Inn, the "band" was ready to go. Admiral Kris then handed out campaign medals for participating in the mission to start. Once all was in place we matched off towards the federation scow with drum booming, and symbols crashing making a loud and glorious Klingon entrance.
Upon reaching the park for the naming ceremony, Admiral Kris bellowed out "who is in charge here", the scared feddies replied "you are". We was then informed that we was waiting on the arrival of the con guests before we could get things under way. During the wait, many photos was taken of the glorious Klingon contingent, and a peace was made with the federation crew that was there so more photo ops could be taken. While waiting a male in a gold feddie uniform approached Capt. K'Rau and myself asking who the KAG contact was in Medicine Hat for which at the same time I raised my hand and the good Capt. pointed to me. And just like that a new crew member for the Kabar, name is Dave Campbell (D'Gord of the Klingon empire).
Once the convention guests showed up, the re-naming ceremony commenced where the Klingon forces assembled found out that we was granted the street like we wanted instead of the park. With the street re-named to Klingon Way, the parade could now move off. Off and marching we went, lead by a vehicle of local law enforcement, then the town mayor, followed by a mobile space craft in the shape of an inferior human craft carrying the con guests, followed by us Klingons, then who ever wished to follow behind us.
After arriving at the end location, the Klingon forces broke away and headed back to our quarters to cool off as it was almost 30 degrees out. Once cooled off we all made our way to the convention hall. Some shopping was first on the agenda with stopping for pics to be taken by other convention goers. Then autographs and a photo op with chancellor Gowron. By this time the heat was getting much so it was back to our room to remove our ridges and armour.
Lunch was next on the list, Vixsor and myself made our way to Mama's Pizza, where the food and service was found to be the best. After lunch, it was back to the hall for more shopping, socializing, and fun.
Attended Admiral Kris's "KAG presents" where he talked about our victory with the road re-naming. After the Admiral's talk, we walked over to attend the Q&A with Robert O'Reilly (chancellor Gowron) where we laughed a gook Klingon belly laugh at some of his stories. Once the Q&A was over there was an hour till the dinner and dance, so Vixsor and myself went back to the hall and retrieved our shuttlecraft and sat in the CRC landing pad listening to a federation audio disc of star trek themed music till 1730 hours as cocktails were to be served at 1800 hours. Entrance to the evening dinner was late, but we was met there by A'Kiel and K'lay. We sat with the crew from the Swifthawk for the evening.
The meal itself wasn't that bad, but wasn't that good either, both A'Kiel and K'lay mentioned that the earth replicated burnt bird meat was dry and required a sauce to moisten it. The green salad with berries wasn't bad, but the cooked carrots and potatoes was slightly over peppered. One good thing was the earth beverage "pop" was free during the dinner, as this Klingon couldn't partake in alcoholic delights due to medications.
After the dinner was concluded the festival of dance was on. Capt. K'Rau was on the dance floor a lot showing the weak humans what dance was along with A'Kiel, K'lay, and Vixsor, I didn't partake in the dance as I was still healing from knee surgery. I took many pictures and holographic video of the crew from the Swifthawk and my mate getting down on the dance floor. A good time was had by all that night. About 2330 hours myself and Vixsor called it a night and sleep was required.
Stardate 58548.1 (Sunday July 23, 2017)
We awoke around 0730, and breakfast was supplied by Vixsor from Subway. Once we ate and was up and about we found the temperature to be on the warm side so we left the armour and ridges behind and dawned our KAG t-shirts. We was informed the day before of a schedule planned out by Admiral Kris by K'trok, with a KAG presents at 1230 hours and lunch at Mama's pizza with as many crew members that could attend. When we got to the hall, the first we had to do was a group photo up with the entire con guest panel. Once that was done we wandered around till Admiral Kris's presentation.
At the KAG presents, Admiral Kris handed out TOS Klingon agonizers and talked about plans for next year's Vul-con. He then talked about how he wasn't a fan of the 2nd Lt / JG ranks and with that effectively promoted myself and Vixsor to Lt and bestowed the honorific of tai on Vixsor as she was only a L/CPL. He then bestowed the honorific of sutai on A'Kiel, and promoted K'trok to Commander from LT Commander.
Once the Admiral was done, myself, Vixsor, K'trok, and Klara joined the Admiral for lunch at Mama's pizza where he proclaimed that Mama's would be the new Klingon clubhouse providing it stays open unlike our previous place of food and drink. He further talked about plans for next year's con and other KAG things. After lunch Vixsor and myself made our way back to the CRC to catch the end of Mr. Marc Okrands Klingon language workshop. Then followed that with the DS9 reunion Q&A which was cut short as the guests had flights to catch back to their own quadrants. After wandering around the hall till almost the end of the con, we caught A'Kiel and K'lay as they was about to depart back to their home starbase of Edmonton. Farewells and safe travels was exchanged as Vixsor and myself had our room at the Inn for one more night.
We retired back to our room to rest and think about the weekend and how we felt the con went. Shortly after our return Capt. K'Rau came by to have a bite to eat before he and his mate departed Vulcan for home. The food place in the Inn was closed so we went to the Subway next door and sat and chatted about all kinds of things. We walked him to his transport, exchanged good byes, then retired to our room for the evening.
Stardate 58550.8 (Monday 24 2017)
We checked out of our room at about 0830 hours after a good night's sleep. Kris, K'trok, and Klara departed earlier that morning so we wasn't able to see them off. Once we left we didn't head home, we ventured to a starbase named Drumheller to inspect the new Trekcetra museum and meet up with some of Vixsor's family. The museum was satisfactory and keep sakes was purchased.
We stayed the night at Vixsor's sister's place.
Stardate 58553.5 (Tuesday July 25, 2017)
Departed Drumheller at about 1100 hours for home, arriving home at approx. 1300 hours. Luggage unpacked, and a time of rest and reflection was at hand.