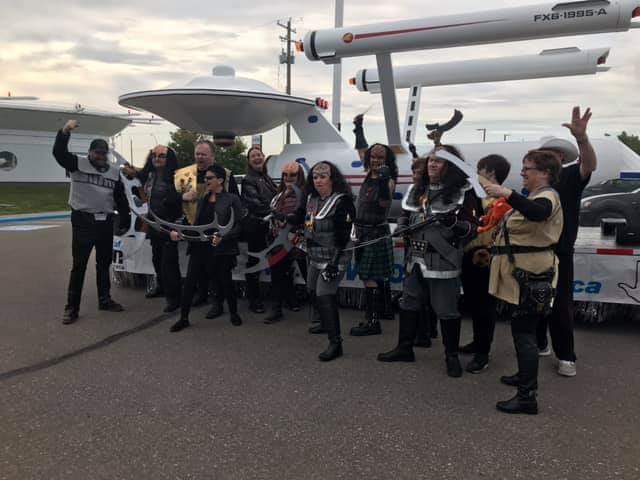 AER Vul-con 2019
Vulcan, AB
July 26-27 2019
In Attendance:
IKV KABAR, Medicine Hat
CDR Vangor
Lt. Vixsor
2Lt. V'Rell
SGT. Gord
IKV RAVEN'S CLAW, Drumheller
2Lt. Sh'ron
2Lt. Jagiq Dath
IKV SWIFT HAWK, Edmonton
Capt. K'Rau
LCDR A'kiel
Lt. K'lay
Lt. Korath
Lt. Teelis
IKV PROUD VICTORY, Vulcan
Ens. K'Lawr
Stardate 58556.2 (July 26, 2019)
The crew of the IKV KABAR awoke, except Sgt. Gord who left the day before, at about 0730hrs and proceeded to load up the bird of prey to set forth to Vulcan for the annual Vul-con convention. We first had to make a stop to pick up some supplies for the trip, food and drink, then stopped to fill the fuel tank, then set course for Vulcan.
The trip was uneventful for the 2.5 hour trip. We arrived at just after noon, meeting up with the crew from the Raven's Claw as we was sharing a room for the weekend. Once we was checked in, and the nice Inn keeper upgraded our room to a larger one, both crews unloaded our ships into our room and got ready for the upcoming days to come. The crew from the Raven's Claw had arrived before the crew of the Kabar, and had retrieved their passes for the weekend, so the crew of the Kabar ventured over to the trek station to collect our passes, and see if any new items was available at the gift shop. Once the shopping was done, food was in order for both crews, and we hit up the Subway next to our hotel. Just to add a foot note, this was the first Vul-con for the crew of the Raven's Claw, so they was both rather excited, and a little unsure of what was to come over the two days.
Once both crews was properly feed, we ventured out so the crew of the Raven's Claw could get the layout of the town. I needed to make a stop at the local alcohol distributor to purchase the supplies I needed to mix up a vat of blood wine, and Romulan ale for the tailgate party later that night as I had promised the party organizer that I would bring the libations for the thirsty group. Both crews returned to our room, dropped off the soon to be drinks, then boarded the Kabar ship and found the grocery store for some other snacks and food stuffs. Once we was done there, it was time for the advanced viewing of the vendors room for those of us who had VIP passes for the event.
Once at the vendors hall, both crews invaded to see what was available. This is where we ran into Sgt. Gord as he had volunteered to be security for the weekend at the convention, and where we found that Ens. K'Lawr of the Proud Victory had a table set up there in an attempt to recruit for his ship. At his table he had merchandise that he had made to promote his ship, hats, coffee mugs, coasters, water bottles, and KAG patches. I took some non holographic images of the items and sent them to Adm Kris as the Proud Victory was his baby when he was in Vulcan last year. The Admiral liked the idea, and I passed this onto the good Ensign. We had also ran into Lcdr. A'kiel and Lt. K'lay, who was in full armour and ridges for the meet and greet later. We chatted for a bit, then parted ways. The advanced viewing was from 1500hrs to 1700hrs, we left at around 1600hrs as the guest meet and greet was being held at 1800hrs and we needed to freshen up.
Upon returning back to our room we found that the people staying in the next room was friends of the empire, mostly friends of Capt. K'Rau, and they invited us into their room for a pre-meet and greet drink, and visitation. It was a short time later that K'Rau, and his parmaqqay arrived to the room and we all got to catching up. During this time, I presented the good Captain with a blood wine goblet that I had gotten for the command crews for the Kabar and Raven's Claw, and a zip up hoodie that looked like warrior armour, only to find out that he already had one, I had a similar hoodie for Ens. K'Lawr as well. K'Rau had to leave between 1730 and 1800 as he had to report to the trek station to meet up with Mary Chieffo (chancellor L'Rell) as he was to be her host for Friday and Saturday.
Just prior to 1800hrs we left to head over to the meet and greet to ensure we got good seats, which wasn't hard as the location was a mere couple hundred meters away from our hotel. Once inside we got a table right up front where we was joined by the 3 members of the Swift Hawk and we awaited the arrival of the three guests, Mary Chieffo, Bobby Clark, and Tracee Cocco, well technically there was four guests as Spock look a like from Germany was listed as a guest, he was already there, and had been present at the vendors hall for pictures.
The three main guests arrived, and we all enjoyed the stories that was told. Capt. K'Rau afterwards introduced all members of KAG that was in attendance to Mary, and we all chatted with the guests for a while. A'kiel,and K'lay departed shortly after as they was staying at A'kiel's family an hour way. Before they left, K'Rau informed us all that we'd be in the parade the next morning as honour guards for all three vehicles, and to be at the trek station for 0830. K'Rau pulled me aside and asked if it would be ok if he presented the armour hoodie I gave him to Mary seeing as he already had one, I said I had no objections and that it would be a great idea. Just before 2000hrs we left as I still had to mix the blood wine and Romulan ale for the tailgate party which was to start shortly.
Once back to our room, I mixed up almost 10L of each beverage, and we headed off to the party. Food was eaten, drinks were drank, stories was told, and a great time was had by all. The crews of the Kabar, and Raven's Claw retired back to our room around 2330 with a few others in tow where we chatted till just after midnight, then decided it was time to get some sleep as we was planning on being up by 0700hrs to eat and get ready for the parade.
Stardate 58558.9 (July 27, 2019)
Even though I had my alarm set for 0700hrs, we was all awake by 0630. Both crews went down the hall of our hotel for the free breakfast, then back to our room to get ready. As the parade took us from the trek station to the convention/vendors hall, I thought it best to take one of our ships over to the hall so we didn't have to walk all the way back, so Sh'ron followed me over and drove us both back once I had parked my bird of prey. Once ready we made our way across the street and waited for everyone else.
Capt. K'Rau arrived shortly followed by A'kiel, and K'lay. Korath and Teelis arrived after. We got our assignments to who was with which guest, as K'Rau was driving Mary. While waiting for the parade to start, the KAG 30th anniversary ribbons that Adm. Kris sent me was distributed out to the uniformed members, pictures were taken by many on lookers as it seemed once again we Klingons was the main attraction till the guests arrived. Korath informed me just prior to starting the parade that the Swift Hawk had some certificates made up to induct Mary, Bobby, and Tracee as honorary members of KAG, luckily I had four KAG patches with me so I said I'd give them all one along with the certificates.
The time had come, and the parade was off, local law enforcement in the lead to block cross traffic along the route, followed by the golf cart with Mary in it with K'Rau driving, myself, Sh'ron, A'kiel, and K'lay posted at all four corners. Next in line was the cart with Tracee, her agent driving, with V'Rell, Vixsor, Jagiq Dath, and Gord protecting, followed by Bobby in his cart, with a feddie driving, flanked by Korath, and Teelis. We reached our destination without incident, other then some how Mary's cart and security detail managed to leave the rest of the parade a block behind. Once everyone caught up some one said we should start the KPS, Klingon Protection Service, using the motto "We haven't lost a client since 2230, except for the ones we've assassinated".
With the guests inside, first up was the "costume contest" for which K'Rau won best Klingon for second year. Then it was off to the Q&A with Bobby and Tracee where once it was over, Capt. K'Rau called all members of the Northern Storm Fleet to the front where they was presented with their certificates and KAG patch. After that we dispersed till it was time for Mary's Q&A. We all rushed around for photo ops, autographs, and checking out what the vendors had for sale as the convention was done by 1700hrs that day. Myself and Vixsor went by the Proud Victory table and gave Ens. K'Lawr his armour hoodie and a set of rank pins, then over to the green screen for our photo op with Jens Dombek, the Spock look a like from Germany who we chatted with the night before and found him to be a very nice guy. Seeing as I had an extra KAG patch, I gave it to him, making him an honorary Klingon, for which he was very happy and couldn't say thank you enough.
While I was waiting for the photo to print out from the Spock look a like, Mary's Q&A was starting, so I sent Vixsor, V'Rell, Sh'ron, and Jagiq ahead to get seats before they filled up, with the crew of the Swift Hawk already there. Once I got the photo I joined them in anticipation of the upcoming ceremony. After the presentation to Mary, it was quickly off to the last two photo ops as they was back to back. With photos in hand both the crews of the Kabar and the Raven's Claw figured it was time to head back to our room to cool off as it was 27-28 degrees Celsius, and with wearing a set of ridges and mostly vinyl armour, myself and Vixsor had probably sweated 5 pounds off, and we really needed to get out of uniform. It was just before 1600hrs, vendors hall closed at 1700hrs, and the dinner was at 1800hrs.
Back in our room, I jacked the A/C up as high as it could go and stripped my armour off. Those that was staying in that room started to relax a bit with a couple falling a sleep when at 1630 Capt. K'Rau texted me that he needed all Klingons back to Mary's table ASAP. Vixsor and myself didn't want to put our TNG armour back on so we broke out our TOS uniforms, put them on, and the five Klingons in room 116 made our way back to the hall. We all figured that K'Rau was going to present Mary with that hoodie, my surprise when we got there that K'Rau called me up in front of Mary, and the chancellor herself presented me with my promotion from Lt to Commander. I was speechless, I knew the promotion was coming, but didn't expect "the mother of Klingons" to preside over the presentation of my new rank pins which K'Rau placed on my uniform.
After my pins was on, and hands was shook all over, and Mary congratulated me, we noticed that Jens was there watching, so as Vixsor and myself had discussed earlier, and I had a third armour hoodie, Vixsor presented it to him as a gift from the Klingons. For a Vulcan, he got a little weepy from the gift and couldn't believe how generous we Canadians are. By this time it was 1700hrs, and the vendors room was closed, and the dinner and dance was in an hour, so we was all getting shooed out. Couple members of the two crews needed to get some earther currency for the bar at the dinner so we made our way over to the closest bank, Then back to the building where the dinner was being held so we could grad a table for all of us going to the function which was everyone except Korath and Teelis as they headed back home. A'kiel and K'lay had also by this time stripped off the ridges and armour was was now wearing human clothes.
|Cocktails were served at 1800hrs with the food being served at 1900hrs, so with this time once K'Rau and his parmaqqay arrived, we went up to the head table and presented Mary with the armour hoodie who put in on right away and was surprised that we had such a gift for her. At just after 1900hrs dinner was ready, the head table of guests went first, then the table of the town council, then the Klingons, hahahaha. Food was very well prepared even thought it was human burnt cow meat, couple different salads, potatoes in lemon dill sauce, and mixed veg in a peppered cheese sauce. Where was the gagh, the rokeg blood pie, how about some pipius claw, would have killed for a scrap of bregit lung with a splash of grapok sauce. Maybe they didn't have a good recipe for it.
With dinner done, it was time for the dance, some of the feddies left before it started, but most of us Klingons stayed till the very end at just after midnight. I took a total of 25 non holographic videos of the action and posted them to my human YouTube channel for all to enjoy. The crews of the Kabar and Raven's Claw made our way back to our room, Capt. K'Rau made his way back to his room at a different hotel, A'kiel and K'lay left about and hour before the dance was done as they had an hour fight back to where they was staying.
Stardate 58561.6 (July 28, 2019)
We woke up around 0900 and decided we needed food, except for 2Lt. Jagiq Dath who needed more sleep even though he was the youngest of all of us, so we invaded the local A&W for breakfast. While we was there eating I got a text message from K'Rau, he needed to get his bat'leth that he had lent me the day before for the parade, luckily it was still in the back of my bird of prey which we took to go for breakfast, so he came over and collected it. After breakfast we went back to our room and woke up Jagiq and dragged him over to the trek station to see what was left for sale. The lady that's in charge of the trek station said that for next year she was gonna try and get more Klingon items in. I made off with three different Klingon t-shirts, the only ones that they had that I didn't already have. We said our god byes to K'Rau as he was heading back home after he was done spending some more credits at the trek station.
The crew of the Raven's Claw also had to depart once we got back to our room as they both had to deploy to their human jobs the next morning, we of the Kabar was on holidays and had the room for another day as Vul-con usually ran Friday-Sunday so I book the room till Monday morning. We relaxed for the rest of the day, only venturing out for food. The next day we would leave and travel up to visit with Vixsors and V'Rells parents, only returning home on stardate 58569.7 (July 31, 2019).
Please note I use a stardate calculator app on my phone to get my stardates, so they might not line up with what others may come up with.
Qapla'
Commander Vangor vestai-Ragnar
CO. IKV KABAR
Deputy Fleet Commander, Northern Storm Fleet.