"Ze Next Convention" Evry-Courcouronnes, France, Europe, Planet Earth, Alpha Quadrant.
May the 13th and 14th 2023
It's not a convention I would have attended normally, but when a Star Trek actor from one of the older series comes to France, it is a rare opportunity not to be ignored.
I don't own a car and where most conventions I attend are easily reachable by public transportation, Ze Next Convention is not one of them. So I took two days off from work in order to handle the car rental operation.
Friday I took the car, brung it to my house and filled it with Star Trek and Klingon stuff. Then I departed.
On Friday, the con is open only to allow clubs and merchants to set up their exhibitions. I go in after a quick stop at the hotel nearby to get my keys.
Here I meet our KAG comrade Vagh Du'kat, fellow members from the French Star Trek Club and allies from the Starfleet International's USS Versailles and a brand new french club called Section 31. Most of the people here are members of several clubs.
We set up what we can and leave the rest for the next day.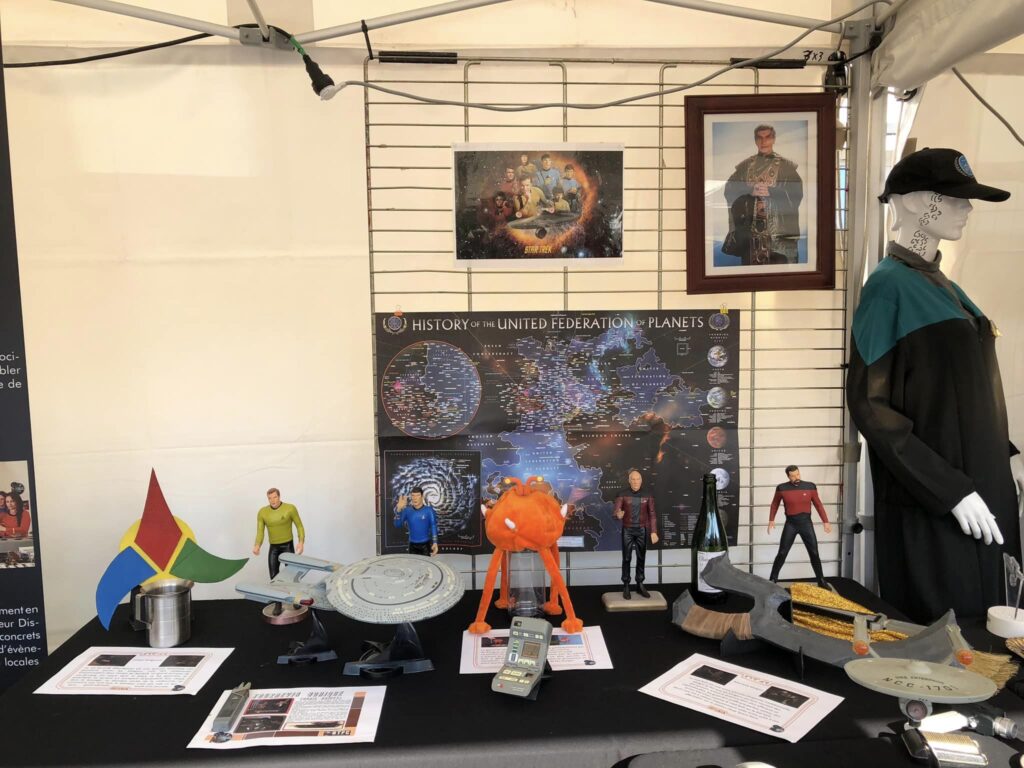 We went to the restaurant, had a good meal together and got back to the hotel to have a good (but short) night of sleep.
On the next day, we arrived before the public opening of the con to finish setting up. I took special care of displaying the klingon welcome banner where it can be seen.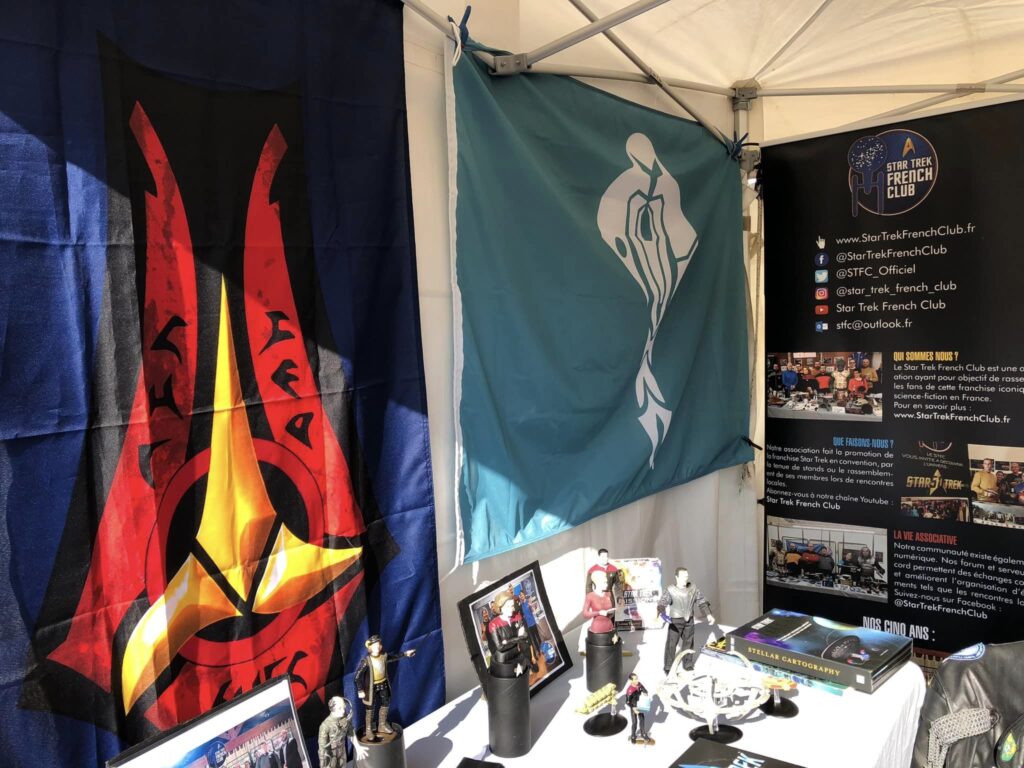 The con provided a locker room for clubs to use to put on our cosplays.
We've had the pleasure of meeting many intrigued onlookers interested in our booth and eager to chat about Star Trek.
Eric and Debra Stillwell came to speak and take pictures with us several times along the day. (Eric was a guest in the con).
They are wonderful and friendly people, Eric is pretty humble about his work on Star Trek.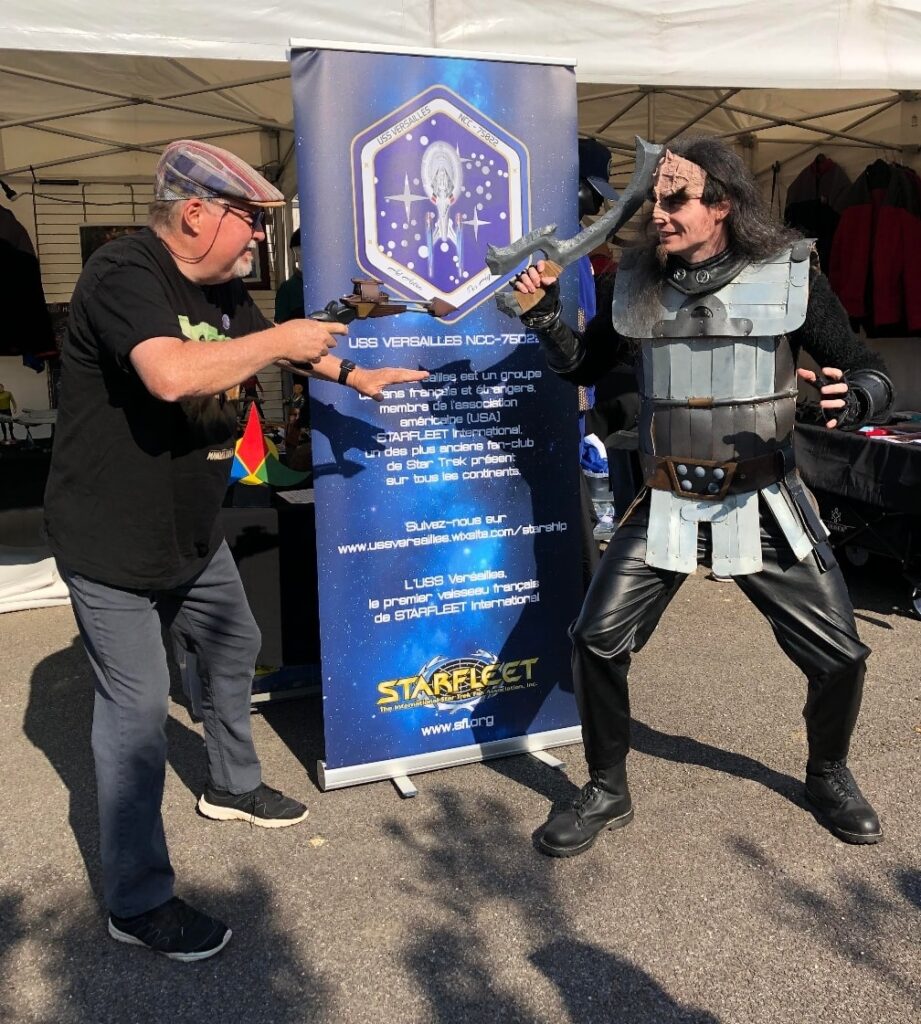 Later in the day, Robert Picardo pass in front of our display and exchange vulcan salutes with the starfleet folks among us. I do a klingon salute and say "Qapla'!", and he does the same! I am so happy that he did!
In the afternoon, I went to the photo booth to get a picture of me alongside Robert Picardo. One of the former presidents of the french Star Trek club brung his captain's kirk chair and the club provided a tension banner displaying the Enterprise E bridge. Weird mix but still cool.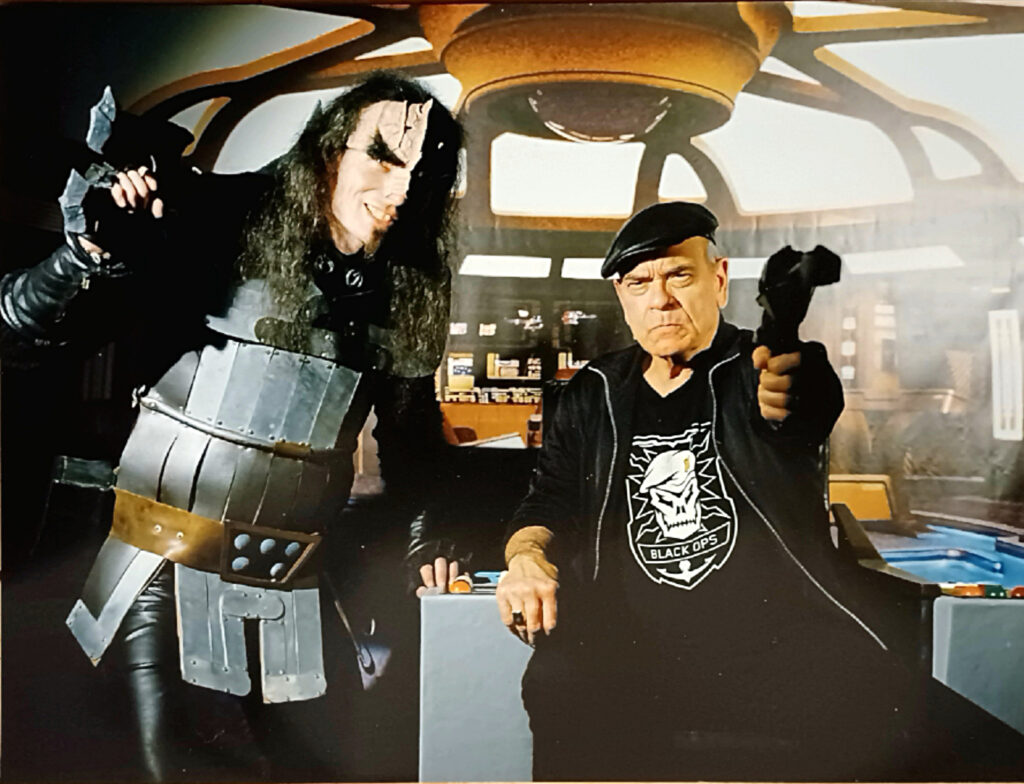 Mr Picardo agreed to hold my disruptor for the photo. I love the result.
For supper, the con provides a buffet for all clubs and merchants so we eat all together and me and the actual president of the french Star Trek club had some time to play on the Star Trek pinball that was available. It was really fun.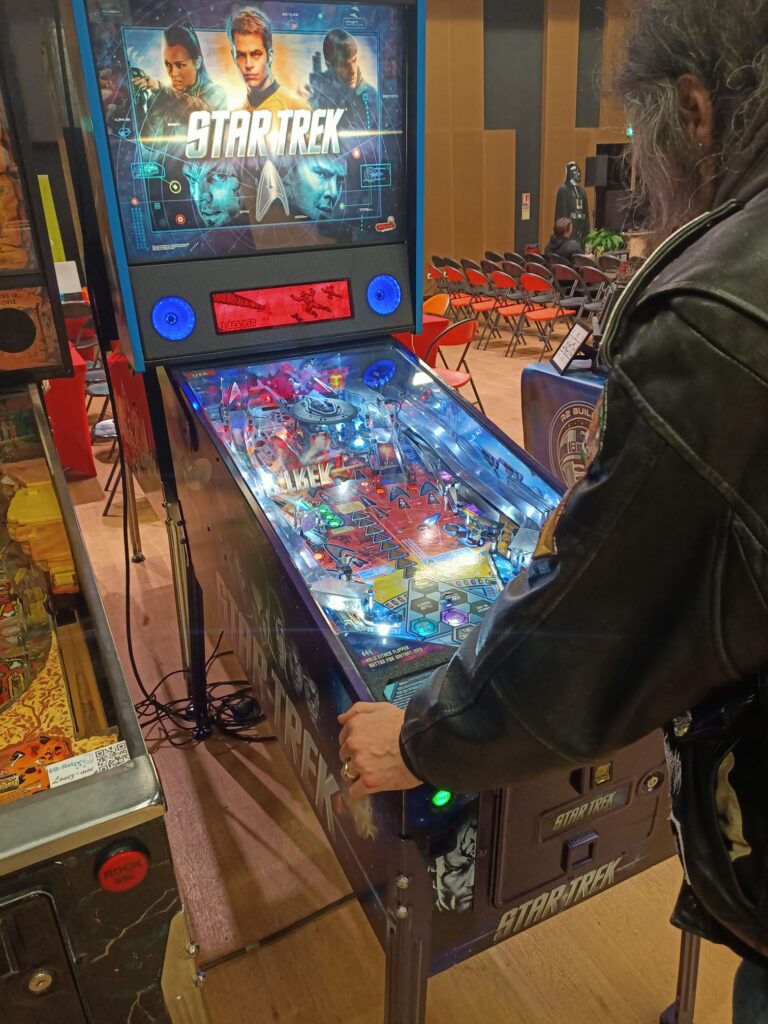 In the early afternoon of Sunday, we gathered with Stargate and Star Wars cosplayers in order to take part in a "haie d'honneur" for the two guest actors, Robert Picardo and Joonas Suotamo (who play Chewbacca in the new movies). They became the head of a parade spiraling into the con.
We followed them until reaching the stage and stayed in front during the conference and Q&A.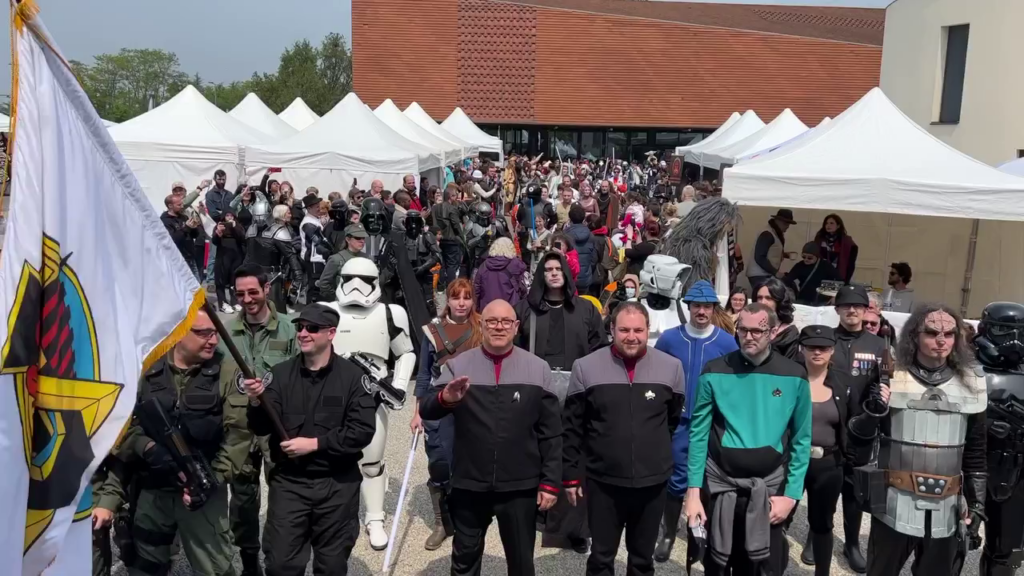 I was able to ask him about how different it was between playing in professional Star Trek and playing in a fan film like Star Trek: Renegades. He said "The budget was minuscule, the set was minuscule, the crew was minuscule, and I don't remember the story". But he also said that he was happy to work on this with his good friend Tim Russ.
Later in the day, the con allowed our Star Trek clubs to do a group photo with Robert Picardo for free, to thank us for our participation.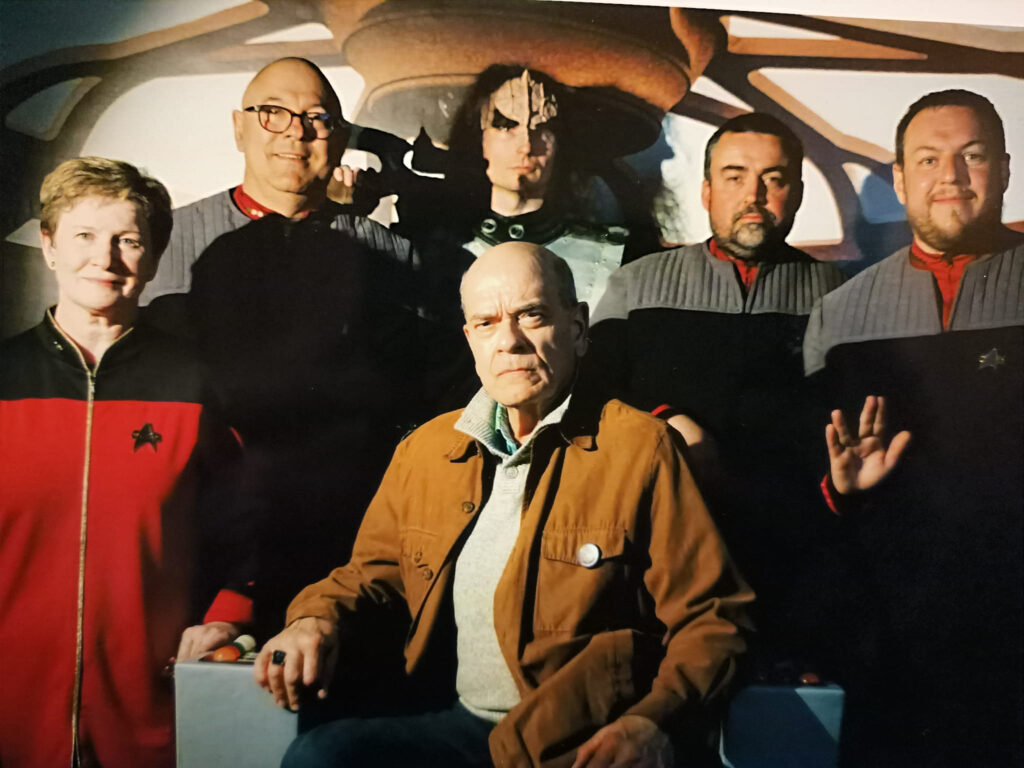 Again the day was filled with onlookers going to our booth and happily chatting about Star Trek. Eric Stillwell came to speak with us again, it was awesome!
After the con closed we helped each other to bring back all our Star Trek stuff to our cars and it was time for goodbyes.
I got home safely and returned the car the next day.