The acquisition of a uniform is a Klingon's first challenge.
Completion of a first uniform is the event that traditionally sets the new member on the path to achieving the recognition of rank within KAG. Getting a new member suited up in a borrowed uniform and taking them out in public is a good way to inspire them to get their own outfit together. Providing new members with tips on construction, or contact info for people who sell uniforms, is an important way of being helpful to them.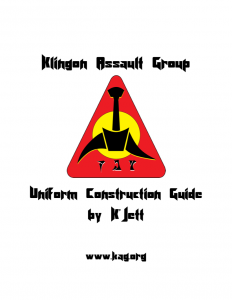 The KAG Uniform Construction Guide, by K'Jett (Jett Borkowski), contains detailed information for building your own Klingon tunic, gauntlets, spine armor and more. There are also individual guides for additional uniform pieces on the KAG Wiki Guide page.
It isn't necessary to spend a lot of money on a uniform.  A 'Classic Klingon' outfit is perfectly acceptable.  It is the prerogative of each Ship's CO to approve their own crew member's uniform.
And don't forget, there is room in KAG for aliens other than Klingon.
The Imperial Xeno Legion can provide tips on costuming for other alien species, so if you have members on your ship who want to explore the possibilities, put them in touch with the IXL.