The Official Publication of KAG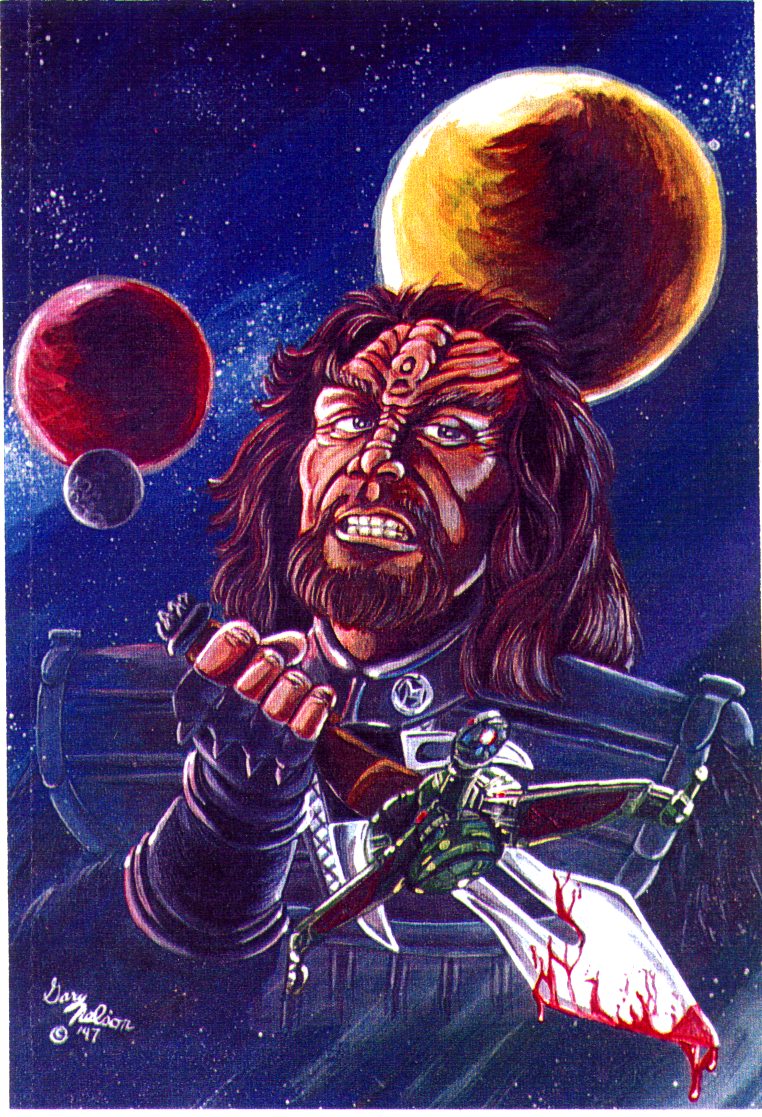 #53

---


Greetings! Let's get to it.
Promoted to CAPTAIN: KHAR'TON/Ed Charlton,
3798 Susanna Dr, Cincinnati OH 45251 charlton@fuse.net
Promoted to COMMANDER: THLIN'TOQ/Clint St Laurent,
6505 Mecham Ave, Las Vegas NV 89107 CO@kahless-ro.org

Both are exceptional Klingon officers; both are worthy of your congratulations.
Some time ago, I relinquished command of KAG so that I could play once again. My idea had been to turn the day-to-day operations over to the two deputy commanders.
What followed over the next months was schismatic; some members of KAG were treated as non-entities, while some fleets were left foundering. The club had stopped being enjoyable for too many people.
I relieved Kroesh from command. No other KAG admiral wanted the role of "KAG Commander." Too stressful. Too "political". These are true; it's a thankless job. (Trust me...I rarely get thanked!)
But one Klingon came forward and said he'd take the job...but only as a leader, not a "commander". He'd go back to how it used to be done, by example, not by arm-twisting or back-room deal-making or the issuance of paperwork.
He's led a fleet in KAG that's had phenomenal growth and hardly ANY inner turmoil. To some he is rash and impetuous. Some say "he doesn't take KAG seriously enough!"
To which I say "GOOD!" Why should much of this be taken seriously? When it gets serious, somebody ought to be saying "Get real/get a life!" Our playtime in this hobby shouldn't be stifled by bureaucracy and paranoia.
He has asked that the Five Rules of KAG stay in effect. These are:
(1) Have Fun
(2) Don't embarrass the club
(3) No live steel
(4) Sign no treaties
(5) The Epetai makes the rules
I am the Epetai, and KUURIIS is the new Leader of the KLINGON ASSAULT GROUP.
GO FOR GLORY! AGAIN!
KRIS
John Halvorson
2550 Purvis Drive
Burbank, CA
818.569.3021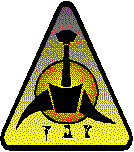 KRIS epetai-KURKURA
bg355@lafn.org
Thought-Admiral
KAG Founder
---
Cover art for this issue of MINDSCANNER
was provided by Gary Nelson,
Cmdr. Qo'rraQ of the House Veska
---
For the Klingon Assault Group
by Kuuriis zantai-Qaaluhr
kuuriis@juno.com
Greetings,
In a few weeks KAG will mark it's first ten years. Not "ten years", or "our tenth anniversary" but rather "it's first..." Our first decade. That phrase looks forward, to the things we'll be doing tomorrow. It invokes the future. A club that started as an idea has become, over its first ten years, an organization that spans the globe.
A few simple concepts-- no dues, few rules, and a premium on personal freedom have allowed this club to flourish in unprecedented ways. The diverse creativity of the members of KAG has given fandom so many new and amazing venues for all fans--not just our members--to explore.
Even as I write this, new ways to be Klingon--or other things--are being devised. New types of fleets, new divisions and departments, a whole new civilian arm of the club-Who knows what wonders the members of KAG will create in the next ten years?
It is the combined effort of members everywhere that has brought KAG to the threshold we stand upon today, looking toward the future. It is a milestone we should celebrate.
I propose that we celebrate KAG's first decade by going out and showing the world that we're here. Parades--but not in the usual way. Let each quadrant--or fleet-- choose a parade, and have each ship in that quadrant or fleet march in the parade. Imagine the usual parade crowd multiplied to include an entire fleet! In addition to showcasing the members of KAG, it brings us all together in a project that will showcase KAG to its members.
And afterward, well I think we'll all do what Klingons do best---PARTY!
So let us all, members of KAG, together, raise a tankard of bloodwine in honor of KAG's first decade, and the future.
A future that we will make glorious!
KuurIIs
For The Klingon Assault Group
---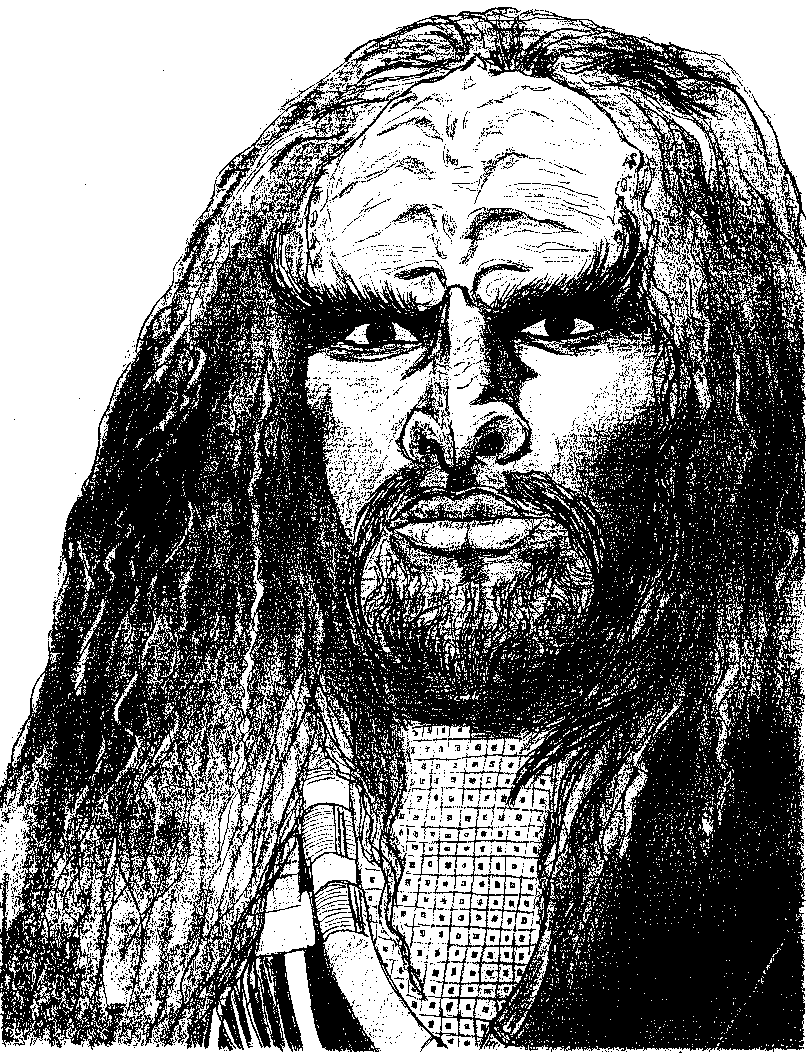 Artwork by Kerla
---
There are questions as to the current status of KAG. Discussions could not work out a way to patch up some differences therefore the changes mentioned last month will remain in place.
Thought Admiral Kris' claim as leader of KAG is not considered valid in the Dark Moon or Ring of Fire Fleets. Therefore I will remain in the position as KAG Commander. Should fleets, ships or warriors outside these two fleets wish to recognize this position then arrangements can be made to include them in the coordinated activities.
To help clarify matters and Rule #5, the wording needs to change. For the two fleets and anyone else who sees the wisdom in this change, Rule #5 will now say "The epetai made the rules. No more rules need to be written."
Nobody is removed from KAG. Everyone is still in KAG however the Dark Moon and Ring of Fire Fleets will continue to operate without interference from outside their regions. Their goal is to use the basic intent of the naval guidelines yet take the regional and cultural differences into more consideration. The ships and warriors of those fleets will continue to communicate with their brothers and sisters in KAG.
The divisions may remain intact but are not required by the fleets. Instead each fleet will continue to develop their own versions of these, including QM and Force ReCon. The divisions can be resources to the fleets but with no control over people running those departments in your fleets. Division Leaders will be considered as peers to the ship commanders, not as their superiors.
The development of new divisions or groups within KAG is always encouraged. Warriors are free to seek out these new avenues to express your klingon spirit. The use of the listservs for idea exchange is good and should be considered. If people wish to consider this a Council then it is to a point, but for discussion only, not politics or ruling on KAG policies.
At this time there is no need for a new command structure for KAG. The Command structure remains.
For KAG to have unity it needs a voice for all to hear. The MindScanner is a perfect place to voice all opinions, ideas, and boast of achievements. As long as the MindScanner remains politically neutral then it is the hope to one day unite everyone under one banner again.

Kroesh Septaric
KAG Commander
Larry Septrick
35-L Quail Hollow Rd.
Greenboro, NC 27410
---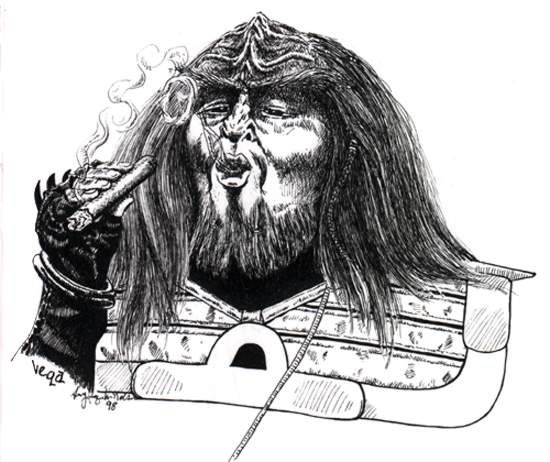 Artwork by Veqa (Amy C. P. Nelson) of House Veska
---
A Note from the Original Klingon "Bear"
Greetings Members of KAG!
I have officially resigned as Deputy Commander of KAG due to the politics and constant innuendoes aimed at the Command of KAG. I do not want to be in "command" of anyone and cannot presume to be.
I am still an Admiral in KAG, I still continue to do what I can for the membership of KAG.
I am working on revamping Quartermasters and a new project called "HomeWorld". I am also continuing to support our KAG brother and sisters abroad! I am always willing to assist, advise or respond to members of KAG who request it.
The attitude and actions of certain other members have led me to this decision. By stepping down as DC, I am no longer involved in the pettiness and bickering that has caused KAG to be split. I am not siding with anyone and will continue to be there for any member of KAG.
It's my hope that KAG makes it through this transition and continue to do what it has done for so many years, which is "Have Fun!"
Qapla' batlh je

Kragtowl (Bear) William Reed
Epetai of House Trekkan
2720 NE 42nd Street
Kansas City, MO 64117-1604
trekkan@aol.com
---
What is HomeWorld?
The concept to develop a aspect in Klingon Fandom that provides avenues for creativity, ingenuity and most of all camaraderie! It is strictly Klingon since it is based on the home of the Klingon Empire!
Who can join HomeWorld?
It is open to all members of Klingon Fandom, no matter if they are uniformed or not, and no matter what organization they belong!
What makes "Homeworld" different from other Klingon Teams?
It's emphasis is on the life of the Klingon homeworld, with less emphasis on the military. It's levels of achievement are based on one's accomplishments in their area of interest, not at the whim of an individual.
What kind of structure is HomeWorld?
It has three sections; Guilds, Orders and Government.(These are described below.) From these areas are individuals who serve on the "Grand Council". The Grand Council provides assistance in all areas of development of homeworld. The Grand Council is NOT a ruling body, but a point of contact for experience and leadership.
GUILDS - are your artisan groups, like tailors and seamstresses, armorers and weaponsmiths and so forth.
Levels of achievement are:
Novice
Apprentice
Journeyman
Master
What is required to accomplish these levels are established by the guild.
ORDERS - are the religious groups, sisterhoods and brotherhoods. The levels of accomplishment will vary depending on how the order is setup.
GOVERNMENT - is the area of that will have units, like the HomeGuard, Imperial Ministry of Travel and others. The level of accomplishment will vary per government unit.

When is the Kickoff date for HomeWorld?
The planned date is the "Day of Honor". Exact date will be forth coming!
NOTE!Nothing is set in stone and we want input from anyone on ideas, concepts and comments.
Contact Cmdr. Najchom (Stacie Cupples) cmdrkmak@swbell.net,
Adm. Kragtowl (Bear) trekkan@aol.com,
Cmdr. Leetra(Chris Reed) Leetra@aol.com or
Cmdr. Ktully(Kevin Mounce) Ktully11@aol.com.

MINDSCANNER #53 - December 1998
---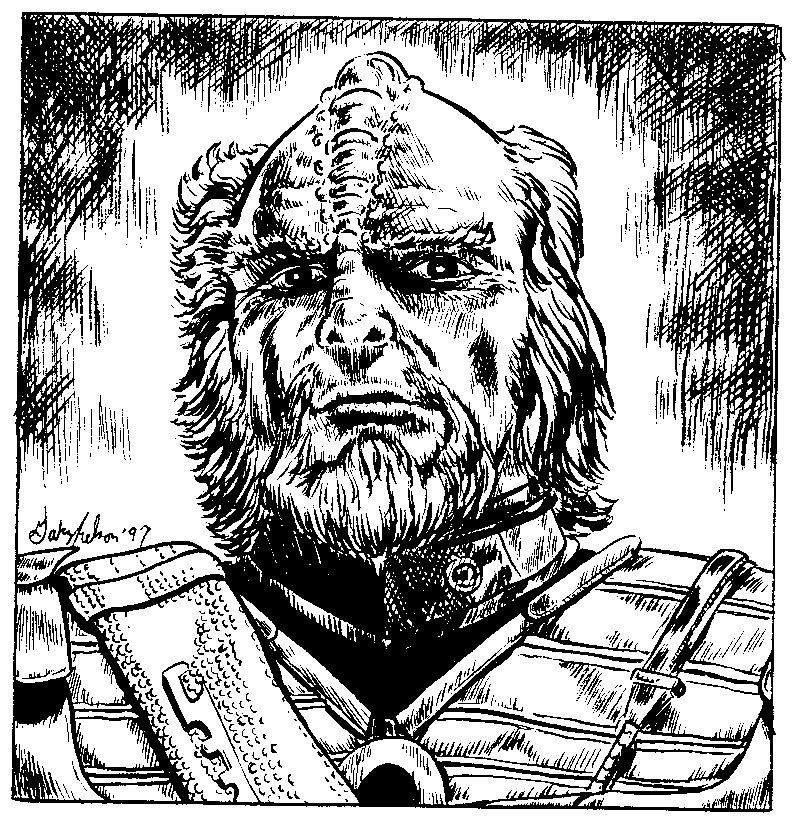 Artwork by Gary Nelson
Allegiance,Alliance,KAG and Klingon Fandom
by Admiral Kishin
Hmmm. This is gonna be weird. But hey-it 's me (insert Han Solo shrug here)!
One of the reasons I wanted to be a Jew was that I figured it gave me an identifiable place to stand which also gave me a panorama of the rest of the world and invited me to take it all in without trying to "convert" it. I feel the same way about being a member of KAG (with a KSF background because that was where Kris was when I first found the fandom). I am proud to be identified with KAG. Like the Demon Fleet-niks, I might express it that KAG is stuck with me. Even if "it" (whatever that might be) might decide to eject me, I'd just go on being of KAG. (The Jews can't shake me either. When you have found a home, you know it!) I am convinced that I have landed on the Archimedean point that allows me to put my hand to the lever that will move the things I want to move. This past year, I have enjoyed watching KAG leadership with its complicated axis of leadership shifting among Cincinnati, California, North Carolina and Kansas City, scrap and scramble. It's not over-never will be-but it presents the spectacle of an organization that hasn't lost its adolescent wacky verve but has got the maturity now not to shake itself to pieces in personality conflicts. (I have been noticing how the hotter heads on the KAG listserves are neutralized, firmly, but considerately! Flame wars have a very short life there.)
A measure of KAG's stability, come to think of it, is its openness to all of Klingon fandom. Alloy that to the determination we share to remain KAG, and you've got a mighty strong tool. Leaders like Kragtowl and Kuuriis (just to mention two!) set a tone that makes Klingons of any affiliation and renegades too welcome in play. At the VI Klingon Year Games this past summer, sponsored by KAG-ish Demon Fleet folks from Cincinnati area, we got to sling the targ with members of the KSF, KAI, Klag's Empire and the Texas-based IKF. Not to mention that some of the most supportive presences among us there were actually physically absent -Qapla', Cat Ramos! One of the cool things was you often didn't know (or care) where someone's organizational loyalties were pegged. We were having too good a time playing our games and lionizing John Ford and his lady love Elise Mathiessen. Heck. We ate together, food cooked not by a motel staff but by hospitable Klin-comrades. Who says a religious experience can't be FUN???
At the same time as KAG membership shows itself welcoming to non-KAG Klin comradeship, it stretches itself to permit internal diversity as well. I think it's the robust claim of present KAG'ers to their KAG identity that reveals something new in our evolution. We're diverse inside and out. We police ourselves, striving for integrity. We amuse ourselves. I think we will be around for some time to come.
Kishin Kurkura (Sue Frank of Philly)
SueFrank@aol.com
---
by Khey'Ra of the Spirit of Glory
Stacey Bailey, Kheyra@aol.com
Members of the IKV Spirit of Glory met at the MidCon convention in Leicester at the beginning of October. The fun began shortly after everybody had arrived. A camera team from Central TV, the local TV station, was on the lookout for aliens. Feddies just wouldn't do. Somebody told them we were Klingons and they wondered if we could be in costume in 20 minutes. We accepted the challenge and proved, it could be done. The filming and the interviews didn't take long and we were able to watch the coverage later that day. We spent the rest of the day rehearsing for the fancy dress competition and preparing the food for our food demo. The fancy dress entry was called the Intergalactic Klingon formation dance team and was absolutely hilarious. The audience joined in. The judges put them second behind a group of toy soldiers. Worf and Alexander came third. Sue, our QM, made the dresses for the dance team. They all looked like little Klin angels.
We partied until the early hours of Sunday and were up again dark o'clock in the morning to get ready for Klingon food demonstration, which took place Sunday morning. Despite the early hour we had quite an audience. As a precaution we brought along our pain sticks to encourage the audience to try the food. This proved absolutely unnecessary and in the end we didn't have to poke anybody. There was no shortage of volunteers to sample the food. They ate the lot and we had to live on Terran food for the remainder of the con.
MidCon was very much a working con and we missed most of the official convention program. We missed events, such as the charity auction and most of the guest talks. However, we did get to the dealer's room. It was a little disappointing this time. Much to everybody's musings we did the Klingon Konga around the dealer's room. None of the Terrans joined in. I guess it was too much of a challenge. Grin! Max Grodenchik was the guest of honour. We went to his talk, which was highly amusing, and had the pleasure to meet him after the fancy dress competition.
Max came up to us to tell us how much he enjoyed watching our fancy dress entry and insisted on photos of him and the whole team and their dancing partners- the blow-up dolls, dressed in Klingon armour complete with tails. Sadly this was the last MidCon convention. The promoters are retiring after 25 years of organizing the event.

---
and KAG SPRING BREAK
April 16th-17th, 1999 CHATTANOOGA, TN
at the Ramada Inn South, with GoH Thought Admiral KRIS!
Membership is $30 for the weekend, or $20 for one day (10am Saturday until 10am Sunday)
There will be a very limited number of full color GALACTICON T-shirts so be sure to pre-pay for one when you send in your pre-registration.
For more information, write:
HOTEL - Ramada Inn South, 6639 Capehart Lane, Chattanooga, TN 37412 - (423) 894-6110. Rooms are $54 per night for one to four people.
---
STRAIGHT FROM THE WATER TOWER
by Capt K'Han Den (sutai) aka Wakov Warnok
Crewmembers. How do you get them and how do you keep them? Of course you could use those tried and true methods such as the naval press gang, making their rounds to all the local establishments. True they may be a bit crude but it gets results. Unfortunately it also gets the dregs of space, pajama-clad Feddies, Ferengi's, Pacled's, etc.
Now the Warnok Brothers (and their sister Daq) have spent hours on this subject watching TV and they have come to a conclusion. The answer is, you can't get anything done watching TV, but it's a great waste of time. So how should a Klingon ship recruit new members?
One way is friends convincing their friends to join, either openly or in the back alley. As the first stanza in the Klingonmaniac theme goes "We're Klingonmaniacs, and we're nasty to the max...", like-minded individuals are drawn together. Now contrary to popular belief we did not escape from some state mental institution. Why should we? The accommodations are quite good here and so is the food, especially the mystery casserole. We also tend to find our members here, because they want to do the same things we do, dress and act weird. Don't think that our acting comes easily though. We have to have meetings just to plan our zaniness, as well as rehearsals (an excuse to get out of the house other than bowling nights) to get the weirdness exactly right.
Another way of getting new members is through the ship's activities. This means that from time to time you will have to get out of the basement and venture out into public where 'people' may see you. Again you will be attracting potential crew members who see what you do and have always wanted to do something similar, whether you're storing jello in your boots or doing a soliloquy from the plays of Jerry Springer. The Stranglehold is a performance ship, a Klingon Actors Guild so to speak, with most of our missions involving some sort of acting. We even get to a point where we know a serious recruit from a casual fan goober. Hint: if someone comes to your booth in September and says "cool, you guys are neat", that's mundane-speak for "Halloween is coming up and I don't want to dress up as a cabbage again. Can you make me a Klingon costume?' Nevertheless, treat them with the same amount of courtesy you reserve for the food replicators as they are serving a purpose, instant crowd to draw more people to your booth.
Now how to keep your crew. Remember that wise old marketed Vulcan philosophy "infinite diversity" blah blah blah. Each crewmember has different backgrounds and talents and need to be treated as individuals too, not ship numbers. After all, 7 of 9 is all right if that's who you are, but 23 of 50 loses something in the translation. Each commander needs to remember crewmember K'Harbage or Lt Muck and commend them for their work. The more they take an interest in the ship's performance the more your ship will sail smoothly through the galaxy. Try also not to burn out the crew on too many events, the charred remains will clutter the halls. Bottom line the big rule in KAG. Have Fun. If everyone wants it, then they will work for it.
"We're Klingonmanee, totally insanee, Kahless we aintee, Klingonmaniacs."
By Dennis Hanon
aka Capt K'Han Den (sutai) aka Wakov Warnok
commanding the IKV Stranglehold
Kri'stak Quadrant, Ring of Fire Fleet
10883 Elderburry Ct.
San Diego, CA. 92126
Wakov@worldnet.att.com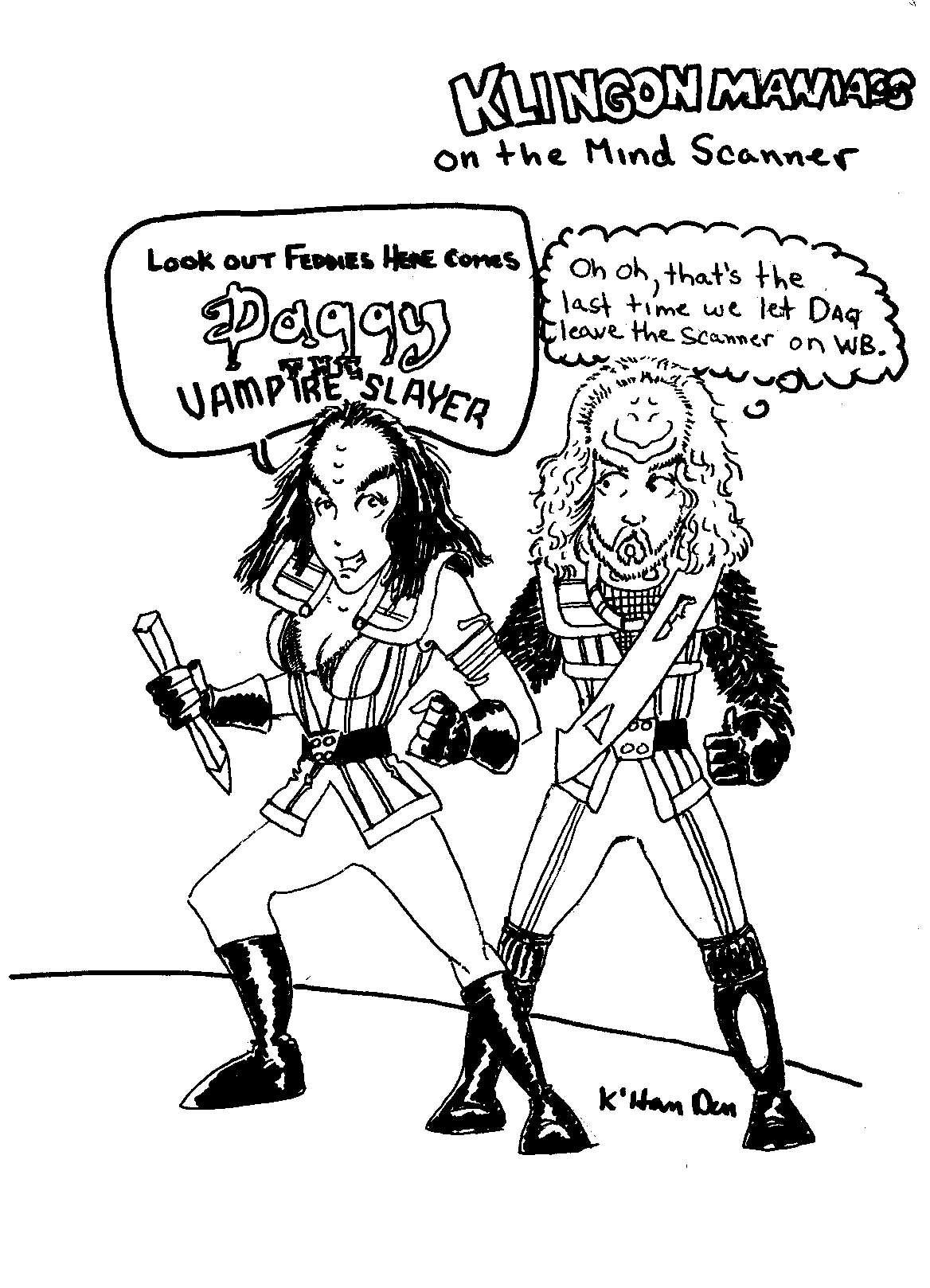 Artwork by Dennis Hanon

---
by Captain K'Lagg (Kevin Watson)
blackice@ns.sympatico.ca
BATTLEGROUP NORTH was created by the Thought-Admiral (John Halvorson) and others as a way for Klingons to unite as one club void of politicking and borders.
We are set up to be as non-political as possible. Battlegroup North follows the five rules of KAG, the main one being "HAVE FUN!" Anyone can join, be they Klingon, Romulan, Ferengi, or even...Human.
We'd like to see ALL Kurkura ships, be they in BATTLEGROUP NORTH or in the regular KAG fleets, start challenging (and Whipping!) whatever Fed ships happen to be around.
Priorities for the BGN & Kurkura ships:
Getting the members uniformed.
Getting the notion that we DON'T have to play politics into the groups collective head.
Finding goals and pursuits that will unify our group first, possibly KAG second. [with hopes of all KAG]
Come visit the new Battlegroup North home page at;
http://www.geocities.com/area51/7098 ONT>
Captain K'Lagg
Kevin Watson
RR #3 Centreville
Kings County, NS
B0P1J0
blackice@ns.sympatico.ca
---
KAG SHIPS OF BATTLEGROUP NORTH
by
Capt. K'Lagg
***
Kag: BattleGroup North Commander
CO: BlackIce Fleet
Capt.K'Lagg sutai-Ka'Ching-Kurkura - blackice@ns.sympatico.ca
Kag: BGN Imperial Contact Branch Commander
CO: BGN/BlackIce Fleet ICB
Cmdr. K'Tagh sutai-M'Ran - narendra@atcon.com
IKV Carnage -Michigan,USA
CO: Lt Cmdr Gorvak vestai-Kurkura - Gorvak@centuryinter.net
IKV Dragon's Fury - Toronto, ONT
CO: Lt. Kev'Lar vestai-SuvwIOvaj - onyx@echo-on.net
IKV Fek'Lhr's Shadow -Halifax ,NS
CO: Lt. Tou'val vestai-Tonar-Kurkura - ae417@chebucto.ns.ca
IKV Gorkon -Fredericton ,NB
CO: 2Lt. K'Tim tai-Ka'Ching-Kurkura - aa532@fan.nb.ca
IKV Hellion - Hamilton ,ONT
CO: Lt Cmdr.K'Chal vestai-Cha'taj - cajun@cgocable.net
IKV Leather & Lace -Halifax ,NS
CO: Lt Cmdr. CHaraL vestai-QIHwI'-Kurkura - cheral_kurkura@hotmail.com
IKV Rura Penthe' -Kentville ,NS
CO: Lt Cmdr.Khy'Lik vestai-Ka'Ching-Kurkura -
Melissa.Watson@mailexcite.com NT>
IKV Wolf - Wolfville , NS
CO: Lt Cmdr.H'Tung vestai-Dr'ule - via XO: maria__@hotmail.com
[under construction] IKV Hungry Wolf - St.John ,NB
CO: Lt. R'bar vestai-Ka'Ching-Kurkura - via: ovilajar@nbnet.nb.ca
[under construction] IKV Ironforge -Edmonton ,Alberta
CO: Ensign K'Mvek - aam@telusplanet.net
[under construction] IKV Kothoga -St.Stephans ,NB
CO: Ensign K'Applach - chinoke@nb.sympatico.ca
[under construction] IKV Silent Executioner -Bridgewater ,NS
CO: Lt.Morvan tai-Ka'Hat - dhatt@ns.sympatico.ca
[under construction] IKV Vortex - Ottawa, ONT
Each ship's CO is asked, once they join BGN, to provide one ICB officer for their ship.
Also if you have ICQ program or Vp Virtual Places program please contact K'Lagg asap.
Qapla'!!
K'Lagg out!!

---
The Imperial Marine Security Forces Mission Statement
by Major Qor'Tok vestai-DevnoH (Bill Ramsey)
Quadrant Fencer, Dark Phoenix Quadrant
Dark Moon Fleet
The Imperial Marine Security Forces, within the Department of the Navy, shall be so organized as to include not less than three combat divisions and three air wings, and such other land combat, aviation and other services as may be organic therein.
The Imperial Marine Security Forces shall be organized, trained, and equipped, to provide fleet marine forces of combined arms. Together with supporting air components, for service with the fleet in the seizure or defense of advanced naval bases and for the conduct of such land operations as may be essential to the prosecution of a naval campaign.
In addition, the Imperial Marine Security Forces shall provide detachments and organizations for service on armed vessels of the Navy, shall provide security detachments for the protection of naval property at naval stations and bases, and shall perform such other duties as the KAG Commander may direct. However, these additional duties may not detract from or interfere with the operations for which the Imperial Marine Security Force is primarily organized.
The Imperial Marine Security Forces shall develop, in coordination with the Imperial Navy and the Klingon Defense Force, those phases of Planetary operations that pertain to the tactics, techniques, and equipment used by landing forces.
The Imperial Marine Security Force is responsible, in accordance with integrated joint mobilization plans, for the expansion of peacetime components of the Imperial Marine Security Force to meet the needs of war, and protect those holding command positions within the Klingon Assault Group.
The Klingon Honor Guard is part of the IMSF. It's one of most Elite units within the IMSF. As a member of the IMSF and the Klingon Honor Guard you're Honor is above reproach. You are Assigned details of high importance, guarding the most prestigious of KAG command.
Weapons & Enemies
Your Weapons extend beyond what is in your hand as a member of the IMSF. Not just a Klingon Disruptor rifle or pistol, the Bat'leth, and the d'k Tahg. You must use your cunning, think on your feet and look for any possible threat to your charge. Your Enemies may come from both within and out of the Empire. Always, watch always be alert. And maybe you may rise from the ranks of the IMSF to the Honor Guard.
Look for more information on the IMSF Honor Guard in the next issue of the Mindscanner.
Major Qor'Toq vestai-DevnoH
Bill Ramsey
413 Toney Rd.
Nashville, TN. 37207
sundell@voy.net
CO IKAV Dragon's Heart
Hochlogh no' yIquvmoH (All times Honor your Ancestors)
Imperial Klingon Marines, DMF, DPQ
Dark Phoenix Quadrant Imperial Intelligence Officer
qul qab tuQ (Wear a Face of Fire)
ICQ Number 11898488 or 5438167
http://earth.vol.com/~sundell
http://www.geocities.com/Area51/Stati on/6468
http://www.geocities.com/Area51/Stati on/6467
http://www.geocities.com/Area51/Stati on/6465

---
What Kind of Warrior Do You Want to Be?
by Khatal vestai - H'aaWK
Klingon warriors, strong, proud, honorable and powerful! We try to embrace these qualities when we don the foreheads and armor (tlhIngan maH)!
Worf once said to the High Cleric of Boreth that, "Real power is in the heart." Well, we can emulate this power and achieve all the virtues of the Klingon warrior! By helping those who are less fortunate than ourselves!
I once had a discussion with our epetai, KriS, in which he asked me, "...What do you like best about playing Klingon?" I told him the truth, that I enjoy playing Klingon best when I help in charitable causes; not by attending conventions or parties, but by participating in community events. I feel a surge of pride when I see the faces of the people that I help. It truly makes me feel like a real Klingon!
There is nothing wrong with going to cons! This is a hobby, meant to be enjoyed! I find my joy by helping others!
Ask yourself, "Do I answer the call for battle when my ship is involved in a charity fund raiser (e.g. Jail and Bail, Walk-a-thons, Blood Drives)?" "Can I spend a little more of my free time in assistance of community services?"
We have the "power" to make a difference! The holidays are here and there are many who will not be able to celebrate the joys and blessings of the season. How honorable it would be to help these people! That is the duty of a warrior! To defend the empire (the people)!
Your "honor and glory" will come, not by winning contests of skills and strengths, but by answering the REAL call of the warrior in your HEART! What you are willing to do for others!
Let's help make a "powerful" difference! What kind of warrior do you want to be?
Khatal vestai - H'aaWK
for the Emperor's Hand
---
The Way of the Peaceful Klingon
by Khaywolf of the Stranglehold
Wolf Klaushie Khaywolf@geocities.com
We have all been regaled time and again with the heroic deeds of our warrior forebears, but while the way of the warrior is indeed a noble and an honorable pursuit, it sometimes eclipses the more esoteric and introspective side of our people.
What would the Empire be without the efforts of our more scholarly and creative brethren? We would not have Klingon Opera, that most sublime and stirring expression of the Klingon soul, were it not for great composers. We would not have the epicurean delights of Klingon cuisine, were it not for the efforts of our culinary artists. Even the deeds of our great heroes would be forgotten, if not for the historians who preserve their stories intact over the centuries.
We must not allow our devotion to the principles of the warrior to blind us to the importance of the more peaceful pursuits, for without them we would be less than what we are. Bear this in mind, and if your path through life leads you to areas of endeavor other than battle, follow it proudly!
There will, of course, be those who do not understand, who will belittle and revile you for your peaceful and contemplative ways; you will probably have to kill them.
---
The Klingons as Environmentalists
by Kordite of the Dark Justice
Kevin Geiselman kordite@fyi.net
When I say "environmentalist," do you think vegetarian? Greenpeace activist? Hippie Liberal? No matter what you think, it's probably not "Klingon Warrior." But, as odd as it may seem on the surface, it is likely that the Klingons would be staunch environmentalists and the wilderness areas of Qo'noS are likely to have fared better than those of Earth.
Consider; the Klingon culture is a hunting culture. The traditions of the hunt are part and parcel of every young Klingon's ascension into adulthood. And, to ensure the availability of game it is necessary to ensure the health of the entire ecosystem.
On the Monday after Thanksgiving in present day Pennsylvania (my home state), a million hunters take to the woods. The deer population, limited by state-wide development and the encroachment of civilization, is also approximately one million. It may seem even odds but only one hunter in ten puts venison on his table.
Hunters are also intimately aware of the condition of the wild places in which they spend their days. They notice when game animals make different trails to avoid civilization. They hear the noise from the highways. They know when the herds are smaller or more difficult to find. They can tell if the animals are healthy and getting enough to eat.
But, even here in Pennsylvania, hunters are a small minority. And, paradoxically, their voice is often ignored by the environmental activists, even though they share the same cause.
Do you think a Klingon Warrior would accept a one in ten chance of a successful hunt?
The Klingons would not be marginalized or divided. The warrior culture. . . the hunter's culture would be the most powerful of voices. They would not have to demand that land be put aside as game preserves, they would never let the land be threatened in the first place. Polluters would be stopped immediately, perhaps even violently. Development would be tightly controlled and industry would be centralized. Klingon urban life would be dense, as the citizens packed into high-rise, labyrinthine cities to keep the wilderness pristine and available. (I will direct you to "Redemption part II" where explosions illuminate the Capital City from below, revealing it to be many-layered.)
Of course, this sort of behavior would limit growth. Technological advancement demands the consumption of natural resources. Klingon growth would be slow but, once they achieved space travel, growth would be explosive as a civilization, limited by their own respect for nature suddenly gains access to worlds without such restrictions. Airless worlds or worlds already occupied but where the natives have already made the hunting abysmal, can be squeezed like a sponge without remorse.
The Klingon Homeworld would remain rich in game and green spaces. The tradition of the hunt guaranteed for future generations. Qo'noS would be an ecological paradise.
. . . Now, are you ready to consider Klingons as Liberals?
---
by K'Tully of the IKV Naked Stars
Sword clashes with shield, battle cries resonate in time with death.
Armor gives way to spear, bones break with visions of determination on faces of victorious warriors.
Two armies emerse the embrace of battle, champions and conscripts go to death's playground to find the elusive path of victory and a new day.
None has more Will, none has less faith, only experience will tip the scales between fates.
Bravery is strong; cunning has its weight.
Only to win must a warrior's will of battle carry his fate.
Generals and privates equal in the violent debate.
Warriors all, none will abate. For visions of glory, others' deaths will be its slate.
Warriors blood, ink to script the date.
Challenges come, challenges met, for the future has two fates.
One will be victorious, glories great. The other, death thus will seal an Empire's fate.
Arise brave warriors, brave and strong.
Kronos will live on when your conquests have new songs.
Life is eternal when your children sing of your victories gone.
Only you have the will of battle to triumph against the enemies who've come to do harm.
Kevin Mounce
- Ktully11@aol.com

---
Nov 8, 1998 "The Bard Speaks"
Greetings fellow Warriors, I , Kijo House Ki'RK have been asked to expound on the many adventures and stories of those of us out on the deep rim of space. This issue finds us again in the midst of great adventure, parties of great delight and battles of great honor! There is no way to start but at the beginning, and so gather round your fires, fill up your mugs of blood wine and listen! Here be a tale of great battles!
"Black Storm Rising" Part 1
Excepts from Cha'ouw Planetary Systems Tactical Battle Library
Record D-000-Alpha-97 House Ki'RK, Clan Wolf
Status: De-classified
"Helm hard about!" the ship jerked hard and swung around into the flashes of light that lit up like a summer's night storm. Ki'Tar was pressed hard into the seat.
"Tactical!"
The tactical display of the battlefield was displayed over the view screen. The ship rocked from another explosion on the port nacelle. "Sir we've taken a hit, shields are down to twenty three percent! There's a Borg ship on intercept and two more Jem Hedar are closing in."
"Status of the G'lesh, Ensign."
"Sir, The G'lesh's right engine is destroyed and she's losing power , she's going to breach any minute."
"Hail them."
Capt. Kay'rem sat on a smoke filled bridge. Small fires burned in the background, personnel were running here and there in an attempt to put out the larger ones. "Kay'rem, our transporters are down, we will not be able to transport off your crew. There are two more Jem Hedar closing fast. What is your weapons status?"
Kay'rem glanced at her console, "Commander, we have only enough power for a few short bursts. Life support has failed, we have partial impulse power."
Ki'Tar looked into the eyes of Kay'rem, "Very well then, I leave you to the glory of your Clan."
Kay'rem bowed her head, "Sir we are honored!" She ordered the G'lesh to intercept course with the Jem Hedar battle cruisers.
"Tactical, Fire all weapons!". Kay'rem turned to her view screen and faced Ki'Tar, she stood and saluted him, "Honor for the Clan, Commander."
Ki'Tar stood, returned the salute "And Glory to your House, Captain."
The G'lesh closed to within range of the Jem Hedar, the lead ship opened fire on the G'lesh, the beam cut straight through the G'lesh 's hull.
Kay'rem smiled. She pressed the green triangle button on her seat. A flash of light, the brilliance of a star momentarily lit up the surrounding space. The Jem Hedar ship was caught in mid-flight of the oncoming blast and was destroyed in the blast wave. The second ship turned hard to avoid it, but to no avail. It too was caught, and exploded in the wave. Where once there had been space full of battling ships, only a small white star remained and seemed to pulse and glow as the beginning of a New World.
Ki'Tar sat back down and looked at the oncoming Borg ship grow closer. He would not see his wife again in this life. "Sir, Shields are down to five percent, shield failure imminent."
Ki'Tar looked around the battle bridge, his crew working like a well-oiled machine. "Sir, there is a squadron of Jem Hedar fighters three light years and closing on intercept." The Borg Ship loomed closer.
"All Power to weapons! Helm" … Ki'Tar paused for only a second to look at his crew and his bridge.... "RAMMING SPEED!"
"Weapons, Fire at will!" The Vor'cha class battle cruiser lunged into motion and bore down on the Borg Ship. Ki'Tar held his finger over the triangle button… "Today is a good day to die…"
_ End Part One_
by Charles A. Smith
kijo@mail.apcnet.com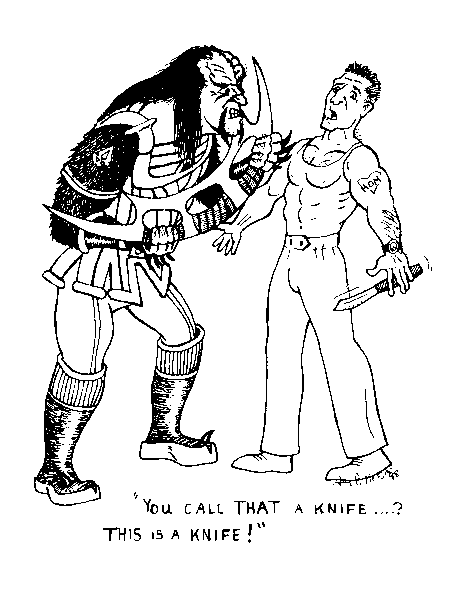 Cartoon by Veqa
---
by Captain KwISt "the twistai guy"
There's a sense of accomplishment that comes with completing the hardest part of the job. In the Cyberspace Patrol (CSP), the hardest part was getting handed broken teams, and looking to the great talent of KAG to pick which members among them would best lead those teams to victory.
It was not hard due to any lack of talent to be found... it was hard finding where to start when so much talent exists. There will always be countless leaders in the membership, but few can be representative of their peers and inspiring to their team vision.
Leading Imperial Intelligence is Kestrel / John Humphrey. His Department is designed to provide ships with, among other things, "associated press" style news. Contact him at corsair@gulf.net.
Leading KAG's E-Corps is K'Mel / John Tackett. His Department has been crafting websites and online forums (fora?) for KAG teams everywhere. His article is elsewhere in this issue. You can contact him at jtackett@bellsouth.net
The latest news is that I've appointed KORDITE / KEVIN GEISELMAN to be the new director of KAG's ELINT FLEET. He's new to the position, and still has yet to get a lot of contact/prospect information from me, so I ask that you please give him your patience and your support. His email is kordite@fyi.net. (Kevin's Opera review is elsewhere in this issue... don't tell anyone, but he's actually Anthony Merlino!)
Our new Klingon Engineering Work Labs (KEWL) have produced some of our first working "smart props" using microcontrollers. For details, write me at me@twisty.org.
Let's make KAG shine!
- Joel 'Twisty' Nye, the OTHER Science Guy
a.k.a. KwISt, the twistai guy, Division Head of KAG's CSP
---
by Commander K'Mel sutai-Kurkura
Greetings to all members of E-Corps. Things have been quiet and have not seen too much action in the area of E-Corps. Just a reminder that if you are a webmaster of a KAG site, you need to make me aware of it so that I can denote it on my website, K'Mels Guide To Klingon Cyberspace, which can be found at
www.geocities.com/Area51/1908/ T>
I will be redesigning the site after the first of the year and I plan to note which sites are run by E-Corp members.
You may also remember that I was working on a site for those that wish to design Klingon websites. Though the site is far from completion, I feel that it would be a good time to make the site available to those who may need it.
The site is called THE KLINGON WEBMASTER, and it can be found at
http://www.geociti es.com/Area51/1908/Klingonweb/klingweb.htm.
It is my hope to have it up sometime after the first of the year. If you have anything that you wish to add to the site, please let me know. I am looking for graphics and code that can be shared by all.
Till we meet beneath the naked stars.
K'Mel
John Tackett
1905 Broad Ave.
East Point, GA 30344
jtackett@bellsouth.net
---
A Night at the Klingon Opera
by Anthony Merlino
reprinted from "Interstellar Business Traveler", August 2357
My wife, Ann, and I have always been fans of the theater so when my editor handed me two tickets to the Imperial Opera Company's performance at the Hero's Theatre of Krios during a recent business trip we both looked forward to sampling this unique expression of Klingon culture. Nothing could have prepared us for the experience and the effect on our lives.

Firstly, we arrived at the Theater in formal evening wear, as one might expect at a prestigious performance of a national professional company. Yet, the local Klingons in attendance seemed oblivious to this, arriving with dirty boots and half-full bottles of liquor, having started their festivities early. Unlike other, more somber occasions, the boisterousness of the crowd was more what one would expect at a street brawl.

And for a state opera house, the theater was completely lacking in style or flair. The walls and floors were unadorned stone rising sharply in a near-complete circle around a scarred wooden stage. The bleachers, for they were of a quality of an ancient sport stadium, were mere wood benches. Overall, the effect was one of a crater with a flat bottom and steeply sloping sides, topped by a steeply angled balcony.

Our seats were in the front row of the balcony, giving us a bird's-eye view of the stage and the mob in the crater below, literally struggling for the best seats. Next to my wife sat an ancient and scarred warrior who inexplicably struck up a one-sided conversation with her. His accent was thick and I had trouble keeping up with the klingoneese but he had apparently appointed himself the performance's libretto; no printed copy had been passed out before the performance. He didn't seem to care that Ann didn't understand a single word and she sat meekly hoping to survive the embarrassment.

The performance was atrocious. It began without an overture and the musical accompaniment was all cymbals and percussion. The male lead was an epic bass with an inhumanly low voice that caused my clenched teeth to vibrate. The female lead was not the traditional soprano but a jarringly low-toned contra-alto. The story was convoluted. The language unintelligible. The action frantic and loud. As near as I can tell, the plot was something of a cross between Shakespeare's "Taming of the Shrew" and Kubrick's "Apocalypse Now," all done with over-the-top Wagnerian style.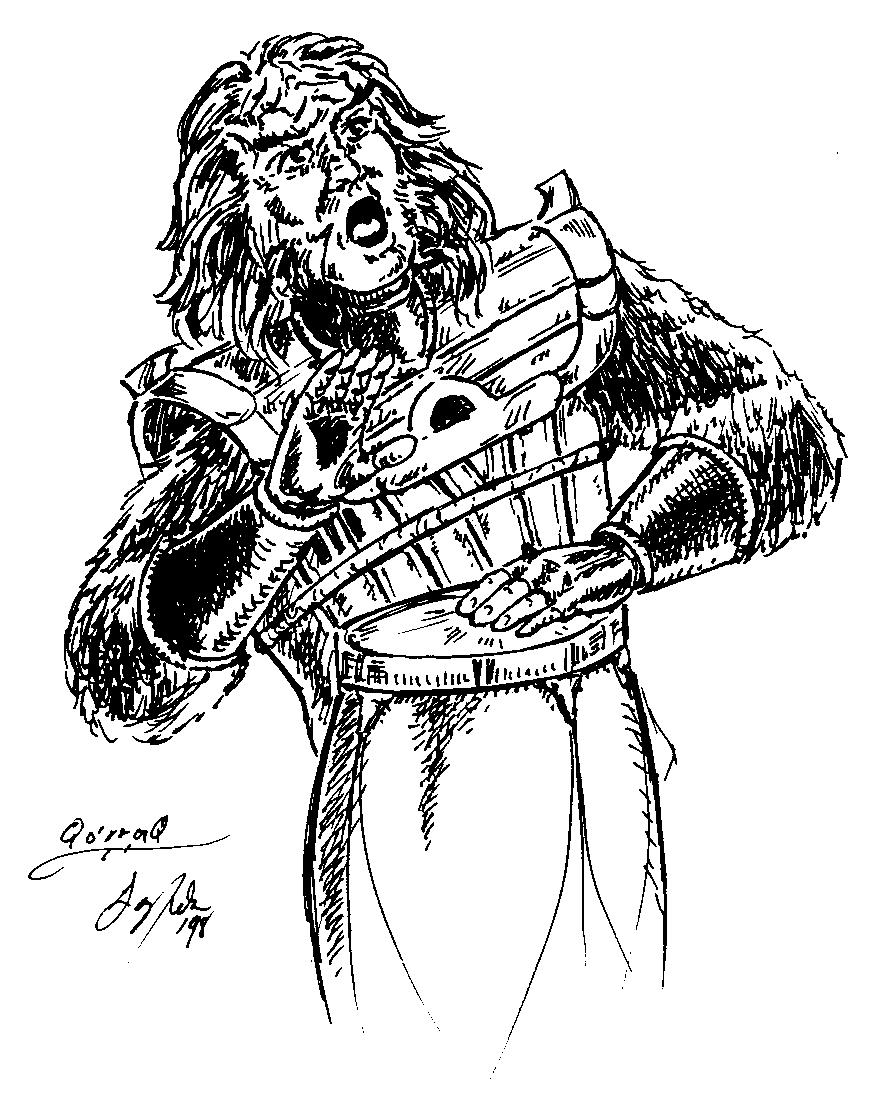 At approximately midway through the performance, at just the time I was hoping for an intermission and an opportunity to slip out of the theater, I realized that the audience was on their feet. Had I not had a front row balcony seat, I would have had to stand upon the "bench" to see the stage. Ann's self-appointed friend was on his feet, singing along with the chorus, brandishing a knife, yelling insults at the villain on stage and was encouraging my wife to do the same. Ann had a wild look in her eyes, and was making an effort to accede to his wishes for fear of offending the aged warrior.

The grand, climactic battle on stage was mirrored in the pit, where warriors apparently had taken up sides and were engaged in battle, tearing up the seats and using them as weapons. And Ann! She had one foot on her seat and the other on the balcony railing, her fists clenched and screaming the repetitive lyrics that had become an underlying musical theme throughout the performance. She was like a woman possessed.

Then, suddenly and as if on cue, the entire audience fell to an eerie
silence as the two stars ended the performance with an unaccompanied, lung-bustingly long duet. Then, with the last note still echoing through the hall, the crowd exploded into a terrifying howl that caused the hairs on the back of my neck to stand full on end. The crowd surged towards the exits and I was swept away from Ann.

God only knows what happened to her in the interim when I was able to fight my way back in to the theater after fifteen minutes and found her sitting on the edge of the stage, her hair disheveled and hyperventilating, obviously in shock.

The counselor says Ann will be all right but I can't help thinking that she is scarred for life by the trauma. I suppose it could have been much worse. She does seem more assertive than before and the leather garments she's been wearing are kind of sexy but it's unnerving to hear her humming the music from that damnable opera while she's preparing dinner with a very sharp knife.

To my fellow business travelers, let this serve as a warning. The Klingon opera is an infectious form of insanity. Should you ever hear a terrifying sound, one that reminds you of a heard of cattle being savagely murdered by madmen and banshees with clubs, cross the street. You're standing too close to a Klingon opera house.

(Editor's note: Tony Merlino will be taking an extended sabbatical from IBT. The staff and I would like to extend to him our best wishes and hopes for a speedy recovery.)
---
What a Glorious Weekend! Raiding parties from the IKV Shadow's Edge, the IKV Shadow Hawk, the IKV Granite Dagger, and the IKV Shadow Demon converged on the Marriot in Springfield, MA for United Fan Con 8. An annual tradition in this
area that most of us have been attending for years. Everything started on Friday night with a Karaoke party that was as entertaining as it was frightening. Saturday was full of dealers' room shopping, panels, a charity auction, and guest Tim Russ who was outstanding. Saturday Night was busy as well. The evening started with a Quadrant meeting where all the attending KAG
members got together to discuss plans for the future. The plans included a new approach to our recruiting fliers, a Quadrant resource manual, and a new approach to handling recruits in the Quadrant. We got a lot worked out, and had great time as well.
After the meeting was the con's masquerade contest where the Crew of the IKV Granite Dagger won a prize (I apologize as I forgot which prize they won). Nevertheless they represented the Quadrant and their ship with honor. The masquerade was followed by 10-Forward dance which had a pajama/lingerie theme which was a Blast! We partied like true Klingons until early Sunday Morning when we collapsed in our rooms. Sunday was a more relaxed day. Mainly spent telling tales with our fellow Klingons, and our feddie allies as well. All in all an honorable weekend filled with fun and fellowship. Rest assured that the ships of the Wild Frontier Quadrant will be de-cloaking around the Springfield Marriot next November for United Fan Con 9!
Qapla'!!
Cmdr. K'Tyr sutai-DraK'N
Paul Fest - malph47@aol.com
CO, IKV Shadow's Edge
Acting Quadrant Commander, WFQ
---
by Kerla of the Dragons' Heart
kerla1@juno.com
The Demon Fleet ship Dragons' Heart held it's second annual Feast of the Long Night on Dec. 5th. We are fortunate in having a fine place to hold our party, the spacious, tri-level Heritage Hills Lodge on the Ohio/Indiana border. As the captain of the ship, it was my job to encourage and inspire the crew to do their best, each in their own way, to make this Feast the great success it was. Thanks to everyone's hard work, it was glorious!
As an artist, it was my job to design and create the decorations which have become the trademark of our Feast. This year's decor featured a Martian theme...a small "fleet" of 6, two-foot-wide 'flying-saucers' hung above the dance floor, complete with eerie green lights swirling within (thanks to Kwist and his microchip programming). An alien-looking blacklight floral display glowed upon the banquet table, it's green pods looking like they might like to sample the guests! A roaring fire danced in the large fireplace.
One of the things our ship created for this year's Feast which we will be able to reuse in various ways in the future is a 23-foot long, 5-foot wide starscape. We started with heavy black cloth. Each star was hand painted in white acrylic. Then it was time to go over each star with phosphorescent glow-paint. But the glow-paint looked just like the acrylic in regular light, so the second-layer painting had to be done in a darkened room, under the blacklight. During one session, as I sat in the dimmed room patiently dabbing bright spots of glow-paint over the pale whitish 'stars', one of those stars suddenly began to move across the 'heavens' ...a tiny UFO! It was a surreal moment. When I looked closer, I saw that I had accidentally painted the back of a ladybug!
Working together to create beauty and fun is what our ship does best. The Feast was enhanced by the addition of 'The Bar' (complete with a Ferengi bartender), supplied and staffed by members of the House Ki'RK from North Carolina. Our resident Tallaxian, Feelix, judged the Cuisine Contest. Prizes were supplied by the Xeno Legion Ship "Midnight Warrior". And one of their crew, the talented Ferengi Bov, performed a song-and-dance number called "Walk Like A Ferengi". Those naughty Martians (played by members of the Midnight Warrior crew) made an appearance also, and supplied the 'chorus' to the song. And yep! they 'Attacked'. Even the Feddies enjoyed themselves. We're already working on making next year even better.

Cmdr. Kerla-sutai MaHcha'
KAG Demon Fleet
Carol Bockelman
628 Buckeye St.
Hamilton, OH 45011

---
NOTE: Do NOT send subscription money anymore: The following ad is recorded for historical purposes only.


Subscribe to

MINDSCANNER
by KwISt, the Editor
me@twisty.org
MindScanner is available FREE on the KAG Website www.kag.org/ms/
Hard-Copy SUBSCRIPTIONS to MindScanner
are $6 for 4 issues
Send check or money-order to:
Joel Nye
628 Buckeye St
Hamilton, OH 45011-3449
Use this same address to mail submissions, or email MINDSCANNER@KAG.org. ENTER>
Next submission deadline is March 1st, 1998.
---
by D. R. "Cat" Ramos
KlinCat@aol.com
S'Ekhmet! Glorious golden S'Ekhmet! For perhaps the hundredth time that day, Gowron darted his eyes in the direction of the beauteous Councilwoman. And this time she was glancing toward him! As their gazes met, he read the Promise in her fierce amber eyes, and his heart soared.
Gowron the Outsider, the Rebel, was Chancellor-elect, having been chosen by old K'Mpec's Human Arbiter of Succession. Gowron, whose Family was small and politically insignificant, would soon become the most powerful man in the Klingon Empire. When that day arrived, he would take the mantle of Leadership upon his shoulders, and he would take S'Ekhmet as lifemate.
S'Ekhmet headed a large noble Family which had produced leaders of the Empire for more than a hand of tenyears. As line-matriarch, she could never consort with the likes of Gowron the Outsider. but Gowron the Chancellor merited her love. She favored the Leader-elect with a sly smile, baring the merest points of her eyeteeth. The tip of her tongue protruded to fleetingly touch her full lips.
Gowron's eyes widened and a soft hiss of desire escaped is own lips. She was a prize worthy of the Leader of the Klingon Empire! With difficulty, he tore his attention from her, and focused on the proceedings of the Council. But now and again, his admiring gaze returned to her, and his thoughts strayed far from the mundane business of the Great Hall.
S'Ekhmet was tall and strongly-built; her leather and metal uniform failed to conceal her curvaceous muscularity. Her burnished copper mane flowed unbound over her armored shoulders, softening the hard proud features of her face. Despite her lineage, S'Ekhmet was no pampered noble-woman. She was a warrior, and her trademark was the set of polished razor-sharp ghIS'nar claws affixed to the knuckles of her short fingerless gloves. No mere decoration these: the entire Council had seen S'Ekhmet use those claws to rip the throat from an assassin on the steps of the Great Hall.
But only Gowron knew how the claws of S'Ekhmet could deal other, more intimate wounds....! He shook his mane to banish those thoughts; return to the business at hand.
There was trouble brewing in the Council, which could have far-reaching ramifications for Gowron's plans and for the Empire. His nemesis, the treacherous Councilman DuraS, was dead, slain by the Federation petaQ named Worf. Yet the menace of DuraS reached from beyond ghe"or to threaten Gowron's future. The Councilman was dust, but his ruthless sisters, Lursa and B'Etor, now controlled the powerful House of DuraS. Lursa, the eldest, had claimed her brother's Seat on the Council. Moreover, she had declared that the House of DuraS was the rightful ruler of the Empire! The sisters had influential supporters among the Council and the Military; in fact, considerably more than Gowron himself commanded. The Family DuraS had wielded fame, fortune, and fear in Imperial politics for generations, and there were many Klingons who rejected the decision of the Federation Arbiter. Despite ominous and persistent rumors of conspiracy with the Romulan Star Empire, the DuraS were in a position to usurp the Leadership.
Glancing surreptitiously about, Gowron knew exactly which politicians opposed him. S'Ekhmet, of course, sided with him, as did F'Elina, the other councilwoman. He glowered, contemplating the bitter irony. His greatest enemies and allies were females. But F'Elina headed a comparatively small House, and her loyalty was questionable. A bribe from the wealthy DuraS might even be enough to buy her favor. Among the males, every influential House leaned toward DuraS; some were openly contemptuous of Gowron the Outsider. Despite his brilliant career as a warrior for his Empire, Gowron realized is future as Leader was imperiled. He needed to counter-attack the DuraS sisters, and he had to do so quickly -- before it was too late!
Gowron and S'Ekhmet lounged on the furs spread on the stone floor of her greathouse. Dimmed sodium-lighting cast an amber glow. A blazing fire in the hearth and softly-playing opera in the back ground gave the large room a romantic setting. A leather-bound book of poetry lay open of the floor; a wooden flagon of blood-wine sat half-empty nearby.
"To us," said Gowron, lifting his metal tankard in salute. S'Ekhmet raised her own mug, growling with affection. Their eyes locked and held, reflecting the sensuous warmth of the fire.
"Soon," promised Gowron, "we will publicly take the Oath and seal our union. When I am Leader."
"When you are Leader," confirmed S'Ekhmet. They drank to honor their vow.
The two Klingons reclined in silence, ridged brows touching, basking in the afterglow of warriors' lovemaking. Gowron bore the fresh scars and bruises of S'Ekhmet's passion; he still felt the sting from the gouges her claws had left in his back. S'Ekhmet lolled like a lazy ghIS'nar, her adoration shining from heavily-lidded eyes. She had never loved any man before Gowron, but she had given her heart to this Rebel who would be Chancellor of the Empire.
It was Gowron who broke their intimate contemplation.
"S'Ekhmet, you know how greatly I depend upon your support."
"Yours always, parmaqqai," she purred, smiling.
Gowron sat up, his expression turning suddenly serious. He averted his eyes from hers.
"I would demand of you a great favor, a difficult sacrifice."
"Anything," she agreed.
"The hand of DuraS reaches from beyond the grave to torment me, S'Ekhmet. His fiendish sisters daily garner more reinforcement from the Council and the High Command. Lursa and B'Etor are feared, and fear is power. I must take desperate action to prevent the DuraS Family from defeating me and gaining control of the Empire!"
"An assassination, perhaps?" S'Ekhmet reached out to lightly stroke his cheek with the tips of her lethal claws. She gave him a predatory grin, baring teeth.
Gowron's hand made an oblique gesture, palm down.
"An assassination will only make further martyrs of House DuraS, with the result of increasing their strength and influence. No, I must take a different tactic. DuraS left no male heir, therefore, Lursa heads her brother's House. I intend to strip her of some of her power."
"How will you accomplish that?" S'Ekhmet asked with curiosity.
Gowron faced her, his eyes bulging beneath lowered brow.
"By proposing a new law that prohibits a female from heading a Household without special dispensation from the Chancellor!"
"What?" S'Ekhmet sat straight up, her eyes as wide as Gowron's. "You cannot!"
"I already have," he assured her, "and there are many who favor it for their own personal gain. I was forced to this, S'Ekhmet, to prevent the g'daya DuraS from unSeating me!"
"But... what about my own House, Gowron! You will ruin me!"
"No, parmaqqai, never!" He placed his hands on her shoulders and smiled reassuringly. "Once we take the Oath, I will head your House, and I promise to lead it as wisely as you have. In fact, I will allow you to continue making all the major decisions."
S'Ekhmet pushed his hands aside and leapt to her feet. She stared at him, stricken by the unbelievable cruelty of his betrayal.
"Unless I head my Household, how can I retain my Seat on the Council?"
Gowron spread his hands placatingly.
"That's another thing you're not going to like..."
On the day that S'Ekhmet and her sister Councilwoman F'Elina took their formal leave, Gowron was among the well-wishers seeing them off. The DuraS sisters, divested of the Leadership of their House, had purchased a ship and had fled the homeworld, their schemes for power temporarily thwarted. Gowron once again commanded the grudging loyalty of the majority of the Council. But he no longer possessed the heart of S'Ekhmet. When she had realized the full impact of his misogynist strategy, she had lunged at him in a fury, her claws slashing for his throat. He had been fortunate to escape with his life!
No one present on this day would have guessed the extent of her anger as she graciously accepted his praise for her political accomplishments.
"...and none can forget the participation of S'Ekhmet and F'Elina in the batlhHa', the Discommendation of Worf, son of the great traitor Mogh!" concluded Gowron. He struck his chest a robust salute, which was repeated by the Councilmen surrounding him.
"We now salute our departing comrades. They continue their loyal service to the Empire by pursuing the DuraS and investigating their connections with the Romulan Star Empire."
"Qapla' !" applauded the Council in unison.
S'Ekhmet strolled forward to face Gowron, her expression neutral. There was no menace in her loose-hipped gait, nor in her gloved hands held lowered at her sides.
"I would have you know," she told him sotto-voce. "I understand your purpose in doing this. Lursa and B'Etor must never corrupt the Empire. I myself shall expose their treason and bring them to justice."
"I knew I could count on your loyalty, S'Ekhmet," Gowron said softly. "You serve the Empire; you spirit is truly Klingon."
She gave him a fleeting smile and gently placed the tips of her claws on his face, in that familiar affectionate gesture.
"I will return someday, parmaqqai," she promised quietly. "And when I do..."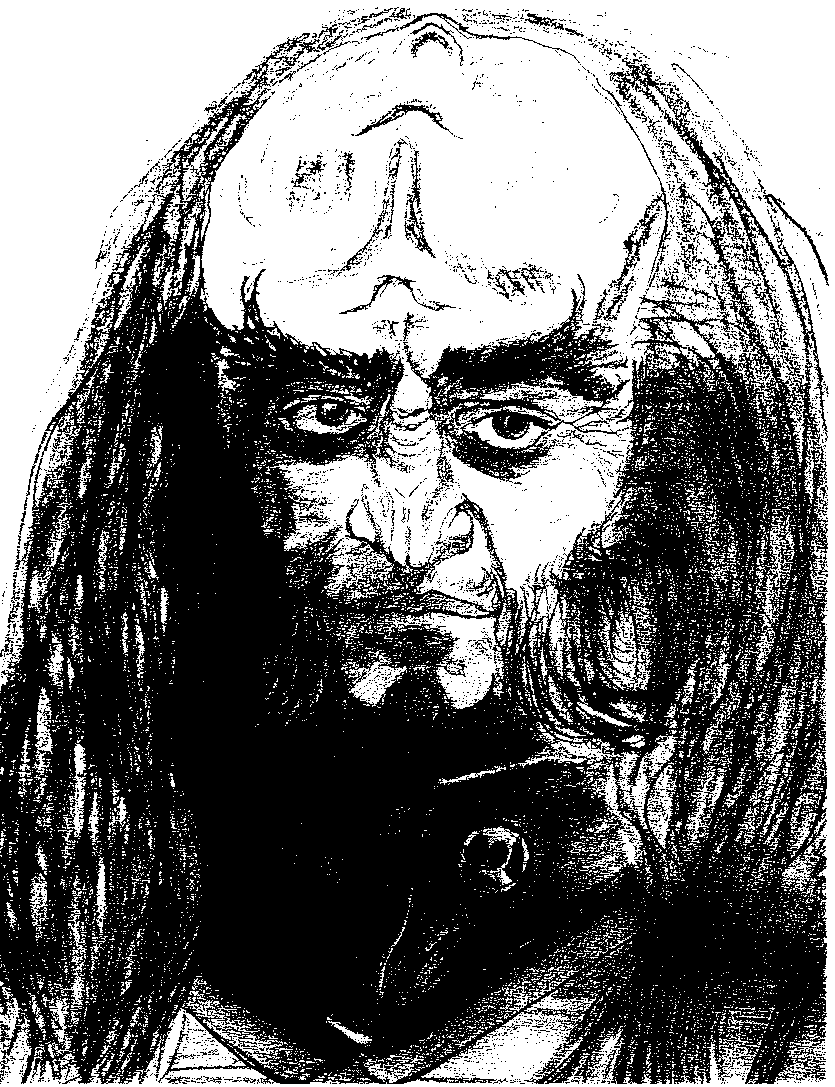 Slowly, deliberately, she raked the curved ghIS'nar talons along his jawline, leaving four bloody parallel furrows in his cheek. Her voice grew cold.
"...I will cut out your beating heart."
Abruptly she turned and stalked from the Great Hall. As he stared after her, Gowron mournfully caressed his own torn flesh with his fingertips.
"You already have," he replied in a whisper.
Written by D. R. "Cat" Ramos
artwork by Kerla
---
by Lt. Kellien Kahl
On November 7, 1998, Planet Hollywood and Paramount Pictures held try-outs for a team to represent San Diego in the Dream Team Contest. These contests were held across the country and Canada but only five teams would be voted on. Voting would take place on the Internet and the winning team of eight people would relieve an all-expense paid trip to Los Angeles, attendance of ST:Insurrection movie premiere and press junket, and meeting the cast and crew of the movie. Truly this was a goal worthy of a Klingon. So, a contingent of Klingons from the IKV Death Merchant, Dragon's Fire, Stranglehold, and Wraith accepted this challenge and attended the event.
The contest was to state why one would like to be/or admired a particular ST:TNG character. In the first round of the challenge, the Klingons showed great strength and courage. Those who were chosen, by a panel of non-Klingon judges, for the second round were victorious!
Although the San Diego Dream Team did not make the final cut for reasons unknown at this time, the following warriors were chosen for the Team:
Captain K'Han Den and Lt. Commander Kahlee KordaS of the IKV Stranglehold; Lt. Commanders Baltek Martok and K'Tor of the IKV Wraith; and Lt. Sos-pah Klaus of the IKV Dragon's Fire.
KAI KASSAI to the San Diego Klingons for making the team!!!
Also, congratulations to the Toronto Team for winning the Dream Team Contest.
Amy Corral
CO IKV Dragon's Fire
Kri'stak Quadrant
Ring of Fire Fleet, KAG
---
On Stage and In Front of the Camera
or
Attack of the Energy Vampires
There's a song by Bob Seger, that I really can't stand. It's called Turn the Page, and it's about a rock star who's sick of touring. He can't stand traveling from town to town, he's stuck out in the boonies, going up on stage just wears him out.
That said, I find my experience with performing to be energizing, not draining. I can be exhausted from partying till 3AM the night before, and have enough energy to get started. I get energized from the audience. (Oh no! It's the dreaded Energy Vampires!) Not exactly. The audience gets energy back from us and it keeps feeding back and getting bigger, wilder, and crazier. Does anyone at Hope Con remember me leading the museum-goers around the room over chairs and through the audience? I didn't think about it, I just did it.
When the performance is over and we do the traditional "This panel is over! Leave Now!", I'm so high I shouldn't be operating heavy machinery. I think I speak for all of us when we hear people tell us they loved it. This is worth every second of practice, all the time spent building and hauling around the props. (And we tend to do prop-heavy productions). The finished videos are worth all the effort and time spent editing and building sets, and writing pages and pages of cue cards. I wouldn't spend a minute of it doing something else.
Lt. Cmdr. Qe'pa vestai-qul
Laura Thurston
CO IKV RakeHell
LaurThur@aol.com
---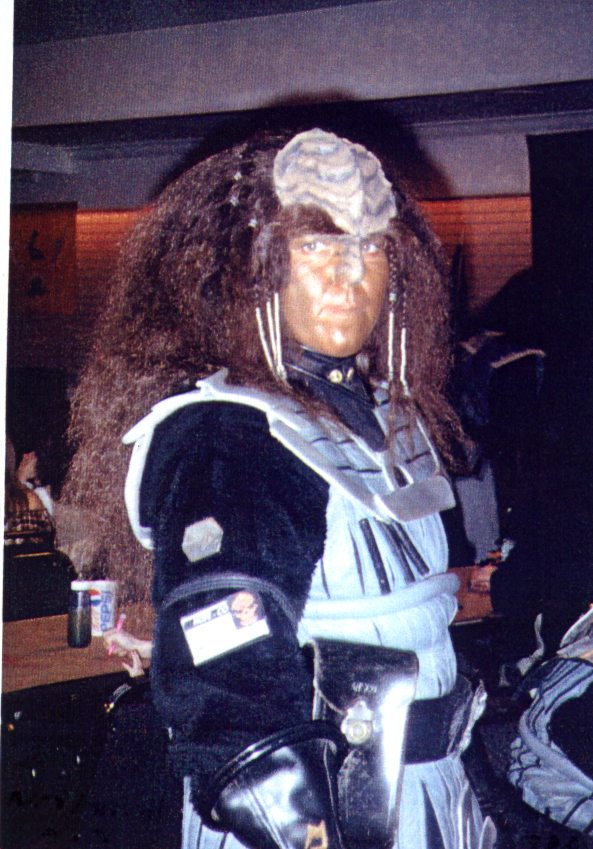 Our special thanks go to Amy C. P. Nelson for her many contributions of artwork seen in this issue of the MINDSCANNER.
---
Members of House Veska
Artwork by Veqa
Amy C. P. Nelson
6891 Ruth Way
Denver, CO 80221
Veqa@AOL.com
www.houseveska.org