The Official Publication of KAG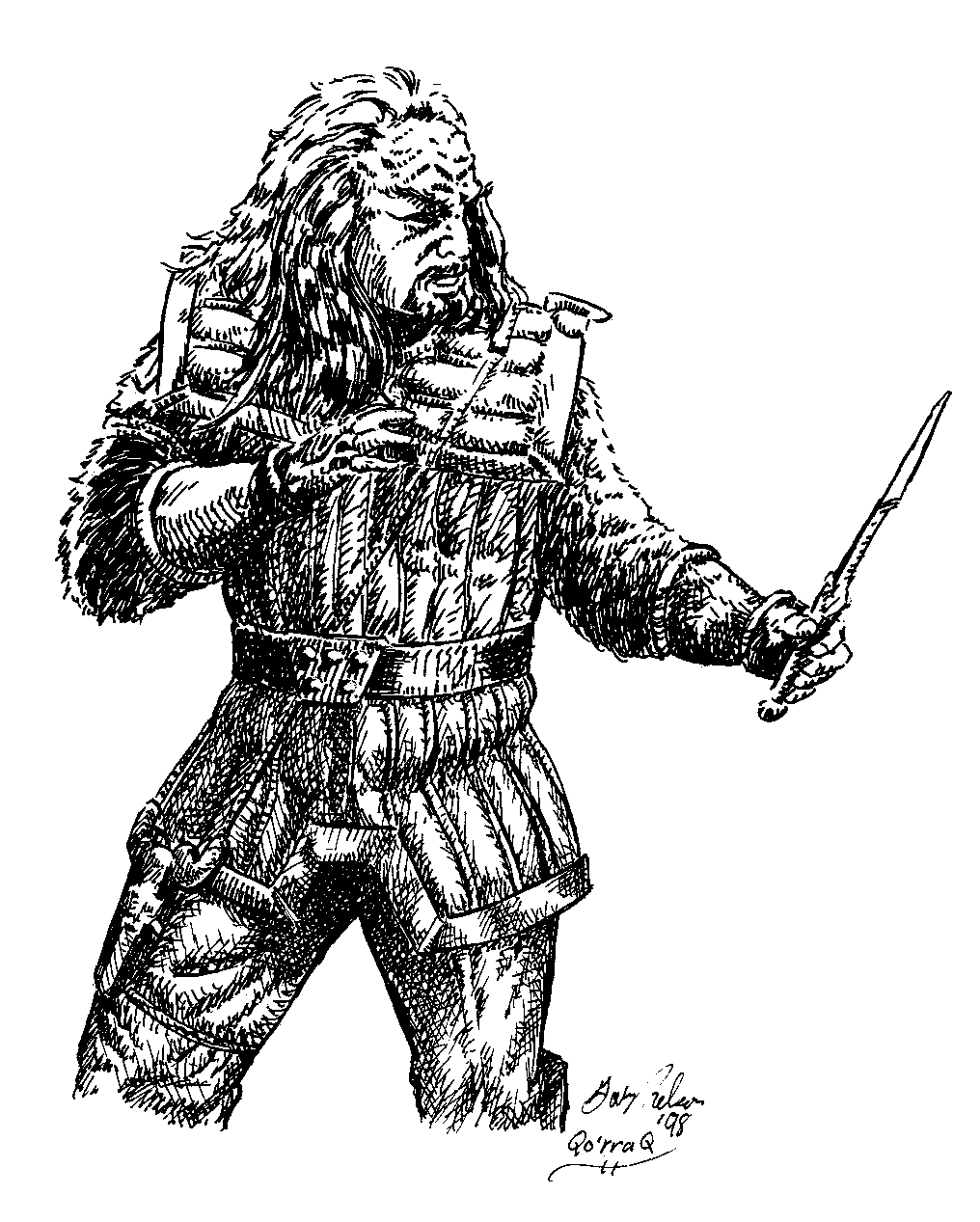 #52

---


Greetings, Klingon!

Sometime next spring--the exact date eludes me--the KLINGON ASSAULT GROUP will have been around for ten years. (ALL your fingers, and your two thumbs.)

We started out small, yet vocal, climbing onstage at a convention called STARBASE INDY, issuing a BLOOD DUEL to Starfleet Command. We got the ball rolling, and kept the club on the move. The policy of no dues, few rules, and a joyful sense of PLAY made us quite a juggernaut.

YOU may have been around at that time; you might've just joined us. Your Klingon uniform may be battered and smeared with makeup and Moxie, or might be brand-spankin' new. You might not even have a uniform--yet.

Whatever...you're here, and we're glad!

The most important part of this KAG thing isn't "the Navy", or "the divisions" or "the ships". It's YOU. All of you. All 4000+ members, located around the planet. You each bring a vital and vibrant part to KAG--or at least I hope you do!

Get dressed up in Klingon garb, and come out and play. Being Klingon and talking Klingon is a LOT more fun when you look the part.

Tell me of your exploits, and let's gear up for another ten years!

GO FOR GLORY!
K R I S
KRIS epetai-KURKURA
Thought-Admiral

John Halvorson
2550 Purvis Drive
Burbank, CA
818.569.3021
bg355@lafn.org
---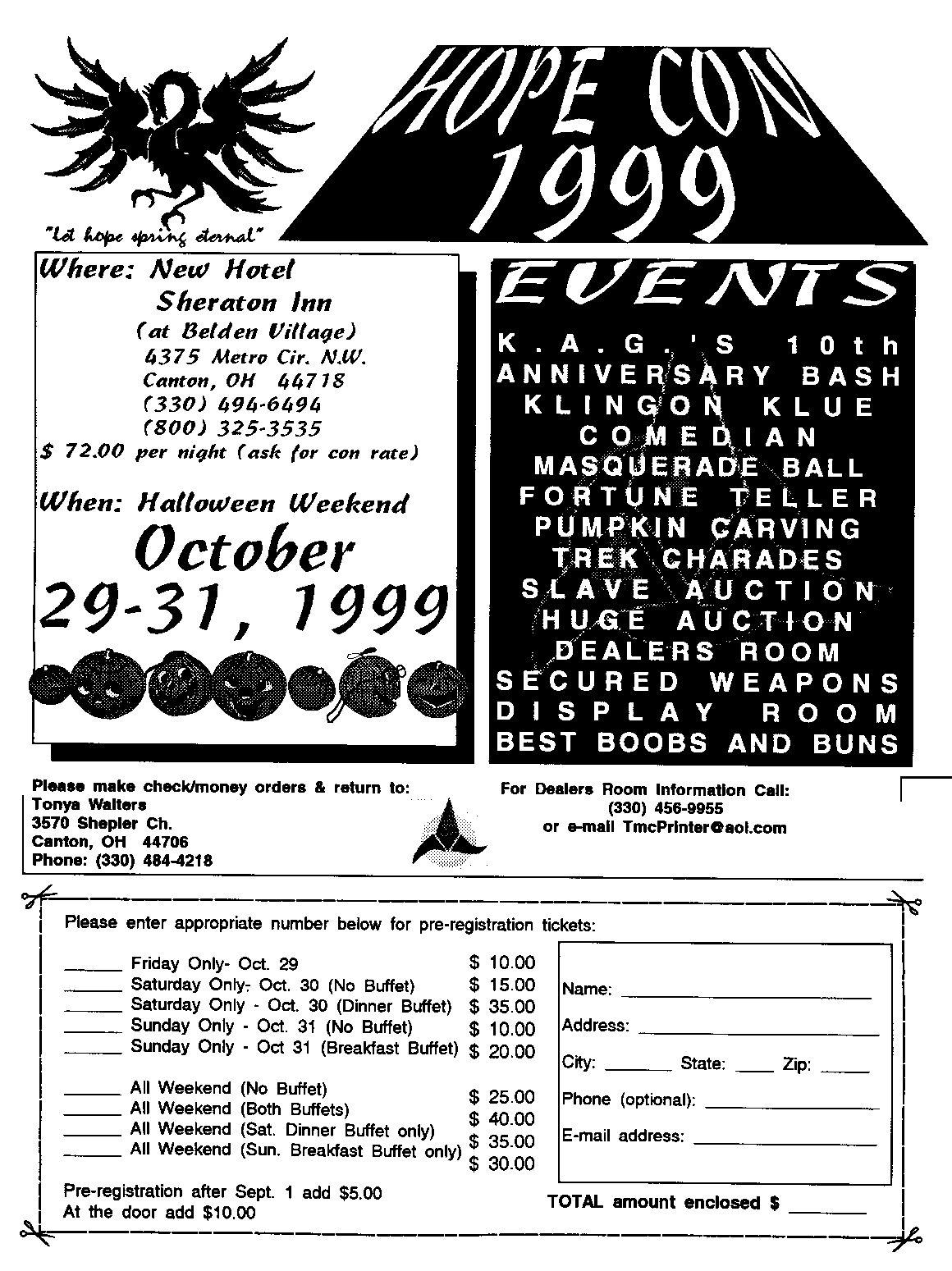 ---
Cover art for this issue of MINDSCANNER
was provided by Gary Nelson,
Cmdr. Qo'rraQ of the House Veska
---

Admiral KRAGTOWL

Greetings Members of KAG!

There have been a lot of changes in the upper command and with these changes, as Deputy Commander, I am overseeing the Divisions of Quartermaster, Force Recon, KAG International and Cyber Space Patrol. I am here to assist these Divisions as they may require my help or support. I would like to give a small rundown on each area to let you know what is going on at present.

Quartermaster

Capt. Kaadra zantai-Rosh'Ka (Candji Buckohr) is taking a sabbatical from QM. Until the time she is ready to return, I am doing my best to get QM Division compiled with more information and working on process to be able to provide this information to all members. Jett Borkowski is assisting me in compiling a list of contacts for uniform pieces, accessories, material and anything else that can be useful for KAG members. We are also working on putting together documentation that will give step by step assistance in creating uniforms and accessories. Anyone, who would like to assist in this project, please do! The better information we have and the more easily we make it available to you the members, the greater KAG is as a whole! If you have any questions or comments about QM please contact me at the address below.

Force Recon

Cmdr. Khar'Ton sutai-Koltar (Ed Charlton) is revising the Force Recon Booklet and I would like to apologize to him because of the changes in upper command, this has made his efforts very difficult. He is also a good resource for any information about Klingons and KAG's past. Contact him if you're trying to find out anything in these areas.

KAG International

The name is not intended separate but to refer to our brother and sister Klingons abroad. We have chapters in England, Australia, Italy (or Italia as they like to be known), Israel, Sweden, Germany, Japan, Iceland, and Canada. I hope to get an accurate list of addresses put together so that you can contact these members and share your experiences.

Cyber Space Patrol

Capt. KwISt zantai-XuDetlh (Joel "Twisty" Nye) has been doing a lot with this Division. He has been establishing the ELINT Fleet and has others assisting members in establishing websites on the Internet. He is also in charge of the KAG Domain. In this area, I am requesting that all Division Leaders submit information to him that he can add to the main website and broaden the information about KAG to make it available to anyone who visits.

NOTE: The approval of ship names, battle notches and kill stripes are the responsibility of Adm. Kroesh now. Any items of this type are being forwarded to him.

In closing, I would like to say that I hope everyone is having fun and ask that you remember under all the make-up and uniforms, we are individuals. As such we should treat each other with the same respect and courtesy we each expect ourselves. Consider each other's feelings and respect their rights. We all belong to a great organization and as a whole, all of us, can continue to make it greater! Have fun and Qapla'!

Adm. Kragtowl zantai-Trekkan

Deputy Commander of KAG

William "BEAR" Reed

2720 NE 42nd Street

Kansas City, MO 64117

trekkan@aol.com

http://www.geocities.com/~kragtowl/
---
Demon Fleet Greetings

from Captain KuurIIs (Jack Borkowski)

I usually speak for the Demon Fleet, but as you can see they also like to speak for themselves on occasion. The song below was sent anonymously to the MINDSCANNER, and I think it will tell you more about KAG's Pirate Fleet than anything I could say here.

Demon Fleet Things

(Sung to the tune of "A Few of My Favorite Things")




Grass Skirts on Tor'Ka, and listservs from Martek

Martians at HopeCon, and fresh bread from Kadak

Twisty's inventions with red laser beams

These are a few fav'rite Demon Fleet things




Fellowship cookouts, and Wild publications

All-nighter Parties, and lewd conversations

Showing off tatoos and pierced body rings

These are a few fav'rite Demon Fleet things




When the rules bite, when the Cheese stinks, when I'm "being bad"

I simply remember these Demon Fleet things

and then I don't seem so mad!




Krusty the Klingon and Mistress Kassara

Kihl drinkin' beer like there ain't no tomorrow

Pirate ship boardings on tethered rope swings

These are a few fav'rite Demon Fleet things




Members all over from Rome to Vancouver

Punsters performing the Kerla Maneuver

Taking our spankings in full 'til they sting

These are a few fav'rite Demon Fleet things




When the job sucks, when my eyes throb, when I'm feeling bagged

I simply remember these Demon Fleet things

and then Life is Good in KAG!

- K'loaked
---
KAG Quartermasters
Greetings from the Quartermaster on sabbatical.
The planet Wertz has been a delight. The vegetation threatened to take over, but the beautiful exotic flowers that bloomed from my outside entrance were worth all the trouble of hatchetting through the undergrowth. Much of my time has been spent in getting settled into my new digs. I will be executing the office of QM from this planet. I could find no where better than Wertz.
Even though this was supposed to be a vacation, many people felt that I should do just one more favor, "just for them." They have no idea how many favors were requested and do not understand why I have not responded to theirs. One day alone I received 46 e-mail messages. Since I have a real life employment that takes up 11 hours of my day and I need to sleep at least 7 hours, that does not leave me much time to do all the other things required of real life. Now for the news. I will be returning to active duty Oct. 1, 1998.
I am looking for, as the saying goes, a few good people. I need someone with a computer and scanner that can take the files and put them on the computer. These will require someome with graphics ability since most have drawings with them. I would like to have someone interested in responding to some of this e-mail that I have been receiving. HELP!
I am also looking for someone to step forward for the unfilled positions in the Quartermaster Division. I know that the QM positions have a lot of work involved, but I am sure there are good people out there that would like to be involved.
Anyone in making items for sale is welcome to have their name and address added to the suppliers lists. Please send me your information. I know there are many who are doing great work, but I can not put out the word unless I know about you.
Well, I have a few more days of respite and want to use them wisely.
Please note the new address and phone number. Qapla'!
Capt. Kaadra
Candji Buckohr
1255 Wertz Ave. S.W
Canton, OH 44710
330-452-9396
kaadra@ezo.net
---
Imperial Marine Security Forces KAG
by Major Qortok vestai-DevnoH (Bill Ramsey)
Quadrant Fencer, Dark Phoenix Quadrant
Dark Moon Fleet

Klingon Marines are the largest ground forces of the Klingon Empire. In any operation, the philosophy of the Klingon Marines is to take their objective as quickly as possible and hold it. To accomplish that, they rely heavily on tactics like beaming directly onto their objective, full frontal attacks and such. Once they have seized the objective the Marines will hold onto the objective at all costs. The Marines are not well versed in tactics, but rather, are trained to follow orders to the letter. There is always the cream of any group, The Imperial Marine Security Forces (IMSF) specializes in Security. They are trained to follow orders, adapt and overcome. They are assigned special details both covert and overt, from escort and protection of the Quadrant Commander to the KAG Commander-in-Chief, to Gowron, or Martok. They are even entrusted to provide security for Federation and other aliens visiting our areas of operation. The IMSF is honor bound to protect their VIP, no matter who it may be. In doing so, he brings honor to himself, his house, and the IMSF.

KAG IMPERIAL MARINE SECURITY FORCE

The Imperial Marine Security Force is a department aboard KLINGON ASSAULT GROUP vessels and represents the Klingon Empire's military ground forces. The IMSF is composed of units known as "Force Teams and Lances" which are attached to KAG naval vessels and KAG Marine assault vessels. The Lance and Force teams are regarded as the first units to be beamed down and secure the area. They are multi-functional because of their adaptability to handle the situation as thrust upon them.

IMSF DUTIES

The IMSF's primary duty is to provide security at conventions, special functions and meetings, whether aboard a KAG Naval vessel or a Marine Assault vessel. It is well known that Marines are jack-of-all-trades, however they are now specializing in Security operations. Marines haven't left the mainstream of KAG, they are just organizing to perform a job to restore their worthiness within KAG. The Marines have a purpose. They are charged with security operations, public relations, recruiting. This is all due to their high visibility, and duties. Most duties are assigned by the Ship Commander. However the Quadrant Fencer is in charge of overall security procedures at conventions, etc. The QF is there to assist the CO's of any KAG ship to ensure security operations are accomplished within KAG IMSF guidelines. Other duties include honor guard, PSD (Personal Security Detail) for high-ranking members of KAG (i.e. Capt. and up, also Quadrant Command and up) when needed.

During most active duty aboard a KAG vessel, the IMSF will attend events and conventions. This is where they distinguish themselves as members of an elite combat force, and provide a service to the convention staff and hotel staff. Along with this will come increases in rank and honorific as well as special recognition within the IMSF in the form of unit citations and distinguished service awards. Due to the sensitive nature of many security operations NO IMSF Marine may be involved in any disorderly conduct, or anything that will bring disgrace and dishonor on their unit, their ship command , the IMSF and KAG as well, so abide by the Code of Conduct, and the IMSF guidelines.

The underlying aspect is the Klingon fellowship that a Marine will experience with not only their fellow IMSF members but also their Naval counterparts, bringing about the camaraderie that Klingons have been so well noted for as a race. Being a member of the IMSF has a two-fold mission: 1) Being part of a unique military department and 2) being a member of the best Klingon club ever, the KLINGON ASSAULT GROUP!

IMSF Chain of Command

A Chain of Command is a structured order of individuals who are responsible for different levels of authority. With each stage of the CoC (Chain of Command) comes a level of responsibility and accountability. Those individuals high in the chain of command have put in time, effort and personal sacrifice to achieve their positions and will be given a certain amount of respect. In most cases there is only one chain of command, but the IMSF has a dual chain of command. The reason for a dual CoC is to relieve the burden of security operation from the Quadrant Commanders, and Fleet Commanders, and into the hands of carefully selected individuals who can perform the security operations and have at minimum some form of security background, training and experience. The CoC breakdown is as follows starting at the bottom:

NAVAL
MARINE

KAG Commander-in-Chief

Naval Commandant
Marine Commandant
Fleet Commander
Field Marshall
Quadrant Commander
Quadrant Fencer
The ships CO being the last in the CoC before QF, must go through the QF with any concerns dealing with Marines. This step of the CoC will not be breached.
Ships CO IKV
Ships CO IKAV
Ships XO IKV
Ships XO IKAV
Lance Leader
Lance Leader
Force Leader
Force Leader
Marine
Marine
The Future of the Imperial Marine Security Force
This is the current strategy for the IMSF. It is important to remember that the history and background of the Marines will not be lost, rather it will be included in the culture of the Imperial Navies.

The IMSF will make efforts to increase the ranks of Marines aboard all ships. Starting Jan. 1, 1999 The Marine or Naval personnel recruiting Marines aboard a vessel will be eligible for the Marine Legion of Merit, at the end of a one year period Jan. 1, 2000, the award will decided upon, and will be awarded to only one individual, the individual who has recruited the most Marines into KAG. (Quadrant level Command and above are ineligible)
Once ranks have increased, Marine Command will be chosen based on abilities and experience. These selections will be based on the warriors' merit, not their rank or longevity with KAG. These leaders will work with their Navy leaders to enhance the development of the IMSF.
The development of the IMSF has changed slightly since its conception; Marine Command will be filled from the bottom up, and advancements may be made throughout the process. The best Marine Leader will be promoted to the higher positions, such as Field Marshal. This person will work directly with the Fleet Commander and act as his aid and staff officer over-seeing Marine duties at the Fleet level. Also Marine Commandant will work with the Naval Commander to set Marine policies. Even at this time Marine policies are strict due to the public involvement the IMSF has.
As our Admiral Kroesh zantai-SEPTARIC has said many times:
Good Hunting Marines!
Major Qor'Toq vestai-DevnoH (Bill Ramsey)
Quadrant Fencer, Dark Phoenix Quadrant
Hochlogh no' yIquvmoH (All times Honor your Ancestors)
Imperial Klingon Marines, DMF, DPQ
Dark Phoenix Quadrant Imperial Intelligence Officer
qul qab tuQ (Wear a Face of Fire)
ICQ Number 11898488 or 5438167
http://earth.vol.com/~sundell
http://www.geocities.com/Area51/Station/6468
http://www.geocities.com/Area51/Station/6467
http://www.geocities.com/Area51/Station/6465
---
"It IS a Good Day to DINE!"
by Khar'Ton sutai-Koltar (Ed Charlton)
Greetings fellow KAG Warriors! This is Cmdr. Khar'Ton here with a recruiting event and possible fun opportunity for you and your various ship commanders and crewmates. - EATING & DINING! It's called - "A Good Day to DINE!"
First, scout out your local area for eating establishments and restaurants that take reservations. Call them up. Ask to talk to a manager or maitre' de...(nicely!) And ask them if they'd like to be invaded by local Klingons. (You might have to ask them first if they even know what STAR TREK is.) If they seem willing to be invaded, or even better, LOVE the idea...then plan a date and invade the place in style.(!!!) One restaurant that the Cincinnati bunch of KAGsters went to locally had a waiter who 'volunteered' to be the waiter for the Klingons. Remember to go in FULL uniform and as many of you as possible. The more uniformed Klingons amongst the 'non-Klingons' the more of an impact it makes. If one of the 'mundane' diners in the restaurant asks if there is a STAR TREK convention in town you tell them, with just the right pauses for emphasis: "No, Today is a Good Day to DIIINE!"
For the recruiting angle: make sure that one warrior among you has a stack of Klingon business-cards and also KAG applications with them so you can spread around contact information about KAG. There are always a few brave people who ask for more information about us, the club, and TREK fandom in general when we do these stunts. Also, remember to compliment the waiter and the cooks as well...ESPECIALLY if it was truly majqa (excellent) service. Another good idea - bring certificates that say things like: "THIS EATING ESTABLISHMENT has SURVIVED A KLINGON INVASION!" -or - "These Servers and Cooks served the KLINGON EMPIRE HONORABLY!" and have blank spots where ALL of your Klingons, or your 6-7 highest ranking Klingons sign it. (These 'certificates' could be partially printed up in Klingon) Also, a polaroid photo might help the effect and be a good reminder for the restaurant staff.
GOOD REASONS TO HAVE A "GOOD DAY TO DINE": Birthdays of crewmembers, TREK movie premieres, the next DAYS OF HONOR weekend, ship anniversaries, a young warrior's 'Rite-of-Inclusion', Rites-of-Ascension, anniversary of a significant Klingon victory and so forth. If you do it as a birthday dinner, try to sing HAPPY BIRTHDAY in Klingon. (There are several versions of this song in Klingon fandom) Also, again, remember to bring cameras to record the event for later recruiting opportunities.
That's the general outline of one good idea. "A Good Day to DINE", try it ...if you haven't already. That's the suggestion for this issue of MINDSCANNER. Each issue I will suggest or share ideas about recruiting and informing KAG members.I will not be overly-specific with these ideas so that all of you may 'individualize' them to fit you local needs and desires in each city that you play in. FORCE RECON is the recruiting, training, and 'welcome-wagon' Division of KAG. If you have ANY ideas or suggestions, then please communicate to me at:
Commander KHAR'TON
Edmund W. Charlton
P.O. BOX 53695
CINCINNATI, OHIO
45253-0695
...or via e-mail at:
charlton@fuse.net. [archivist note: change of address]
Qoltar@hotmail.com.
yIn Qapla' je,
Cmdr. Khar'Ton
Ed Charlton

---
Communications and KAG
by Cmdr. Leetra sutai-Trekkan (Chris Reed)
Definition of Communication: abbreviated: an act or instance of transmitting, information communicated, a verbal or written message, a process by which information is exchanged between individuals through a common system of symbols, signs, or behavior, also exchange of information, personal rapport, a system (as in telephones) for communication, a system of routes for moving troops, supplies, and vehicles, personnel engaged in communication, a technique for expressing ideas effectively (as in speech), the technology of the transmission of information ( as by print or telecommunication ).
Definition of Communicate: abbreviated: to share, to convey knowledge of or information about: make known, to reveal by clear signs, to cause to pass from one to another, to transmit information, thought, or feeling so that it is satisfactorily received and understood.
Definition of Communicative: abbreviated: tending to communicate: talkative, of or relating to communication.
-------------------------------------------------------------------------------------
Why the definitions? Because...each of us may know and understand only a few possible meanings of the word or word type. By putting the definition down we all see the full meaning.
First off is the Chain of Command:
Member
Ship XO
Ship CO
Quadrant CO
Fleet CO
Naval CO
Deputy CO
Thought Admiral
You should communicate following the chain of command. Start at your level and go up OR down as needed. For detailed information on the CoC, please ask your ship CO or your quadrant CO for a copy of the fleet guidelines...or for the communications section of those guidelines.
Mainly what I would like to discuss is the efficient and effective use of your Communications Department and/or your Communications Officer(s).
Many of us are guilty of not using this area to its fullest extent. We have the communications members handle the newsletters, maybe keep in contact with the membership locally, however there are many other possibilities. Some of my suggestions are as follows:

Working out a newsletter exchange with other ships quadrant wide, fleet wide, or KAG wide. (Including International ships)
In co-operation with the CO and XO, heading the top of your phone contact with members. IE...letting them know when an event is approaching, meetings, etc.
Keeping in contact with fellow ships in your quadrant...setting up possible events, get-togethers, sharing con-info...etc.
Working with local news groups to get public notice or public service announcements.
Working with the ISN. Either passing on information to your members received via electronic submission, or passing on info from your ship electronically. Web pages, etc.
Assisting with ship's reports.
Keeping ship's records or a copy of ship's records.
Possible contact point for new members of the ship.
The Communications Department for access could hold a copy of all information available in KAG by the membership. This would reduce the stress of any one member aboard ship having all the information. Be that the ship CO, XO, marine, quartermaster, etc. Also, if only one member on your ship has all the info...what happens if they resign, take a leave of absence or simply lack the time to respond to requests for that info?

These are only suggestions from one member of KAG to another. If you have input, other suggestions, or disagree entirely.... let us know!

Correct use of communications is very important. IF we write or say something that is unclear, it causes confusion, distrust or anger. Being as clear and concise as possible will eliminate many difficulties. The best suggestion I have for deleting most of this...is to never write anything hastily. Write it, let it sit for a little bit, look it over and make sure it's coming across clearly without emotions clouding it. Have someone else read it and see how he or she takes what you have written. Lastly, tell people. If you are unsure how someone will take what you have written...write a line telling him or her so! IE: "I'm not positive this is coming across the way I meant it to, if you need any clarification please call or write and I'll try to make it clearer".

Communications are also a very necessary part of any organization, be that work, school, or hobby. Without communications any of those organizations would simply cease to exist. We as the membership of a "hobby" organization are in many ways the heart of the communications of the club. If we do not make reports, write articles, or make written/verbal submissions of suggestions we are guilty of letting our organization down. We cannot rely on a small group of people to make all the written or verbal efforts on behalf of our group as a whole. We all want to know what other areas are doing.

I live in the Midwest and know a great deal of what is going on here. I am also online, so again hear a great deal more than the average about KAG as a whole. However, there are many without electronic capability. Newsletters, letters and phone calls are the only way they can keep up with the club. If one area fails to report for a number of months then they are letting down their sister ships. They have now become uninformed of changes, suggestions, and details on what you are doing. They don't know if you're still around, in need of assistance, or simply have nothing new to report. If the latter is the case, dropping a quick line stating such will keep everyone informed.

I wish everyone an eventful year with KAG, may your personal lives be smooth, may your careers be productive, and may your ship earn much glory!

Qapla`

Cmdr. Leetra sutai-TREKKAN

Ship Commander of the IKV Blood Oath

2720 NE 42nd Street

Kansas City, MO 64117

Leetra@aol.com
---
FLAMES OF THE WARRIOR
The sounds of battle hung low over the blood stain knoll where warriors met to decide the fate of the Empire. This shall be the most tragic day of all. Morning brought forth two armies in grand splendor, now bloody corpses of fallen warriors mark the open field. Man and beast have fallen to sword and spear, with the only movement from the banners of great houses still standing watch over the field of judgment. Flames from torches begin to burn this horror of flesh clean. Fires will burn till all is consumed, this will cleanse the ground for generations to come. Both armies lay dead to a warrior, no one asked for mercy and none given in the heat of battle. Victor and vanquished lay side by side, none alive to sing of the battle of this, most violent of days. Some future day a person will find bones and weapons, but will only know that two armies did battle sometime long ago. May history find its course for forgotten warriors die and nothing is written of their most violent of lives.
by Kevin Mounce
---
From Twisted Minds...
by Captain KwISt "the twistai guy" zantai-XuDetlh (gadzuntai!)
(Joel "Twisty" Nye, me@twisty.org)
Honorable KAGsters! KAG's CyberSpace Patrol Division (CSP) is expanding. It is our hope that the diverse appetites of you hungry warriors will be satisfied by a growing smorgasbord of activities. We're doing our part in that by offering more Special Interest Groups to KAG, starting with the new KAG Engineering Work Labs (KEWL).
SIGs
"But wait," I hear you ask, "Aren't 'Special Interest Groups' those petitioners in Washington?" Not in our case. A Special Interest Group is any team that shares an interest, beyond the General Interest of the public--KAG itself is a SIG whose focus is on Klingons and Sci Fi fandom.
SIGs are very handy in giving your team MORE fun to share. For many, KAG's general interest in Klingons is enough... but for many others, there is too much about the richness of Klingon Culture that just isn't yet covered. Their fancies go beyond the 'general' interest in Klingons. What of their foods and fashions, trades and technologies?
If you think about it, we'd never be together as a group if it weren't for some shared interest that draws us together. And what could be more INTERESTing than the Klingon appearance and behavior that we find so ENTERTAINing?
One of the best ways to build unity is to show respect for differences... Each and every one of us has a different set of God-given talents and interests, so it's not just something to tolerate; It's something to CELEBRATE! How might YOU reward the special task forces and parties within your ship? A good start is to encourage their unique identity, and embrace them as part of the larger whole.
So What's New?
Sciences are one of those interests often shared... the study of anything and everything. Engineering is another such interest, especially in the exciting prospect of building "smart props" with all the bells and whistles. (Write to learn more!) Another worthy interest being shared is the idea of "HomeWorld," mentioned by Stacy Cupples elsewhere in this issue. These are some cool efforts to explore more richness throughout our empire.
Well boys and girls, that's our show. Thanks for watching. If you'll excuse me, I've got some inter-team cooperation and sharing to foster. SEE YA!
- Joel 'Twisty' Nye, the OTHER Science Guy
a.k.a. KwISt, the twistai guy, Division Head of KAG's CSP
me@twisty.org
Joel 'Twisty' Nye
628 Buckeye St
Hamilton!, OH 45011-3449
(513) 868-6537
"We commanders are no different than others. We get up and shave each morning just like everybody else... One leg at a time."

---
Words from the Editor
also by Twisty
I hope you're enjoying this special expanded issue of MINDSCANNER. I'm very grateful to the numerous contributors whose open sharing helps us all. Most of all I want to thank my wife Kerla for the hours of service she's poured into gathering and proofreading these articles.
To get four issues, send six dollars payable to:
JOEL NYE, 628 Buckeye St., Hamilton, OH 45011-3449.
Use this same address to mail submissions, or email me@twisty.org.
Next submission deadline is December 1st, 1998.
---
Entertainers or Madmen?
by Major Mordokk vestai-Riveck
On the heels of their acclaimed performance at Hopecon and with the sudden upsurge in the popularity of their videos many Klin every where are asking questions about the RakeHell. Who are they? Why are they here? Are those their real faces? EW, can we leave now?
Yes, RakeHell fever (not to be confused with Red Boil fever which is almost as virulent but not as deadly) is sweeping the Empire.
From their humble beginnings as outcasts and misfits the crew of the RakeHell (known as the scum of the fleet) with practice, hard work and a minimum of talent have molded themselves into the top body group and drama disposal unit in the Empire.
Starting with their very first panel "Surviving the Klingon Homeworld a Guide for the Feddie Tourist", the then-small ship knew they had something special. The audience hooted, howled, laughed and cried but despite their pleas the RakeHell completed the panel and decided to inflict their particular humor on anyone foolish enough to get in range.
More stage productions and panels soon followed with "The Warrior's Song", "Six Shakespeare plays in Six Minutes", "Klingon Deadtime Stories" and "Klingon Myths and Misses" playing before initially hostile and angry crowds. The gentle humor, melodious melodies and stinging satire of each production gently sway the audience and, almost by magic, turns the crowd apathetic and sullen.
Onstage the dynamic synergy and selflessness of the performers, stage crew, handlers, sycophants and groupies is apparent as lines are tossed to and fro, Que's stepped on and missed, and quips and laughter ring from both the stage and the crowd.
It seems that nothing is holy. No canon, Sci-fi or other, is inviolate to this group. "The Legend of Kirkules", "Batleth and the Boulder", "Xena and the 3 Wiseguys", and "Pale Frozen Precipitation and the Ferengi Septet" are examples of what truly warped individuals we're dealing with.
Of course not everyone is unfortunate enough to see them onstage, so despite popular demand they began filming their productions. Under the guise of bringing enlightenment to the more blighted parts of the galaxy, the RakeHell has produced several training videos including "Your New Crewmate", "Batleth Basic's", "Solving Crew Conflicts" and "Engineering Safety Tips". They have also produced an Infomercial "Amazing, Fantastic, Astounding, Stupendous Discoveries", the popular talk show "K'Ditzy" and commercials for "The K Files", "Mr. K'odgers Engine Room", "K'VITA!!" and "Borg Side Story".
Despite the fun, humor and good times had by the crew there is also a bit of a serious side to their productions. The RakeHell also produces BattleShip Vengeance their version of the award-winning Klingon Holovid. The first episode "Demons Opera" sends the crew up against the Demons and was shot on a shoe-string budget in a single day. Edited in a friend's basement with obsolete equipment, technically it approaches Dr. Who quality. The second episode "Vengeance Cubed" pits our heroes against the Borg (with special effects on par with any on TV) and has been compared favorably to TOS. The third episode "Cold Vengeance" centers on treason and is currently in post production with expectation of release next spring.
If you're interested in finding out more about RakeHell videos and how to purchase them see their websites at:
http://members.aol.com/GeoHard/RakeHell.html ,
http://members.aol.com/Laur/Thur/TARGTV/html
or write to
The Batleth, c/o G. W. Richard, 1823 Como Ave SE,
MPLS, MN 55414
for a complete list.
All profits from these productions go to charity.
Maj. Mordokk vestai- Riveck
Marine Commander
IKV RakeHell
---
KLINGONS?!?! In Kansas???
by Stanley D. Seba with a lot of help from Kevin Albee.
nuqneH!
Ever since the first time I went to a Science-Fiction Convention in the greater Kansas City Area, (way back in 1979! Star Trek Con '79, no less.) I was amazed at how many Klingons there were! Since the release of "Star Trek: The Motion Picture," I would see more and more Klingons. This made me curious about the Klingon Culture. With the popularity of following Star Trek movies, and "Star Trek: The Next Generation," My curiosity became more of an obsession.
My friends and I were fascinated by the Klingon language, the customs and rituals. Lt. Worf became a favorite character amongst all of us. Each week we would watch "Star Trek: The Next Generation" in hopes of getting more of a glimpse of Worf and the Klingon culture. When "The Klingon Dictionary" was finally published, my friends and I were the first in line to get a copy at the local bookstore. We spent many a late night trying to figure out the grammar and pronunciations of the words and phrases. That was the beginning...
After a few years had passed, in 1995 we saw a group of Klingons at a local convention who called themselves "The Klingon Assault Group." This interested us. But by now our little group of Star Trek Fans had dwindled down to three of us. We picked up a K.A.G. flyer and thought about joining. Unfortunately, our schedules were so busy, there was no way we could manage the time to be part of another organization. So we forgot about it.
Finally in April of 1998, with most of my friends moving away, I decided to join K.A.G. My best friend, a fellow Klingon who goes by the name of Kevin Albee here on earth, decided that since the nearest K.A.G. ship to us was over 40 miles away we should start our own ship. We just had one small problem... With Kevin, his wife Angie, and myself, we were the only Star Trek Klingon Fans we knew of in a 20 mile radius of the towns where we live.
Kevin and I started to search the Internet for anything that had to do with K.A.G. for answers as to how we could start our own ship. We were amazed at how many K.A.G. websites we found!
Luckily for us we found the House Trekkan Website, and I was really amazed to find out that Adm. Kragtowl zantai-Trekkan (also known to the mundanes as William (Bear) Reed) lived about an hour away from us in Kansas City, Missouri!
I e-mailed Adm. Kragtowl, and he quickly responded to my questions as best he could. I spoke with him on the phone several times in April of 1998 and he gave me volumes of advice and copies of the "K.A.G. Guidelines," and the "Fleet Guidelines." He gave both of us information on how to make uniforms, Imperial headpieces, and invited me and Kevin to a "Klingon City Ships" meeting on April 11th, 1998.
Once Kevin and I got to the meeting, we were amazed! Here was a group of Klingon fans, with their wives and children participating in the meeting! This really impressed Kevin, since he has three children of his own. After the business of the meeting was concluded, while consuming Romulan Ale and Klingon delicacies, We had a chance to sit and talk to Adm. Kragtowl.
The Admiral helped us in learning about the history of K.A.G., what K.A.G. is about, How K.A.G. is still growing, what charities K.A.G. supports, info on constructing costumes, and make-up tips. He then helped us choose a name for our ship, and gave us the e-mail address of our Quadrant Commander, Lt. Commander Najchom vestai-Trekkan. (Or as she is known otherwise, Stacie Cupples.) After the meeting was over, Kevin and I knew we were in with the right group of Klingons!
As soon as I got home I e-mailed Lt. Cmdr. Najchom about ship construction, and Kevin started to write the history of the I.K.V. Occam's Razor, and the history of House Occam.
The I.K.V. Occam's Razor, docks either in Leavenworth, Atchison, or Troy (basically, the North East corner of the state.) Kansas. We meet officially once a month and unofficially every Monday night.
At our meetings for the past five months we've been concentrating on getting everyone in costume/uniform. This is a major project in itself! Kevin and I had fun running from fabric shop to fabric shop trying to purchase 20 yards of heavy vinyl! Our second priority has been raising ship's funds.
Not everything has gone smoothly, but so far I've enjoyed constructing this ship. My Executive Officer hasn't had this much fun since he was in theater productions in high school. But we do need some help in the following areas; finding someone in the K.A.G. Quartermasters, and in the K.A.G. Genetics Research.
If anyone has any advice on costuming and making headpieces, please contact me at my e-mail address; <yotlnaghwI@rocketmail.com>.
Or contact my First Officer at <occams_razor1@yahoo.com>. Any info or advice you can give us is much appreciated. If you don't have access to the Internet you can write to me at;
Stanley D. Seba
619 North Seventh Street
Atchison, Kansas 66002
The Crew of the I.K.V. Occam's Razor looks forward to serving the Klingon Empire with Honor! (not to mention, we look forward to KILLING any Tribbles that may be hiding out there! HoH yIHmey!)
Qapla' !
---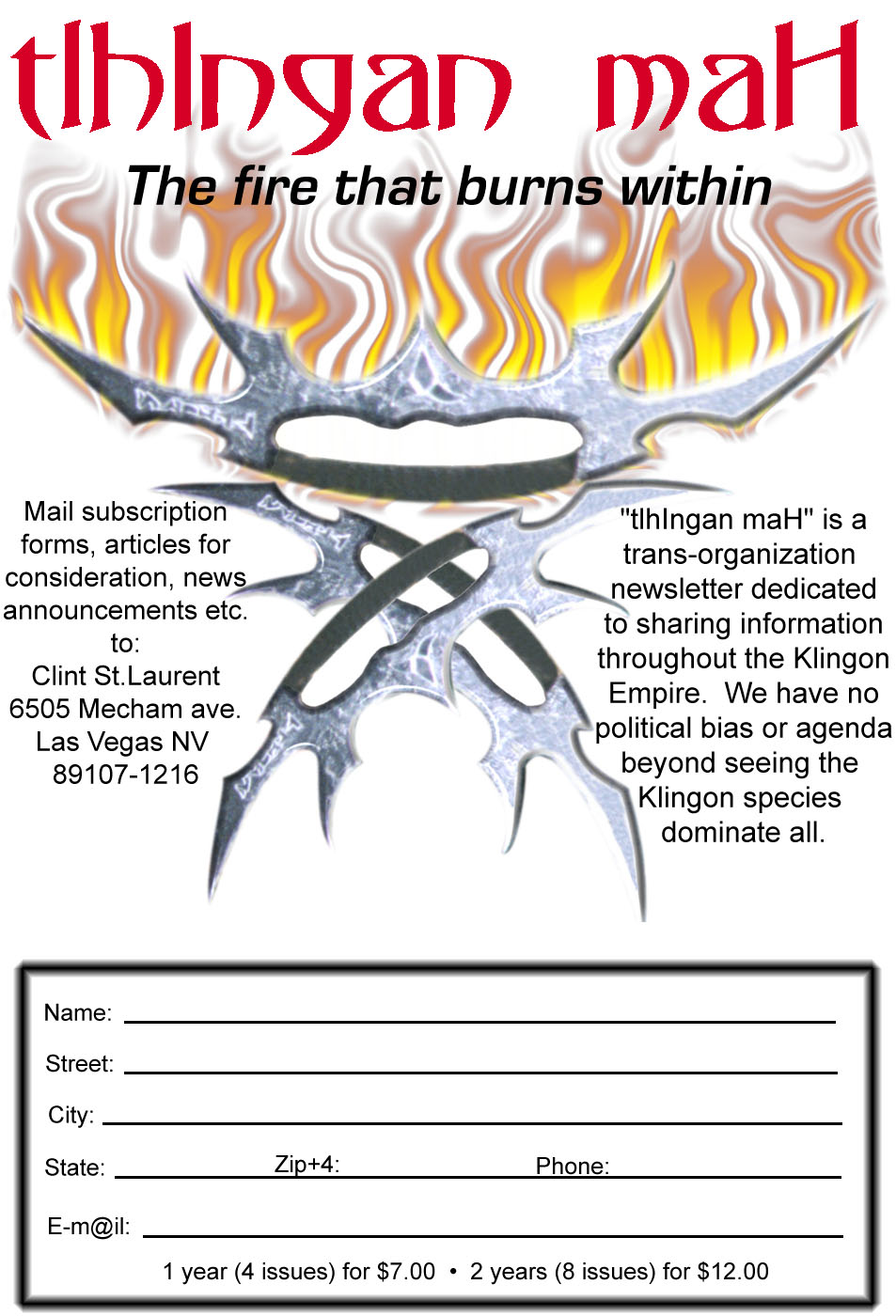 ---
A Close Encounter of the Green Kind
An excerpt from the new book by D. R. "Cat" Ramos (KlinCat@aol.com), "For Family and Empire"
Tai'gehr leaned back into the heated, bubbling water, growling softly with pleasure. Alone in the females' spa, she relaxed, although her shakra lay within easy reach on the pool's tiled edge. An Orion shipping port was no place for a spacer to let down her guard. Even the fiercest predator could become prey if lulled into unwariness.
The inner doorway to the spa slid open to admit a Humanoid figure. Tai'gehr looked up to see a Green Orion woman approach the pool through the clouds of scented steam. A thick towel wrapped the female's body, concealing the legendary Orion charms, but Tai'gehr could see that she was naked beneath her covering. And although the Orion had caught sight of Tai'gehr, she was seemingly unintimidated by the presence of a Klingon in the pool. She paused at the edge of the tiles, smiling ingenuously down at the fusion woman.
"Would this One be permitted to join the Honored warrior?" she asked in the formal high-klingonaase. Her accent and inflection were flawless.
Tai'gehr scowled.
"I do not require the services of a pleasure-slave," she replied coldly.
It was the Orion's turn to frown.
"Nor am I one, nor that my intention," she said. "My visit has another purpose."
Tai'gehr's hand reached out to lightly touch the hilt of her shakra.
"And that is...?' she asked softly, her tone quietly dangerous. Green Orion lodubyaln were often trained in the arts of assassination, and Klingons were particularly susceptible to their intoxicating pheromones. Tai'gehr's half-Human genetics would not render her entirely impervious to the Orion f'remonee', but if this one had hostile intentions, she would find the fusion no easy prey. Let her make one suspicious movement and Tai'gehr would grasp that trim green ankle, yank her into the water, and gut her on the way down...
The Orion female's smile returned, although she did not make any sudden move.
"I hoped to meet Tai'gehr vestai-RaHmoS, the valiant commander of IKV chalvo' qul."
"Interesting," said Tai'gehr without releasing her weapon, "It appears that you have the advantage of me, zan...?"
"J'Indi'li Hera'kleo'polis, commander of the Litvyak. And I am certain I have no such thing, zan Tai'gehr."
"So." the fusion relaxed slightly. "The fedegon huntership."
"Privateer hunter, actually," the Orion said. "The USS Litvyak was decommissioned two years ago and I purchased her at auction." She paused. "May I join you in the water? I can use a bath after such a slow journey back to port."
"In our wake," said Tai'gehr, grinning with wry humor. She indicated the pool with a gesture of invitation. "Make yourself comfortable."
"The Orion removed her towel, exposing a firmly voluptuous body. Despite her resolve, Tai'gehr's breath expelled in an audible hiss. J'Ind'li was beautiful, and Tai'gehr found her own response all too Klingon. But the Orion affected not to notice as she stepped down into the pool and lowered herself into the warm turbulent water. Prudently she sat across from Tai'gehr, and submerged herself to the shoulders. That simple act concealed her body and masked her natural pheromones, while also serving to make herself subordinate to the Klingon. Tai'gehr relaxed noticeably, releasing her shakra, and leaning back in a comfortable position.
For further information about books by Cat Ramos, contact KlinCat@aol.com
---
HOMEWORLD
Commander Najchom sutai-Trekkan (Stacie Cupples)
Greetings Everyone!!
I would like to thank all the people who attended HopeCon this year. It was a pleasure to have you visit. I look forward to seeing you all again.
I presented an idea to everyone who attended the KAG meeting at HopeCon. It has come to my attention that a great number of people who support this club do not want to be a part of the military. I feel that as a leader it is my responsibility to help provide something for these valued members of our club. My idea is presently being called HomeWorld. I want feed-back from anyone who's interested on what they would like to see as a setup for this. My goal is to have a branch of KAG that focuses more on quality and quantity of performance and less on type. There would still be a ranking system, but it would follow a different setup from the Navy and Marine Divisions. We are considering something along the lines of guilds and medieval society ranks. The rank would be based on a point system with bonuses available. Many people have devoted their time and heart completely to this club and its members without recognition or reward because they have never put themselves into costume. A uniform may make you appear as a warrior but you don't have to wear a uniform to have a Klingon heart. Please send me questions, concerns and ideas for putting this together. I want to make sure this fixes as much as can be for the people concerned. Help make this into an answer for your club.
Commander Najchom sutai-Trekkan//Stacie Cupples
Quadrant Commander Cold Blood Quadrant
e-mail: cmdrkmak@swbell.net
or snail mail:
2335 Whittemore Place
St. Louis, MO
63104-2531
Admiral Kragtowl "Bear" Trekkan's
award-winning Konehead Kostume.

"Qapla'. I am from Vulcan."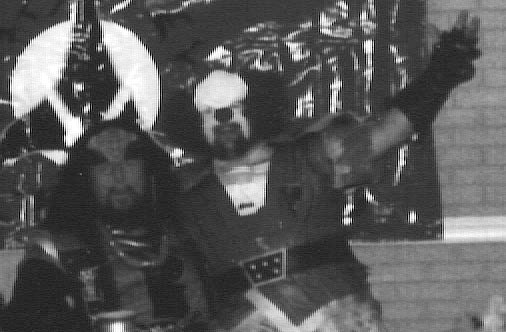 The ever- lovable Krusty the Klown left a warming impression at HopeCon.
HopeCon photos provided by the I.K.V. Rakehell

---
Back Stage
by Cmdr. Qob sutai-Hurric (Bill Hedrick)
Acting in "Battleship Vengeance" has given me new appreciation and insight for people that act and do production for series TV. You may not know, but to simplify production, scenes are shot out of sequence, so when you see Doctor Bashir talking to a patient in scene one, and then in the final scene of the show, most likely they came in Monday morning and shot all the scenes in that set no matter what order they came in. As Magron the bartender, I'm not in every scene, so the first scene I filmed for the latest episode ("Cold Vengeance" now in post production) was the next to last scene in the show, so I had lines that made reference to action that had happened already even though I hadn't filmed them yet.
Another interesting problem is lines, we don't have lotsa time for rehearsal so the lines are written on cue cards. This is fine for most people, but I'm blind without my glasses, so I have to either quick memorize them or hide the cue cards in interesting places. Something we all do is this: when we shoot over the shoulder close-ups, the person being talked to holds the cue cards.
When we have to shoot for long times we get real goofy and generate more tape for the blooper reel than we do for real. There is a long exposition scene in a planetside bar where Magron and Mordell the engineer spend some time together for the first time. His line is something like, "She trusted me with the ship, but she trusted you with her life." During one take, I was tired and said. "Ya, and you really got your ship together." and smiled at him with a "try to make it through that one" smile. He got through one line, collapsed and said, "You bastard!"
One thing that gives Battleship Vengeance its funky charm is that we spend almost nothing on it. Except for the hours spent with Cable Access TV equipment and buying video tape, it's all time in people's basements filming until 3:00 a.m. because we have to get the cameras back tomorrow.
We do this for fun and are always surprised that people like it, because it's obviously not going to give Paramount competition; but I doubt that Avery Brooks or Kate Mulgrew have more fun than we do.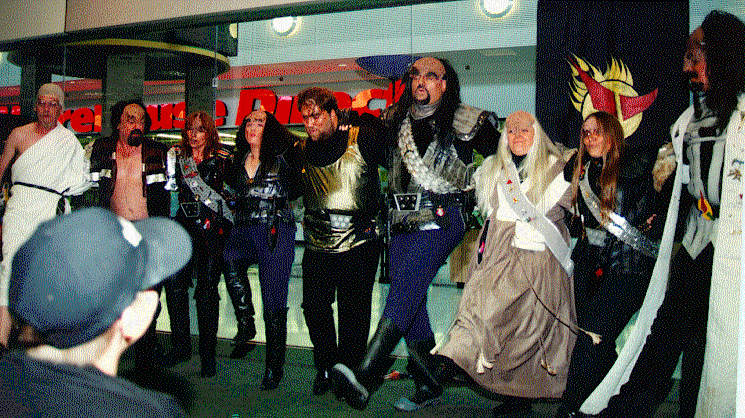 The crew of the I.K.V. Rakehell in a group dance

---
GALACTICON 1999
and KAG SPRING BREAK
April 16th-17th, 1999 CHATTANOOGA, TN
at the Ramada Inn South, with GoH Thought Admiral KRIS!
For more information, write:
GALACTICON 1999
c/o Melvin Baumgardner
6636 Shallowford Drive
Chattanooga, TN 37421
email: GALACTIC01@aol.com
Phone:(423) 344-9465
on the web:
http://homepage.usr.com/g/galacticon
Preregister before November 1st, 1998 to get good ticket deals!

---
NOTE: Do NOT send subscription money anymore: The following ad is recorded for historical purposes only.
To subscribe to MINDSCANNER, send $6.00US for four issues to JOEL NYE, 628 Buckeye St, Hamilton OH 45011-3449.