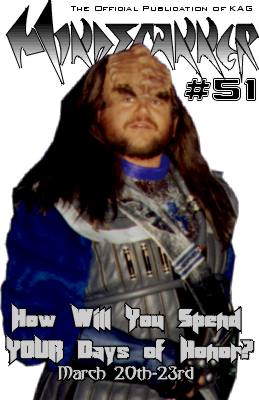 Greetings, all! I trust you've taken this slower winter period to patch up your uniforms and charge up your disruptors...because there are some COOL KAG things on the horizon.

DAYS OF HONOR. KLINGON YEAR GAMES. HOPECON (our own conference, our way.) You'll find more info about all of these, in this issue.

While we're still working on who's to do what when it comes to MINDSCANNER, there are a couple of certainties: Articles and info, oddities and points to ponder get sent to Captain KwISt.
Joel "Twisty" Nye
628 Buckeye St
Hamilton OH 45011
(me@twisty.org)

Subscriptions and spare change get sent to my dear chum, Admiral Kishin.
Sue Frank
2508 Pine St
Philadelphia PA 19103
(SueFrank@aol.com)

As always, bribes in the form of blasters and belt-buckles can be sent to me...
John Halvorson
2550 Purvis Dr
Burbank CA 91504
AND, just when you'd think I'd run out of addresses--HA! One more. There is the General Martok Fan Club, run by a good-natured gal named Jennie Hamilton. If you crave more information about Martok, are interested in joining, OR just want to have descriptions of the patch, contact Jennie at:
SO...get up off the couch, and get going to some conventions. And if your brains are up to it, start thinking about how we're gonna celebrate KAG's ten year anniversary, next year! Tell me ALL about it!

GO FOR GLORY!
KRIS epetai-KURKURA
Thought-Admiral
KAG Command

---
DAYS OF HONOR

March 20-21

The tradition of the Day of Honor is explained in the StarTrek series as a holiday which each Klingon marks in his own personal way. The concept of the fan Days of Honor is for all Klingon ships, regardless of club affiliation, to participate on the same weekend in a uniformed activity of their own choosing which best reflects their individuality, and reflects the honor of Klingons.


Inspired by the concept of establishing within the Fan Community a holiday that is all our own, Cmdr. Khar'Ton first took this idea to the Epetai in November 1997, where he received enthusiastic support. In the 4 months since then he has laid the groundwork for this unifying celebration to span not only KAG but all Klingon clubs and ships everywhere. In December he contacted leaders of several Klingon clubs, who responded with positive reinforcement. Among them were Adm. Tosach of KAI, Adm. Klad of IKEF, General Klag of The Empire, and various leaders of the KAG Kanada community.


In an interview with the MindScanner, Cmdr. Khar'Ton explained why the weekend of March 20-21 was chosen as the ideal day for this Klingon Holiday. "The first appearance of Klingons on television was in the classic StarTrek episode "Errand of Mercy", which first aired on March 23, 1967. What better weekend to mark the celebration? The Klingon fan DAYS OF HONOR will bring all Klingons together for one weekend, united in celebrating both our collective and individual honor and enthusiasm."


If your ship would like to share ideas for this first celebration of a concept that is uniquely Klingon, feel free to contact Force Recon at charlton@fuse.net ,or by phone:(513)-923-3029.


Commander Khar'Ton sutai-Koltar, (Ed Charlton) wears many hats. He is Head of KAG's Force Recon Division, responsible for introducing new members of KAG to the rich heritage of information available on Klingon culture and lore. He is also the Executive Officer of the Say'Ha'ngan Ruv, a ship of KAG's Demon Fleet. He has a strong personal interest in KAG history, and served aboard the IKV BortaS as archivist from 1993 to 1996. He is the line leader of the House Koltar, and he plays Zantai Klaws every Christmas for the KAG children in his hometown of Cincinnati, Ohio.
---


August 7-9


The biggest news about the third annual KAG-sponsored convention is that it has moved from Canton, OH, where the first and second cons were held, to St. Louis, MO. It is hoped that by alternating the Con between the two cities each year, more KAGsters will be able to attend at least one in their vicinity.


HOTEL CHANGE:

Another new development (for those of you who received information earlier that the convention was to be held at the Henry VIII hotel) is that HopeCon will be held at the Howard Johnson's Airport Hotel in St. Louis.


THE HOMEWORLD BANQUET will be held Saturday night, at a cost of $20. per person. Tax and tip are included in that price. The menu is being planned, and the banquet will be 'flatware-optional'! MINDSCANNER has it straight from Stacie Cupples of the Gateway Squadron, this year's ConMistress, that the catering staff are thoroughly enjoying the prospect of feeding a hoard of Klingons, and plans are being laid to make the meal and ambiance something special.


SPARRING-On Friday night, warriors will have a Sparring Area to show their prowess in battle, and to Win a Seat at the Head Banquet Table. There will be a $5 fee for the competition, with all proceeds going to the Cystic Fibrosis Foundation.


WET T-SHIRTS-We will have the pool until 1AM both Friday and Saturday nights for outside water festivities.


ROOM PARTIES

We want to encourage you to throw parties. Please let us know if you intend to, so that we can block your party as long as you want. Our list of parties is separate from the hotel's. The hotel has requested that you tell them you are having a party when you register. They are requesting a $100 damage deposit.

DEALERS-Mary Stadter will be running the dealers room. She has had years of experience. Dealers' rate information will be available after March 29, '98.

ART SHOW-Kathy Randolph is running the Art show this year with Donna Presnell assisting her. They have helped with other shows in the past and will help to make available some of the best work in science fiction and fantasy art. If you are an artist: Panel or table space will rent for $12 full, $6 half. Original work in any medium will be accepted.

GAMING-Don Mayford will be running various types of Trek games throughout the weekend. You are also welcome to bring games and share them.


MEMBERSHIPS:

Preregistration until May 1st will be $20
From May 1st until July 1st will be $25
From July 1st until August 1st will be $30
AT THE DOOR REGISTRATION WILL BE $35

For more info or to be put on the mailing list:

HOPECON '98

STACIE CUPLES

2335 WHITTEMORE PLACE

ST. LOUIS, MO 63104-2531

or e-mail CMDRKMAK@SWBELL.NET

HOTEL INFO

HopeCon '98
Howard Johnson's Airport-(314) 731-3800
Room rates are:
Queen Single $65
King Single $65
Double Queen $65

the rooms are very spacious and the rates are for 1-5 people.

---


As time passes more and more of us in Klindom feel the need to create events that speak to our Klingon souls. We feel the desire for things that shout 'KLINGON!!' in the way that most conventions used to be bastions of UFP pageantry. Note that I said 'used to be'.


The desire for Klingon events has taken two forms, the convention, that ubiquitous Trek event, and the newer 'cultural' festival, which takes many forms. Most are combinations of the two.


Conventions become more plentiful year after year, and the Klingon

presence at most of them has grown to the point where there is almost always at least one specific Klingon activity at any con. In amongst the morass of Trek-derived cons we find several examples of Klingon cons. The first tom come to mind is naturally enough, Klin-kon. Klin-Kon is held in California, and, while there is programming for the non-klingon, the vast majority is devoted to those of us in the rubber heads. There are makeup demos, uniforming panels, ship forming panels, almost anything one could need to become a Klingon. And for those that already _are_ Klingon, there are rituals, language seminars, and delightful samples of squirming Klingon food. Most Klin-specific cons take this form. Two stand out in this field by altering the format. The Camp Dover Peace Conference parades the governments of the various Trek races, it gets the various functionaries of the clubs into the same place and gets them talking, making plans for the next year and generally trying to improve the communication level between clubs. While this sometimes results in 'peace', it more often results in the various 'wars' of competitions and charity events that take place all over fandom.


An excellent way to improve communication and interaction. Hopecon, the KAG International Convention, also changes the format. Like the huge Federation club based gatherings of the past, Hopecon is KAGs chance to bring a large portion of this international club together. Most activities are devoted to bringing the members together and helping them to reach ever greater heights. KAG's Grand Assembly is held there. This can take many forms, last year, it was an innovative Q & A session in which the members could ask the High Command about various topics and receive immediate, off the cuff responses. It is these types of activities that bring the club together. Furthering this are the various alliances formed in conversation pits, at parties and in the halls that strengthen both the ships and Houses of the club.The Klingon based convention's time has come, and it's well worth it to go to them and watch as they evolve over the years.


Klingon cultural events have taken place since the dawn of Klingon fandom. In the beginnings, most were taken from books, extrapolated, or just plain made up. Well, we still do that, but now we've got the added input of rituals shown on tv. There has been an interesting addition to these fesivals though, where once they were small things, consisting of maybe a ship or three, now they've grown into events in their own right.


The Year Games, whose article can be seen in this issue, is just one among many. The Klingon Feast, held in California, is an outdoor event that contains various exercises in warriors skills as well as rituals and readings from various Klingon sources. The Monastery of QIn'lat presides over many of these and provides a more active excitement in their batlh'etlh duels. On the east coast, Klin gather at the Warriors Weekend, where besides all the competitions and rituals, warriors gather to party and relax with their fellow Klingons. Newer events include Klingon Heritage Day, the various paintball war games and one that epitomizes the combining of the two types of event like no other. The Klingon Festival of Honor, also called Serenitycon, is held in Ohio. It has all the amenities of a convention combined with the outdoor activities of a Klingon festival. The batlh'etlh tournament held at the Festival of Honor is known for its skilled warriors, ferocity, and the fact that the first place award looks just like the one Worf won on the show. It, like the Year Games and Dover (and quite a few of the others) stresses cooperation between clubs. An admirable trait which brings strength to the entirety of the Empire of fandom.


The start this year of the Klingon Holiday known as the Day of Honor, looks sure to bring us more of these events. Already several ships in the SanDeigo area are putting together their own Klingon Festival, to commemorate the day. Many other ships--and clubs are taking this route as well. It looks extremely likely that in the near future one will be able to have a busy convention schedule without ever leaving the company of Klingons.


For information on any of the events mentioned write to Jack Borkowski, kuuriis@juno.com, and you will be put in touch with the various organizers.


---
KAG CONTACT LIST

Admiral Kroesh zantai-Septaric / Larry Septrick / Septaric@Juno.com
6819 River Hills Dr.. Greensboro, NC 27410
Deputy Commander

---

Admiral Kragtowl zantai-Trekkan / William Reed /Trekkan@aol.com
2720 Northeast 42nd St, Kansas City, MO 64114
Naval Commander

---

Captain Kuuriis sutai-Qaaluhr / Jack Borkowski / kuuriis@juno.com
1332 Scott Blvd, Covington, KY 41011
for the Demon Fleet

---

Captain KwISt zantai-XuDetlh / Joel 'Twisty' Nye / me@twisty.org
628 Buckeye, Hamilton OH 45011-3449
Head of the Cyberspace Patrol Division

---

Commander Khar.'Ton sutai-Koltar / Ed Charlton / Charlton@fuse.net
P.O.Box 53695, Cincinnati, OH 45253-0695
Force Recon Division Commander

---

Captain Kaadra sutai-Roshka / Candji Buckohr / Kaadra@ezo.net
716 30th Nw, Apt#506. Canton, OH 44709
KAG Quartermasters Division Commander

---

Legionaire-Major Taysir / Jeremy Burns / Taysir@juno.com
628 Buckeye, Hamilton OH 45011-3449
Imperial Xeno Legion ("IXL") Department Contact

---

Admiral Kutaj zantai-KorDaS / Mary Cordero / Kutaj@aol.com
2557 55th Ave. Oakland, CA 94605-1067
Ring of Fire Fleet (ROFF) Commander

---

Captain K'Mar sutai-Kahl / Paul Anthony / KmarSD@aol.com
2309 Fifth Ave. #107, San Diego, CA 92101-1610
Kristak Quadrant Commander (ROFF) (S-CA, S-NV, AZ)

---

Lieutenant K'HeotO'ur vestai-Septaric / David Robertson/ WolvenKSU@aol.com
PO Box 1327, Colorado Springs, CO 80901
Rocky Mountain Quadrant Commander (ROFF) (CO, NM, ID, WY, MT)

---

Commander Ort'Sev sutai-LIS / Sil Manente / Dshroud@aol.com
1636 N. Thorne, Fresno, CA 93704-5933
Starfire Quadrant Commander (ROFF) (N-CA, N-NV)

---

Lt.Cmdr QeSlaH vestai-QuRee / Don Gaffney / qeslah@msn.com
13725 32nd St NE #C123, Seattle, WA 98125
Green Fire Quadrant Commander (ROFF) (OR, WA, AK, HI)

---
Capt. K'Darra zantai-T'aw / Tonya Walters /
3570 Shepler Church Ave., SW Canton, OH 44707
Cold Terror Fleet (CTF) Commander

---

Commander K'IStagh sutai-Krenn / Chris Newman / kistagh@aol.com
47 Pleasant Ave., Niles, OH 44446
Cold Steel Quadrant Commander (CTF) (OH, IN, KY, MI)

---

Commander Qob sutai-Hurric / Bill Hedrick / billh@mail.eetc.com
945 Dayton Ave., St. Paul, MN 55104
Cold Death Quadrant Commander (CTF) (MN, WI, ND, SD, IA)

---

Lt. Cmdr. Najchom vestai-Trekkan / Stacie Cupples / ladytrkn@stlmo.com
2335 Whitemore Place, St Louis, MO 63104
Cold Blood Quadrant Commander (CTF) (IL, MO, KS, NE)

---

Lt. Cmdr. K'Zan vestai-Roshka / Ron Bentley / roshka2@downtown.inu.net
P O Box 109, San Rayburn, TX 75951
Cold Revenge Quadrant Commander (CTF) (LA, MS, AR, TX, OK)

---

Captain Kruge zantai-DevnoH / Darryl Watson/
60 Shadowwood Ln. Carrollton, GA 30116
Dark Moon Fleet (DMF) Commander

---

Captain Kamric zantai-Damarric / Mark Paul / KamricII@aol.com
9 Lynda Road, Portland, ME 04103
Wild Frontier Quadrant Commander (DMF) (ME, VT, CT, NH, RI, MA)

---

Captain Kolvar sutai-Septaric / Bill Mann, Jr. / klingon@carolinanet.com
208 Venus Lane, Greensboro, NC 27406
Central Quadrant Commander (DMF) (DC, VA, NC, SC)

---

Commander KoHla sutai-DevnoH / Susan Keenan / jskeenan@ix.netcom.com
885 Ventnor Place, Marietta, GA 30060
Dark Phoenix Quadrant Commander (DMF) (TN, GA, AL, FL)

---

Captain Qor zantai-Qutvaj / Diana Wamsley / qob@rochgte.fidonet.org
1631 English Village Dr., Rochester, NY 14616
Northern 'NorQuad' Quadrant Commander (DMF) (NY, NJ, PA, DE, MD, WV)

---

Thought Admiral KRIS epetai-Kurkura / John Halvorson
2550 Purvis Drive, Burbank, CA 91504
The Epetai, the Big Cheeze, you know.

---

RECRUITING TABLES

DO'S AND

DON'TS!

After spending several years in KAG and both staffing and running dozens of recruiting tables I have decided to compile a list of things that work and things that don't. It is of utmost importance to remember that the average recruiting table has the possibilities to be both a boon and a disaster to your chapter. Regardless of the situations under which you are operating, (ie: Where you're at, Who your are raising money for, , etc...) all recruiting tables can succeed. So, lets get to the basics.


Preparations

Recruiting opportunities are won or lost because of the before-hand preparations. These are just a few of the things I did before the recruiting table actually occurred. Making sure you have enough recruiting flyers, business cards, and other paperwork is very essential to your efforts. If you don't use recruiting flyers, or run out of them, a handy item is a pen and paper and tell people to jot down their name and address and you'll send them "More Information".

Getting the word out to your crew and any local chapters you wish to invite is invaluable. Without bodies at the function, you are doomed from the start. Don't be afraid to ask for assistance from other KAG chapters. We are all Sister Ships and have a responsibility to help out as we can. Scouting the area at least 3 days before your table is to be setup is very wise. No Klingon fights on unfamilar ground. And no KAG chapter should recruit without finding out where the table can go, how much space do you have, what your allowed and not allowed to do, etc... Many times we are promised the Moon, Sun, and Stars and get then get to the function and receive the dirty end of the stick. This occurs too often and can cause esentment or just plain disappointment. So a quick visual check of the area is very important.

The Recruiting Table

It is not necessary to actually build a recruiting table. Most times an 8 foot long table is being used at this functions. Table space is always limited and should be used most wisely. If you build a recruiting table then you'll always know how much table space you'll have.

Let there be a method to your madness, organize a table in a stylish and effective manner. Don't allow drinks, food, and member's junk to clutter the table. If you don't keep you table clean people will be apt to think your chapter isn't proud it's self, is unorganized, and lacking direction. All of which are good reasons not to join a fan club. A well organized table shows the potential member that you have organization, style, and above all pride in your Ship. Remember that your table acts as a "Store Front" and that is how you will draw in business.


Leadership

The Leadership you show and the end results of your efforts will make a difference in your recruiting efforts. Even if your are outgunned by other chapters or other goings-on your leadership can take a bad situation and make it good. Despite the fact that onboard your ship are your friends, relatives, and trusted comrades you must maintain order. Now, this doesn't mean to "Rule With An Iron Hand" but it does mean to keep the crew focused on the objective.


We are all guilty of goofing off and having fun at recruiting functions. But by not paying attention to the people around you passing your table, you are losing any chances of gaining potential members. A few things simple things need to be done to keep the crew focused.


Don't allow anyone of your people in front of the recruiting table. Since the table is restricted in size, they are blocking the view of anyone wishing to look at your displayed objects, or obtaining recruiting flyers. If a member does this, gently remind him/her that they are blocking the table. Allow members to congregate along the sides or back but never the front.


It is also important to keep the crew from standing around like they are bored (My favorite line at recruiting tables, "Break it up, you look like a Cadet review!"). People standing around with their backs to the crowd aren't "showing off" their uniforms and props. These are members being counter-effective to your ships efforts (Their not doing this on purpose of course!!) . Only keep a few members around the table. Send the rest out with flyers and allow them to mix it up with the crowd. Make sure you rotate these jobs so everyone can sit down as well as roam around.


Don't hog the fun. When interested people come forward to another member, try to stay out of it. Letting others talk to potential members is difficult, you want to help out but you are only displaying distrust in your crew. Trusting your crew is how you show that Leadership abounds on your Ship.


Occasionally you are recruiting with another Organization or Club. It is very important to interact with the various clubs we have in Fandom. However, it can be a Royal Nightmare if you don't keep an eye on what's going on. Too often one chapter will get distracted and loses the chances at recruiting. Against chapters of Non-Klingon persausion this isn't too damaging. However, losing sight of your goals when jointly recruiting with another Klingon club can prove to be costly. This shouldn't stop you from such functions, but to is well to keep in mind that you need to be aware of your surroundings and opportunities.


Keep your people happy. Make sure everyone has a chance to eat, use the restroom, and yet not abandoned the recruiting table. No, don't make a schedule about it. Just make sure you don't let the entire crew walk off to McDonald's and strand one member at the table!


Added Extras

The following are just things you can do to spice up your recruiting efforts to make people sit up and take notice of you.


Is there a video game nearby? Well get some Klingon to play it and others to cheer him/her on! Nothing draws a crowd like a crowd!


Be entertaining! Don't stand there like you are guarding Kahless' Underwear Drawer. People are naturally intimidated by us to begin with. If you act unapproachable, you'll BE unapproached! Klingons laugh, smile, joke, and make merry. If you don't frighten the crowd you might just recruit a couple without even knowing it.


Most Non-Trek fans are usually very nice. Some become interested in only talk of your uniform construction and such. But others are very rude. Always watch out for those who are looking to make a point with their dates or other stupid reasons for smart remarks. Use their wise-cracks to your advantage.

Don't be rude or abrasive but you can turn their verbal jabs into a display of your ship's tolerance, humor, and fun. Don't provoke nor esculate the verbal attack, but turn it from something negative into something positive.



In Closing I'd like to remind you that these are just some basic guidelines that I have found improve the atmopshere for recruiting. If you have anything to include in this article send it to me and I'll publish it here for the rest of the Quadrant to read and use. Information is power, and Klingons just LOVE power!!!

Cmdr. K'IStagh sutai-Krenn
Cold Steel Quadrant Commander

---




Dis Qujmey VI

The Time has come to polish ones weapons

The Time has come to hone ones' Warrior Skills

The time has come to Battle

for the Honor of one's Line

The Time has come for

the Sixth Klingon Year Games

Once more the Klingons of all the Lines of the Empire will gather at the Olive Branch Campground, on June 26, 27, and 28, in Oregonia, Ohio to take part in the Games. This year the Games are proud to feature a Guest of Honor, he whose writings give form to much of what is the Empire-on-Terra. He whose writing gave the name to this very event. The Author, John M. Ford. Writer of The Final Reflection, How much for Just the Planet, and many other enjoyable works. The man who did for Klingons what Gene Roddenbery did for the rest of the Star Trek universe


Come, join us, be a part of the Games.

Pre-registration and Prices. Children under 5 are free

ADULTS- Friday-Sunday $25 KIDS 5-12- $20
Saturday-Sunday $20 $15
One Day $15 $10

All prices include camping fees and the Banquet. Persons buying One day passes must leave the grounds by 9:00 PM. Make all checks/ money orders payable to Jack Borkowski, 1332 Scott Blvd. Covington, KY 41011-3457

John M. Ford's accomodations are provided by Holman Motors, Inc. John Huddleson, Salesman Specializing in Motor Homes and All Types of Travel Trailers Hwy. 32 and Elick Lane Batavia, OH 45103 (513) 752-3123 or 1-800-323-8677

YEAR GAMES REGISTRATION

Name

---

klingon name and line

---

group affiliation

---

address

---

phone

---
Directions? Directions are easy. Take I-80, I-70, OR I-40, east or west, depending on where you are in relation to Ohio. From 80, 70, or 40 get on I-71, take I-71 north from I-40, or south from I-80, I-70, to exit 36 in Ohio, and then just follow the signs to the Klingon Year Games. If you'd like further clarification call Jack at (606)-491-2933
---
FACTS YOU SHOULD KNOW ABOUT KAG:
Rank in KAG runs the same standardized scale whether its Navy, Marine, Imperial Xeno Legion, Demon Fleet, or even ELINT. It reflects the scope of service given to KAG overall, and not "Authority" like you would find in an office.
The Imperial Xeno Legion has been free of dues since summer of 1996. It now works as a ship department, as well as with entire shipteams (Imperial Legionaire Vessels), and is an excellent way that costumes of aliens from all science fiction shows can augment KAG's exhibitionism. Contact Jeremy Burns, the new Head of the IXL Department...
E-corps is the webmastering Department of KAG. Ship COs can appoint the volunteer of their choice, or themselves, to serve as their ship's E-Corps Officer. The new Head of E-Corps is Cmdr. K'Mel sutai-Kurkura (John Tackett)...
Imperial Intelligence is coming back online, with a new mission: To help ships manage data from rosters into databases and mailing lists. I.I. Operatives are appointed by the CO of their unit. Headed by Cmdr KESTREL sutai-Septaric (John Humphrey)...
ELINT now uses "E-ranks." Such ranks reflect the scope of an ELINT officer's service to the overall scale of the club, even when the work is strictly "online." Such ranks can only be granted by ELINT's CoC, such as a C.O. of an Imperial Klingon Cybercraft.
Are you up to speed on your Quadrant? Check the contacts list for newest quadrant names and appointments.
All Things Remembered Under the Naked Stars...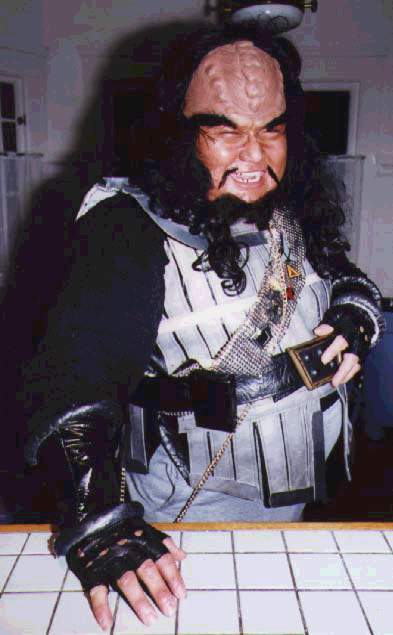 Friends: On February 2, 1998, the Klingon fandom community lost one of its brightest stars - Charles "Chuck" Elauria.
He was known online as Krell Kag; most of his close friends in the Ring of Fire called him "Slimey", short forTHE SLIMEDEVIL! This was the title most of us knew him by.
Just two months earlier, at Kling Kon 97, it was my pleasure to promote Slimey to full Commander as both Klin and Gowron himself cheered.
The following morning, K'Aos (Michael Sarkisian of Kabin Man fame) and Kestrel (Vera Maheu of Wild Frontier fame) promoted him to fellow Marauder, as he'd spent his five years as a KAG member doing what Marauders are there to do - promoting the club, keeping in contact with everybody, throwing in some fun during lulls in activity, and providing additional support to ship COs, anyone working on a special project, and even his old pal the Fleet Admiral.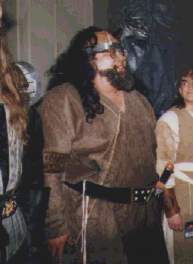 Slimey's friendship extended beyond just club activities. Many of us found in him a friend who was a good listener and who could always help find the silver lining in the darkest cloud. He had both the wisdom of a much older person and the playfulness of a child - traits that inspired admiration and love from those who knew him.
Many of these friends he'd made over the years gathered five days later to pay him final respects. Here was a man rich in friends! As we howled our grief to the heavens, we were answered with a mighty clap of thunder and a bolt of lightning - which had the effect, as Slimey always did, of lifting everyone's mood. He's home.
Afterwards, we made a pilgrimage to one of his favorite spots on Terra - the local Toys R Us, where we each bought a Klingon toy in his Honor. We spent the rest of the evening telling about all the fun times and the laughter we'd shared with him, and the happy memories he left us with.
Thank you Slimey, we love you. Your Klingon "momeee!"
Kutaj zantai-Kor-DaS/Mary Cordero
KAG RING OF FIRE