On July 16, 2022, the Klingon Assault Group once again invaded the Stone Center in North Wilkesboro, NC for Wilkes Comic Con.
The IKV Executioner crew comprised the War Party: CO, IXL Brigadier Keela zantai-Septaric (Leila McMichael); XO, Lt. Cmdr. Martok vestai-lungqIj (Robert Plante); and crew members IXL Lt. Col. Grakus vestai-Mjolnir (Paul Myers) and IXL 2nd Lt. Way'nar tai-Barr'ak, Mandalorian mercenary (Wayne Brown) and his progeny (Eva).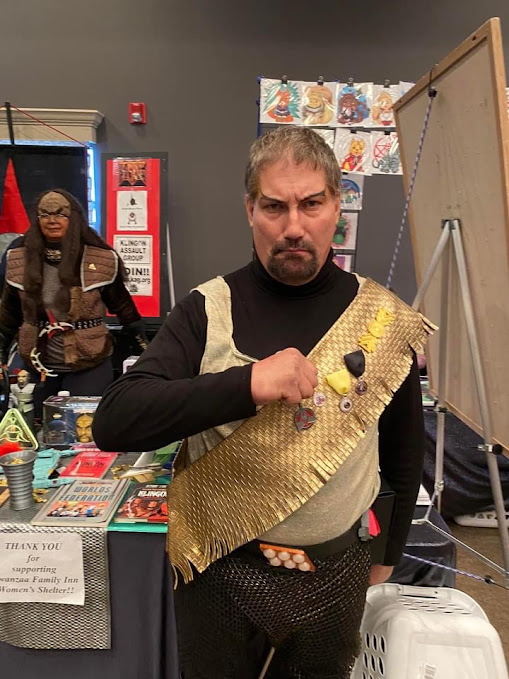 The KPV Krimson Fury was unable to support due to an untimely invasion of the COVID-19 virus at their home coordinates. Warriors Dronoss and Krikala of House Hov che' were greatly missed.
Grakus contacted me weeks before the invasion, informing me of a covert mission on Orion Prime (third planet in the Pi3 Orionis star system) that he would be leaving with all haste to make the War Party invasion of Wilkes con. He would appear as Nazzuz in his Orion persona.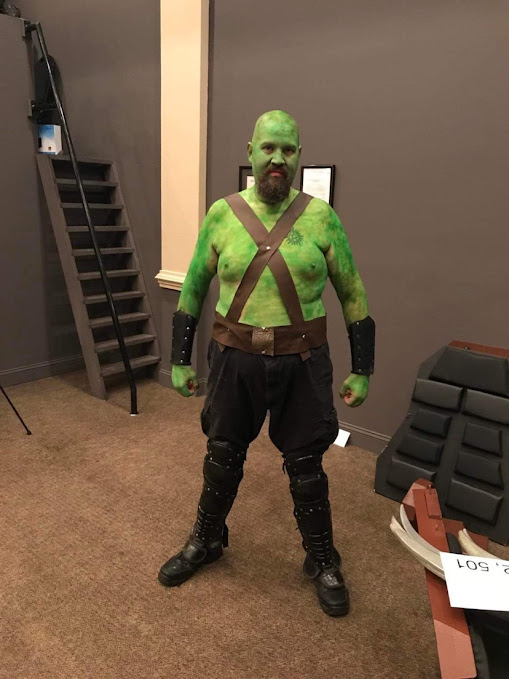 Way'nar informed me he was on a top-secret, covert mission to supply much needed assistance to a Terran group of supernatural resistance fighters. He would transport via hyperspace back to the convention soon as he acquired his progeny from her fantasy adventure on Wonderland Children's planet. They appeared as a Mandalorian Ghostbuster and Mandalorian Cheshire Cat, respectively.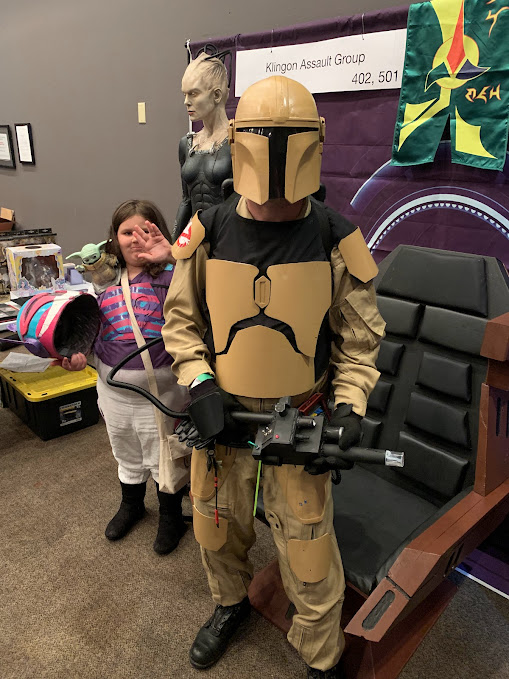 It was a glorious battle! Funds and awareness of the Klingon Assault Group was raised. I am pleased to report $536.79 was collected.
$182 went to Carolina Caring to bring up our Quadrant's total amount raised for them since 2000 to an even $20,000, as mentioned in an earlier AER.
$354.79 went to Kwanzaa Family Inn for their water heater project, which ultimately cost over $10,500.
Thanks to all who supported this effort, especially Way'nar as this was his first battle for KAG, and all who donated! Thanks to cloaked KAG member Marine Captain Achbar vestai-Kukura (aka James Morrow) for use of some of his holo-images to produce this AER and supplement the ones on Facebook.
IXL Brigadier Keela zantai-Septaric, CO Dark Star Quadrant, CO IKV Executioner