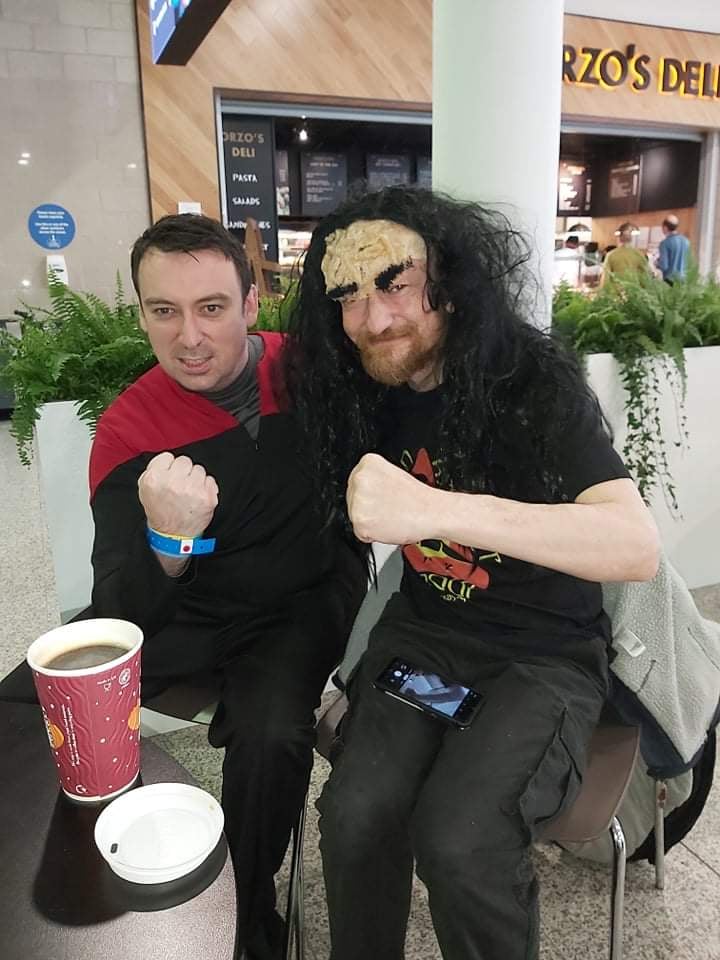 After the cancellation of last year's Destination Star Trek, the largest European convention, excitement grew as this long-awaited November date approached. This would be our first experience of going to the event as the IKV Border Reivers, Scotland, N.England and Irish Klingons. As I flew down to London from Edinburgh, I was particularly looking forward to meeting up with our Irish crew for the first time, and would not be disappointed, as they very kindly presented me with a Blood wine mug to mark the occasion. Choosing to forego steep London taxi prices, involved a (healthy) walk to the EXCEL centre to and from my hotel, around 3 miles away. On the Saturday, I chose to 'test the waters' by firstly donning Voyager uniform, in honor of the appearance of both Kate Mulgrew and Garret Wang.
Not too many in Klingon outfits on the Saturday, although I was impressed at the cosplay event by a couple dressed in the garb of our heroes on stage. Managed a good catch up with Irish KAG crew, Anthony and Lee, to chat all things Trek and KAG. Also attended a talk by Kate Mulgrew, and waited in line for an autograph from Noah Averbach-Katz, of Andorian Rey fame from Discovery (more on him later). Other parts of the day were spent browsing stalls, artwork, and various Trek exhibits, before returning to the hotel for the evening.
Sunday, as planned was to be Klingon dress day, as I gave some of the centre attendants a shock by emerging from the gents in full TNG/DS9 gear! Arrived in the hall to take part in an impeccably observed two-minute silence to mark Remembrance Sunday in the UK, before getting some photos taken in gear, and chatting with other fans about KAG again. Then changed into KAG T-shirt for the rest of the day. Although I had packed Original TOS Klingon outfit as well, never got around to it. More chat and raktajinos with the Irish crew, before catching up with another member of our ship, Kirk, who was replete in a very impressive Federation dress white uniform. Time for more stalls, and exhibits before heading back to the airport and home.
Overall, a really enjoyable experience for our first 'outing' to DST, as the IKV Border Reivers. Numbers attending were down due to the ongoing COVID restrictions…passports had to be shown, and mask worn in the venue, but it was just good to be at a con again, and have the chance to display the Klingon outfit, and make contact with others.
Having hit it off with Noah Averbach-Katz during our chat, I then decided to contact him via Twitter, and ask if he would like to be an Honorary President of the Border Reivers, (as Xeno Legion of course being an Andorian), to which he gladly accepted, and we were able to present him with a special certificate.
Next year for DST, if possible, would love to get a KAG stall in the hall as well.