On September 25, 2021, two crew of the IKV Executioner, senior ship of Dark Moon Fleet, invaded the Hickory Comic Con after an absence of over a year. IXL Brigadier Keela zantai-Septaric, CO, set up the KAG display. Later, the organizer asked if the Klingons could take care of the empty table beside them… OF COURSE! Klingons are always ready to expand into new territory!!!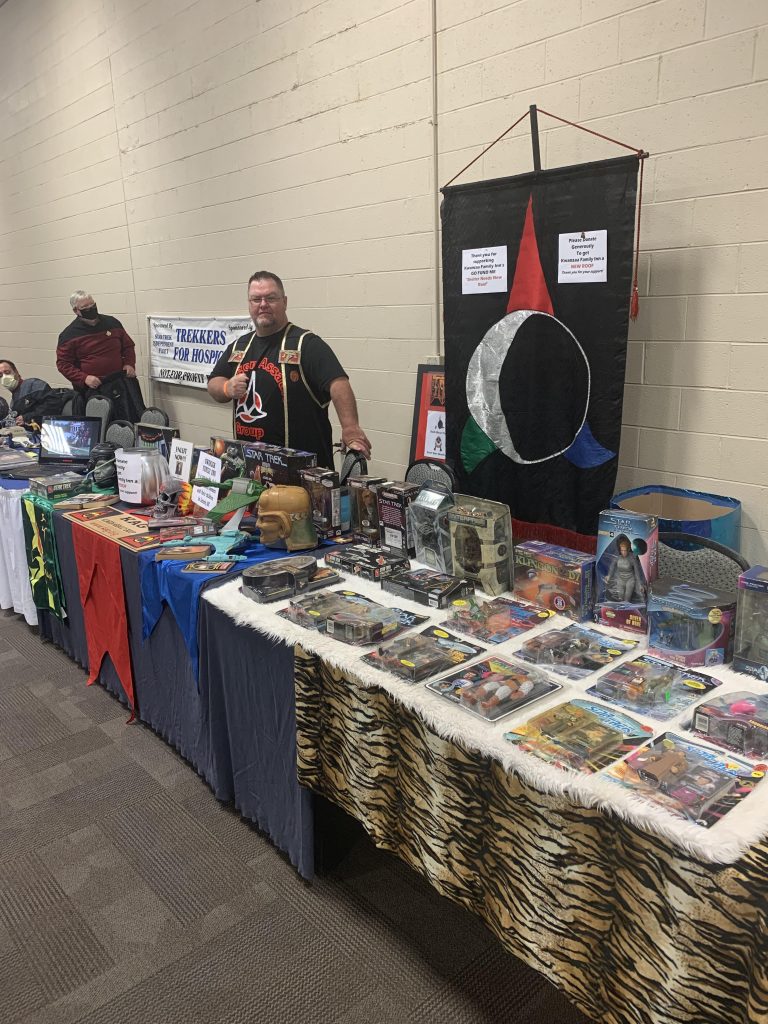 The charity focus this convention was the ROOF of Kwanzaa Family Inn women's shelter which is 60 years old and leaking badly in places. (Recent torrential rains proved the point sadly.)
Keela was joined by new Warrior Tkill, aka Rob Bulliard, who had commissioned his own KAG shirt for the occasion. He wore it proudly. He received a KAG patch while at the convention. His daughter, Morgan, also attended.
Our table location was next to the Star Trek Independent Fleet. Diplomatic relations went surprisingly well. In deep cover, Lt. Cmdr. Ulfgar, the CO of the IKV Blood Sword out of Charleston, SC, wore his Discovery uniform to the event. His son, Noah, attended as a Jedi knight.
$414 was raised to help with expenses towards replacing the roof of Kwanzaa Family Inn. Qapla'! and thanks to all who donated and to the kind organizers of the Hickory Con. And on a surprising note, contact was made with a local roofer in Hickory who had great news that we hope to take advantage of. Thank you, sir!
A great time was had by both Keela and Tkill!