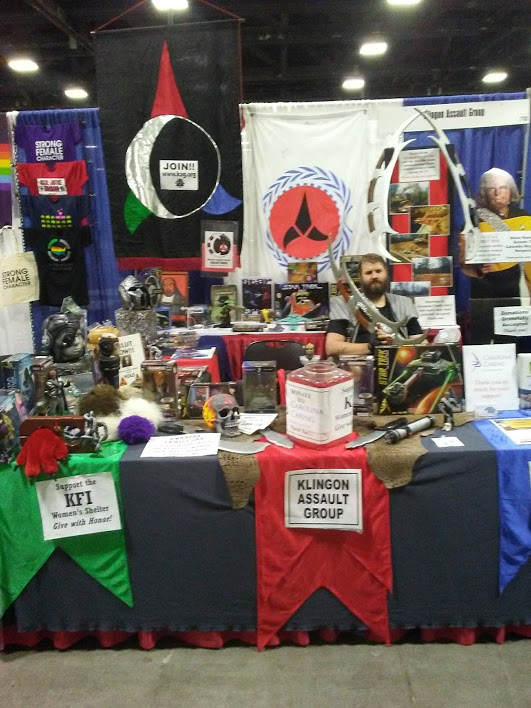 I am very pleased to announce that the IKV Executioner, proud senior ship of Dark Star Quadrant and Dark Moon Fleet, has surpassed all previous records set at Heroes Con during the nearly 20 years of raising funds for Catawba Regional Hospice (now called Carolina Caring) and five years for Kwanzaa Family Inn. As a result of battling three days in uniform in warm environs, each charity received $1,298.41.
My thanks to Lt. "General" Martok, aka Robert Plante (Saturday); Lt. Cmdr. Kas'Duj vestai Mjolnir, aka Paul Myers (Aesgir Fenrir) (Friday and Saturday), IXL Lt. Mejhara tai, aka Nicole Reavis) (Friday and Sunday) and Lt. Cmdr. Katkith vestai as Mr. Spock (Andy Fairbanks) (Friday) for all that was done to help, from active solicitation of funds to providing fantastic eye candy!
A thanks also to Federation members Brian and Kitty Spruill, who helped me on Sunday and assisted in loading up after the con and several others who pitched in as needed.
Also, it is hoped that several huMans who expressed interest in KAG thanks to our efforts will continue to move forward and join our awesome group!
Qapla'!!!
IXL Brigadier Keela zantai-Septaric
CO, IKV Executioner
Dark Star Quadrant IXL Liaison