5 days of geek heaven. What ever you are into it is probably there. This year, it was scaled down. Pun totally intended. 
Along with the convention being at half it's normal capacity , they did a great job of keeping everyone safe and for the most part so did the con goers. The hotel employees were constantly cleaning. Hand sanitizer everywhere. 
 To get your badge for the con you had to show proof of vaccination or a negative test with in 72 hours. They provided a testing sight. They also provided the vaccines right there. Masks were always worn or you did not get in! There was nothing outside of another cancellation that could be done to be safer. 
There was a lot that was going on but for me it became a Garrett Wang weekend. I am not upset. He is funny and inviting while being save of course. Loves his fans. Ask me about the light situation. That was a little funny. All in all it was a great time.
There is one thing I would like to mention before I close: Klingons do not harm  children!!!  Something happened during the audience warm up on stage by another Klingon  that I do not agree with and I want that placed here. When doing something in character make sure you know your character. It is easy to get carried away, which is why you should keep that in mind. 
With that written down. I met up with some great people.  Handed out so many KAG key chains.  Thanks to Commander jorn sutai- VamPyr
I had a great time.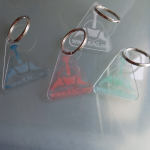 I took so many pictures, here are a few