IXL Brigadier Keela zantai-Septaric personal log:
Dragon Con… the mere name inspires awe! Founded in 1987, the convention has grown exponentially over the last three decades into what can only be called a multi-fan Mecca. Their website leads with this explanatory statement: "Dragon Con is the largest multi-media, pop culture convention focusing on science fiction & fantasy, gaming, comics, literature, art, music, and film in the universe – and the best place to celebrate all of these things with fellow fans on Labor Day Weekend."
This year, Lt. Cmdr. Katkith and I warped down on Wednesday to settle in and get in some down time before the crush of the convention. I volunteer at Dragon Con giving them more than the 25 required hours for free attendance and staying pretty much at the Trek Track the entire convention. Here are the highlights of Dragon Con for me.
THURSDAY, September 1, 2022
Trek Track activities did not start until 7 pm that evening. Meanwhile, all the Trek Track volunteers worked on hanging the beautiful artwork supplied by Joe Campbell and assisted with other technical needs in our traditional track room Hilton Galleria 2-3.
Outside the Trek Track room was a most amazing holographic con emergency doctor interactive display built by Peter Stolmeier.
At Intro to Trek Track, Garrett Wang welcomed everyone to the track, entertained the crowd, and introduced the staff.
At 8 pm Encounter at Galleria 2-3 Star Trek Meet Up occurred. Many Federation types gathered together to meet each other and discus their favorite franchise. There I had the privilege of viewing first hand a limited edition print of this famous anatomical painting of a Klingon. I also got to play a bit of Dabo. The Dabo game was brought by these two excellent cosplayers at Intro to Trek Track!
FRIDAY, September 2, 2022
Friday morning was kicked of with early additional finetuning of the Trek Track room and a volunteer meeting at 10 am. At 11:30 the Ask a Science Officer panel with Erin MacDonald (PhD, Astrophysics) and Kenneth Carpenter. occurred. Erin serves as science consultant for the entire Star Trek franchise. She is a lovely person. Dr. Kenneth Carpenter is currently the Hubble Space Telescope operations project scientist at NASA's Goddard Space Flight Center in Greenbelt, Maryland and an enthusiastic Trekkie. He credits Star Trek with fueling his desire to work for NASA.
At 1 pm was the Starship Tempest: A Lost Era Podcast featuring a swag giveaway and a trivia contest. On a whim I participated, getting many answers wrong, but so did lots of others and ….Holee targ droppings! I tied for first place in the USS Tempest Podcast trivia contest and received a beautiful Spock (my favorite Alien) plate as my reward. The panel was very interesting, so be sure to check them out if you like Star Trek podcasts.
At 2:30 was the Is Star Trek Prime Directive Useful? Trekspertise panel, followed by the This Topic is Trek Live podcast. It was an interesting perspective on the value of the Prime Directive. Afterwards Katkith and I took a break to eat and relax, coming back in time for the United Federation of Podcasts: Podcast Roundtable. What I remember most about this panel was that it ran into our set up time for Klingon Karaoke.
Finally, it was time for Klingon Karaoke – Honor with Keela and Katkith and we were so well received!!!! A blast was had by everyone and we raised over $135 for the Dragon Con partner charity OPEN HAND. With the support of over 14,000 volunteers, OPEN HAND currently prepares, packs, and delivers over 5,500 meals per day in Metro Atlanta and rural Georgia.
And speaking of charitable opportunities at Dragon Con, Katkith once again participated in the Robert L. Heinlein "Pay It Forward" Blood Drive.
SATURDAY, September 3, 2022
The first event of my day was the Dragon Con parade which I always participate in when I go to Dragon Con. Beginning at 10 am, it is about a mile long and winds through downtown Atlanta. In recent years they use shuttle buses to get the marchers to their staging areas. In the old days, you walked to the staging areas and then marched in the parade. Not for the faint of heart!
Four KAG members participated in the parade this year: Star Trek section organizers IXL Major Nayr sutai-K'cep and IXL Major Kavura vestai-K'cep of the XLV Predator in Phoenix Rising Quadrant; Admiral Kolex zantai QIHqem, of Cold Terror Fleet and former Dark Moon Fleet CO; and me.
Next for me was the Star Trek Kids Fest at 11:30 at the Trek Track room. I was asked to face paint. I also supplied copies of my Klingon Koloring book for the activity. Things were in full swing by the time I got there after the parade, but I went to my face painting station and started painting little human larvae. I opted for the hands because of COVID. Here is an example.
I sat in on the next two panels and assisted as needed, though I was not assigned to work them: the How to Produce an Actual Play Podcast panel and "The People vs. Star Trek Voyager Podcast" LIVE! panel. I also attended the Garrett Wang Forever Ensign panel and worked the Behind the Science: Star Trek Science Advising with Dr. Erin MacDonald. As a result I was not able to help set up the 10 Forward Party and Katkith was very tired so we skipped the party when my shift was over.
SUNDAY, September 4, 2022
Bright and early at 10 am was Star Trek Fan Productions, one of the several panels where Nayr and Kavura were panelists. This was followed by World Building Within The Star Trek Universe by members of the USS Tempest podcast team. They were in costume at this panel and the reason became apparent later in the day at the photo shoot. As always Nayr and Kavura bring to the table an informative and entertaining perspective and the USS Tempest podcast were engaging and fun as at their other panels.
Around 1 pm was the Star Trek Photo Shoot, event by Bokeh Photo which was not associated with the Trek Track programming, and fans (including Katkith and me) from all the incarnations of Star Trek were already assembling as early as noon. Approximately eight KAG members participated. 2nd Lt. The Horta tai; Vulcans Nayr and Kavura; and I and 2nd Lt. Granamyr tai, the Green Lantern Klingon, represented the noble Klingon race. The rest were disguised as Federation members.
At 4 pm I participated in the Miss Star Trek Universe beauty pageant set up over at the Sheraton's Grand Ballroom, and also assisted during the pageant. I made sure the Dark Moon Fleet banner that I have was in its traditional location behind the podium where Garret Wang, the host, stands. It makes an amazing backdrop! At 5:30 pm the pageant kicked off with the pre-show arranged by Admiral Kolex. It was a game of "Kahless Says" and Klingon style…. everyone died. Everyone. Except the Klingons.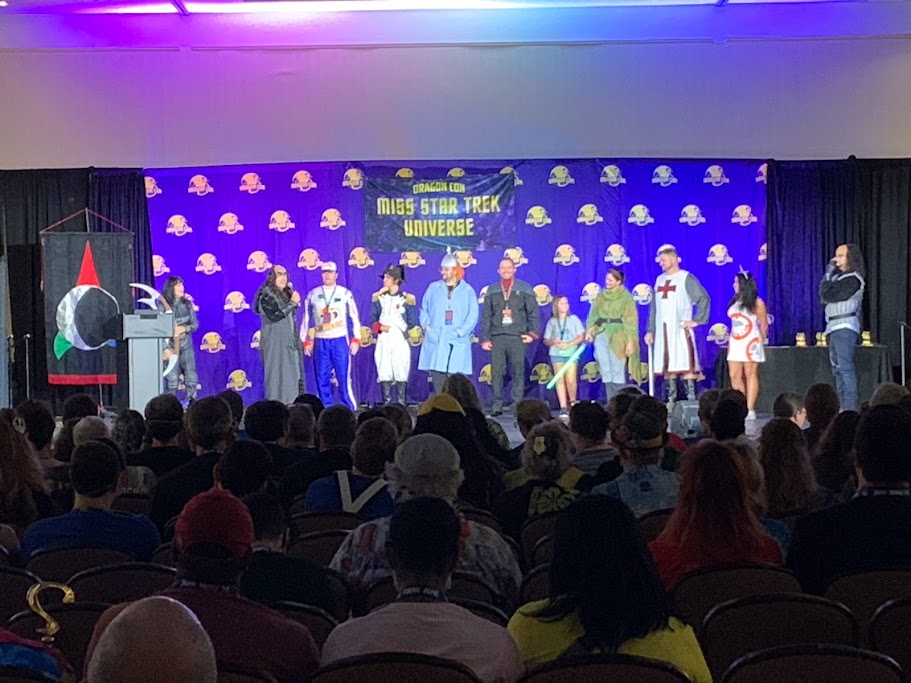 One of the judges was the wonderful Gil Gerard who I was able to assist during the judging portion. After the pageant, I took down the banner and made my way back to the Trek Track room at the Hilton in time to sit in on the end of the Star Trek Salamander Awards: Star Trek's Best of the Worst panel. It was very interesting and innovative, relying on audience participation.
Following that at 8:30 pm was Joe Campbell's panel The Future We Can Have: A Tribute to Nichelle Nichols. Members of the audience all got up and spoke about our interaction with the iconic actress and how she affected our lives. I spoke as well.
My earliest recollection of Nichelle Nichols was meeting her at a Creation Con in North Carolina back in the early 1970s. She was elegantly dressed and wore beautiful, distinctive large jewelry. I gave her a set of my wild animal rocks that I used to paint for my high school art teacher's small business, Allen House. She loved them. During the question and answer session at her panel, my question was would she sing us a song? She responded with, "You all want me to sing?" The crowd applauded their approval. I don't know if that was the beginning of her singing to her fans at cons, but she serenaded us beautifully that day. At another later convention, I brought her an additional painted rock and also a set of wild animal rocks that I hoped she would give to George Takei. Initially hesitant, she said she would. And she did. I met George at yet much later con and when I gave him another rock, he exclaimed pointing his finger at me, "You're the rock lady!" Yes. Yes I am!
Immediately after Joe's panel, Katkith and I along with our panel helpers jumped on setting up Klingon Karaoke – Glory! It was another great karaoke experience for everyone except we did not have enough time to accommodate all the singers. A great time was had by all and we raised over $200 for OPEN HAND. The Klingons know how to raise funds!
MONDAY, September 5, 2022
Normally, I warp home on Monday, but because we were short handed, I was asked to stay and work the Monday panels. At 10 am the Writing About Star Trek panel and at 11:30 the Writing Star Trek panels featured authors in the genre. It was an interesting back to back information session.
The highlight for me that day was to assist and enjoy Peter David's panel All Good Things – Closing. Afterwards, Katkith and I assisted Peter in getting where he needed to be, and I had the chance to tell him I was one of his biggest fans.
Dragon Con featured many more Star Trek options than what I have reported on. There were panels with the actors Anson Mount, Ethan Peck, Christina Chong, Jess Bush from Strange New Worlds; Anthony Rapp, Blue del Barrio and Wilson Cruz from Discovery; MIchelle Hurd and others from Picard; and last, but not least, William Shatner from classic Star Trek. All of these were hosted by the incomparable and talented Voyager alum GARRETT WANG!!! I chose to stay close to home (Hilton Galleria 2-3) due to health issues and missed many of these wonderful panels, but Katkith was able to enjoy some of them. I worked, but I had a great time!
If you have the chance to go to Dragon Con, do it. It is a life changing opportunity. Qapla'!