This year my invasion of Dragon Con as a staff member of the Trek Track was very different. I had to procure my own lodging on a separate asteroid than the planet (Hot'lanta) the event was being held on. Customs was very strict this year; all staff and attendees had to have proof of vaccination against the dreaded scourge COVID or a negative test result prior to reporting for duty. I was duly prepared. And though this image below is out of date order, I did get to interact during the con with my favorite Voyager actor and my Trek Trak boss, Garrett Wang, aka Ensign Harry Kim.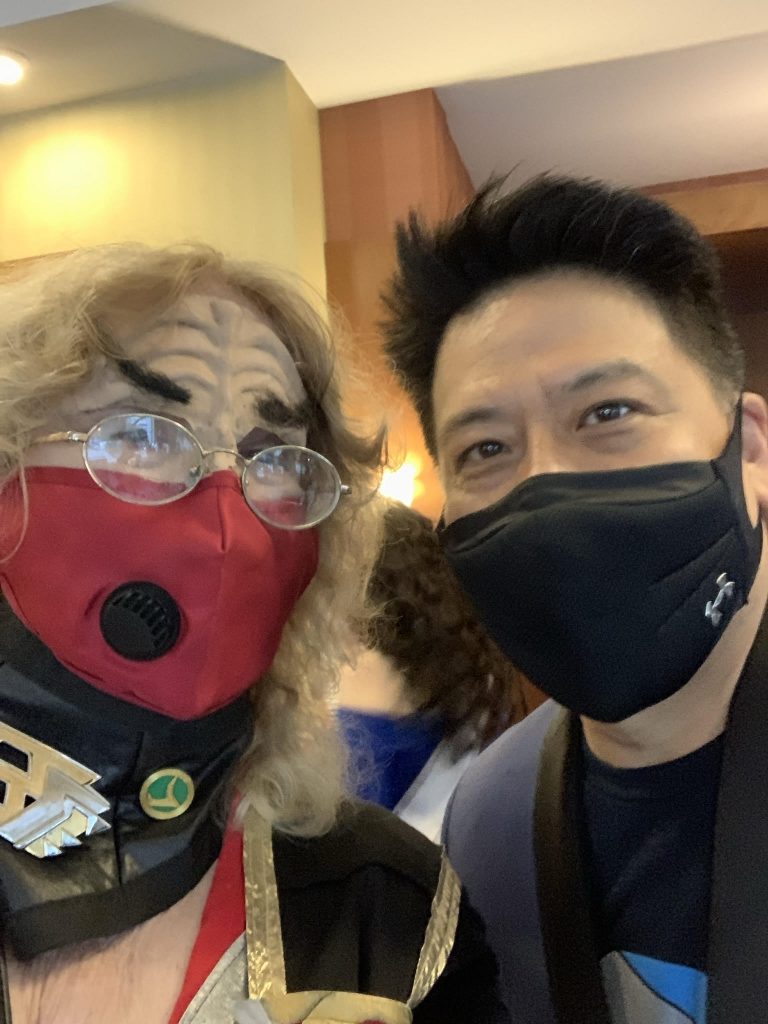 Friday morning (September 3rd) I reported for duty for our Volunteers meeting and I stayed on my post in the Trek Track room for panel after panel as a true Klingon for the majority of the day, almost 12 hours. I was honored to join up with our Dark Moon Fleet Commander, Captain chISwI sutai-lungqIj (aka Christine Hoopengardner) briefly in the Trek Track room. FYI Klingon Karaoke was not held this year due to plague concerns. Perhaps next year, as Katkith seems willing to assist with this.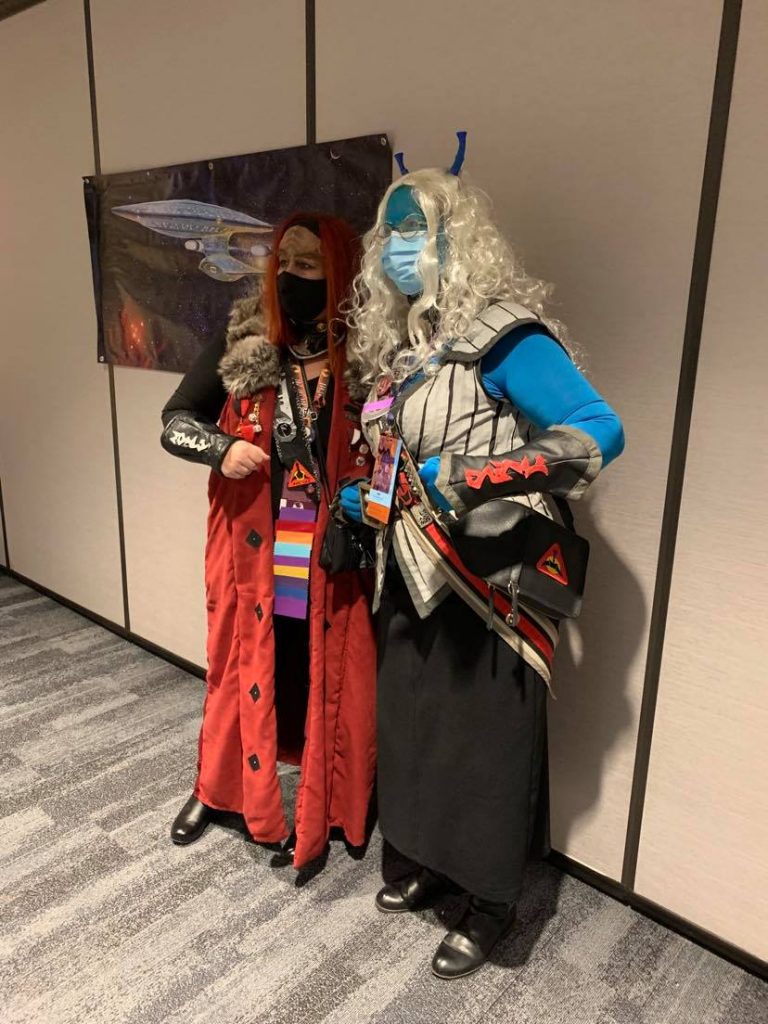 Saturday morning was the Dragon Con Parade. We rode to our staging area on large mass transit ground vehicles. Many different species, dimensional visitors and time travelers clambered on board each. The parade began at 10 am and the Star Trek portion followed behind the banner Star POD Trek provided and honoring, Nayr and Kavura's podcast. Admiral Kolex (Darren Carter) and I were the only Imperial Klingons, but there was a Worf in the Federation mix.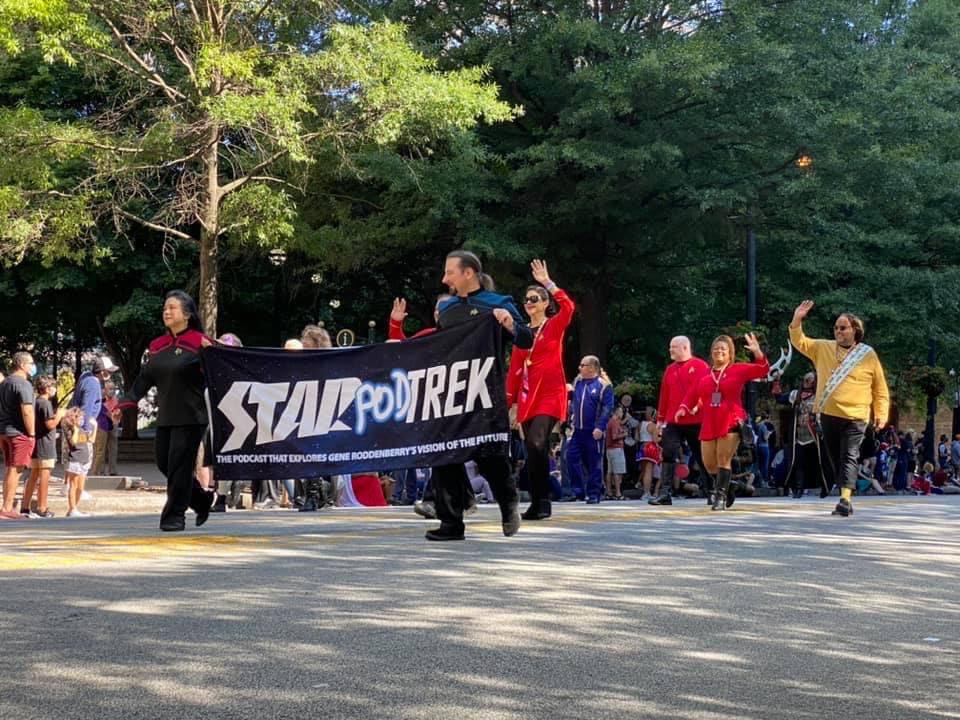 Afterwards I changed into cooler "casual" Klingon wear. I reported to the Trek Track room only to find I needed to be in another sector. I bribed a huMan guide with a KAG keychain (which he really liked) and together we ran to where my post was (Atrium Ballroom) where I was assigned to be a microphone runner for the "O Captain, My Captain" panel with William Shatner!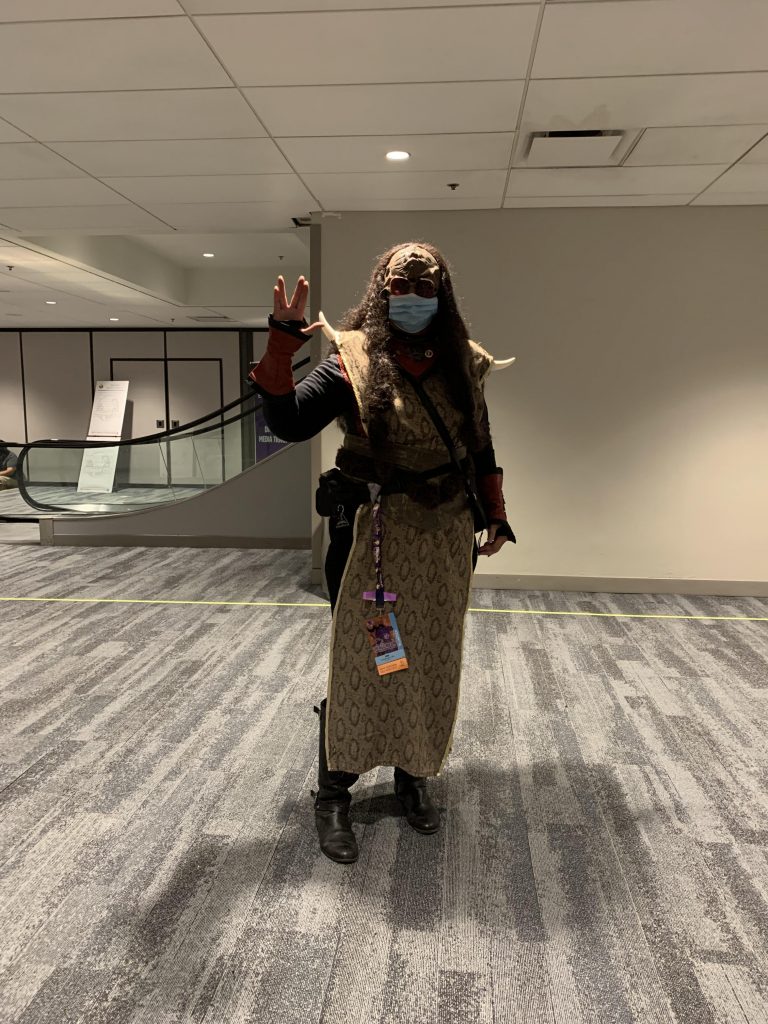 True to his Kirkian nature, he ignored my overt Klingon presence (standing in the front of the room) and also the line of answer seekers behind me, instead concentrating on the puny human in street clothes handling the other microphone. I had to interrupt him after he allowed 3 people on the same side to ask questions by saying, politely (and loudly) into the microphone because we Klingons can speak with firm decorum when needed, "Mr. Shatner, I have someone HERE who would like to ask you a question!"
Oh, he saw me alright. He just ignored me.
Afterwards, I sat and helped as necessary for two more panels at the Trek Track room before reporting to the Hyatt for the Star Trek Kids Fest. This year I did not paint faces due to the plague, but was thrilled to contribute to the event stapled copies of both the Klingon Koloring Book and KAG The Coloring Book for the huMan larvae to enjoy. And they did! What was left over was retained for next year.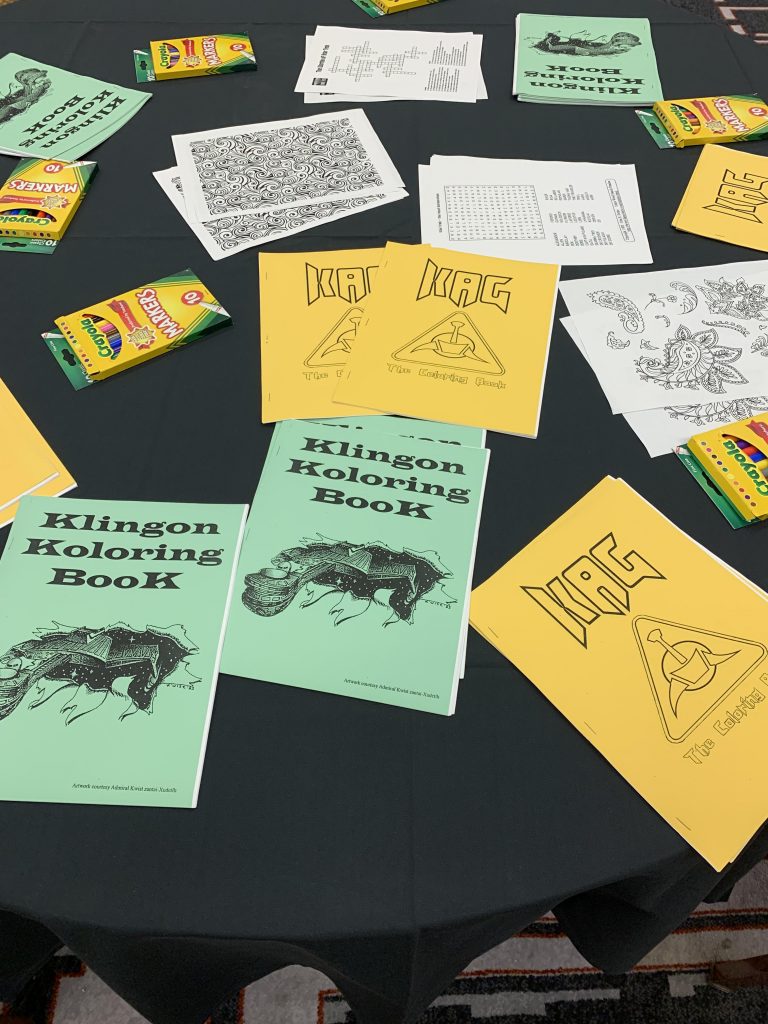 After that and a short break for myself, I reported at 5:30 to guard the Trek Track room for a period of time while the hotel staff cleaned and resupplied it. Another panel ("Garret Wang: Forever Ensign") of service there and then I reported to the Imperial Ballroom in the Marriott to set up for the 10 Forward Party which I am sad to say I was unable to attend because it was scheduled too late for my docking pass.
Sunday I arrived at the Trek Track room and began my service at 10 am. At 11, I had the distinct pleasure of serving and listening to the following panel "Science in Star Trek Discovery" by two Star Trek science advisors, Erin MacDonald and my friend, Mohamed A. Noor, a man whose mere presence at Duke University raises the average IQ of the state of North Carolina 20 points.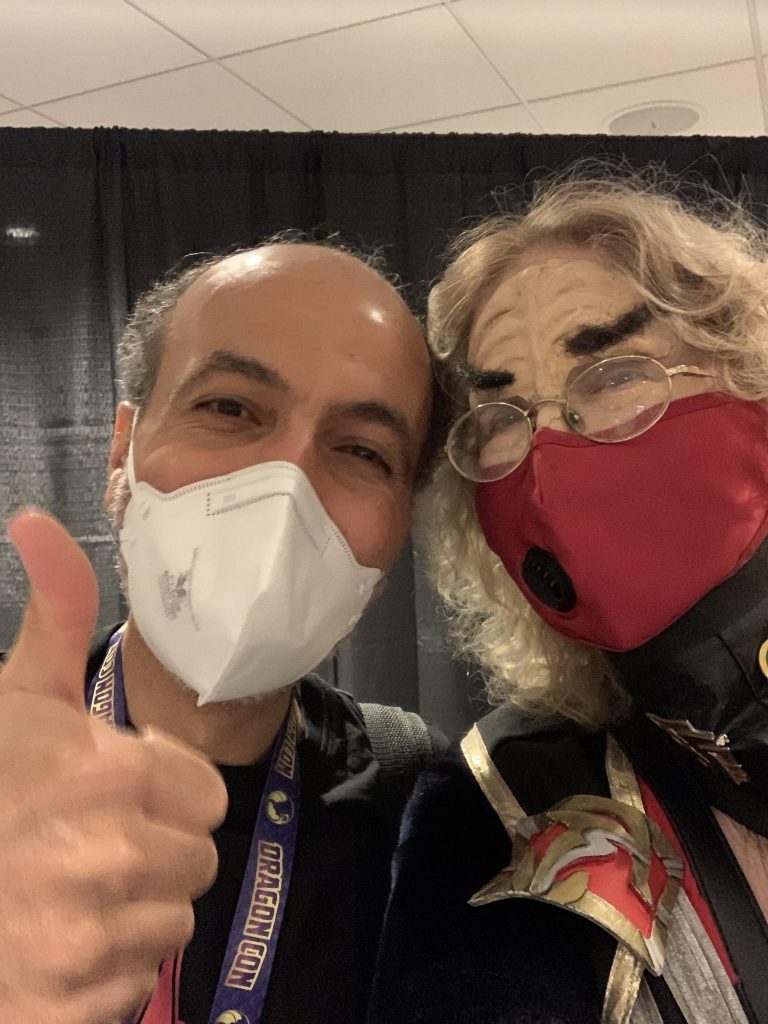 After that I took a lunch break then reported to the Grand Ballroom at the Sheraton to set up for the Miss Star Trek Universe pageant. As we have done in past years, the Dark Moon Fleet banner proudly stood behind Garrett Wang as he performed his Master of Ceremonies role. One of the judges was the timeless Gil Gerard. Always good to see Buck Rogers!!!
It was an honor to see Lt. Cmdr. Ktarg vestai-B'ry in his newly made Imperial uniform. He looked amazing!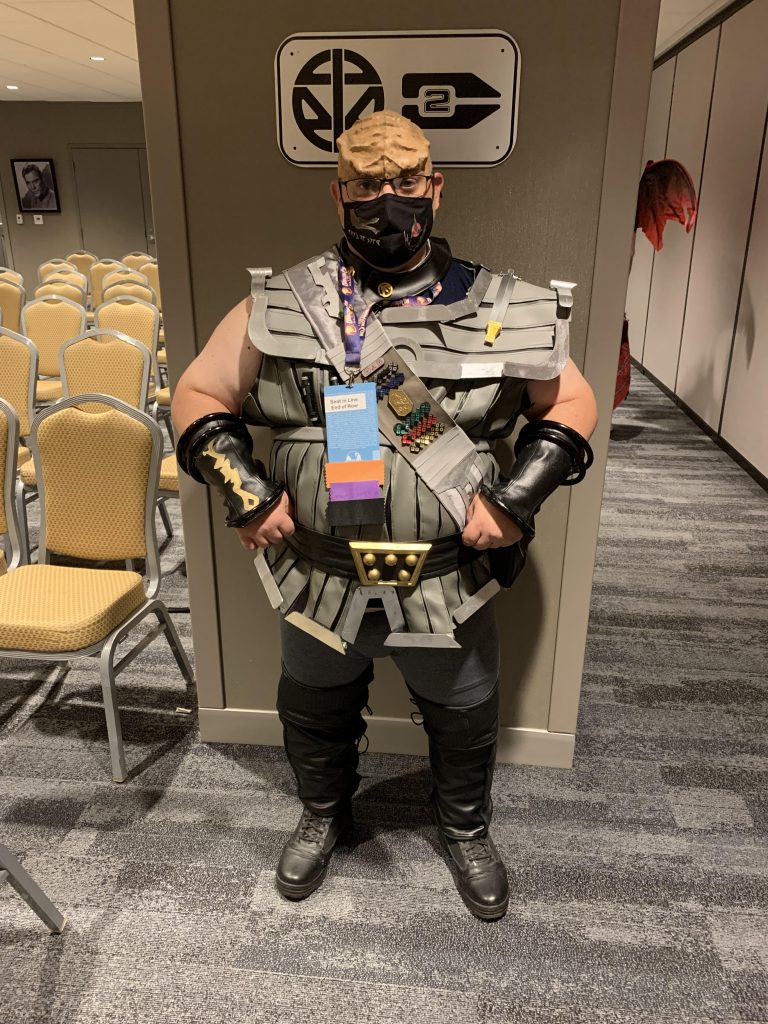 The winner this year was a Ferengi female, but the Klingon Empire was represented honorably by K'elan of House Reshtarc (aka Kim Corwin) from KLAW in Florida. Qapla'! I was honored to find chISwI and Kim and get a holoimage with them at the MSTU.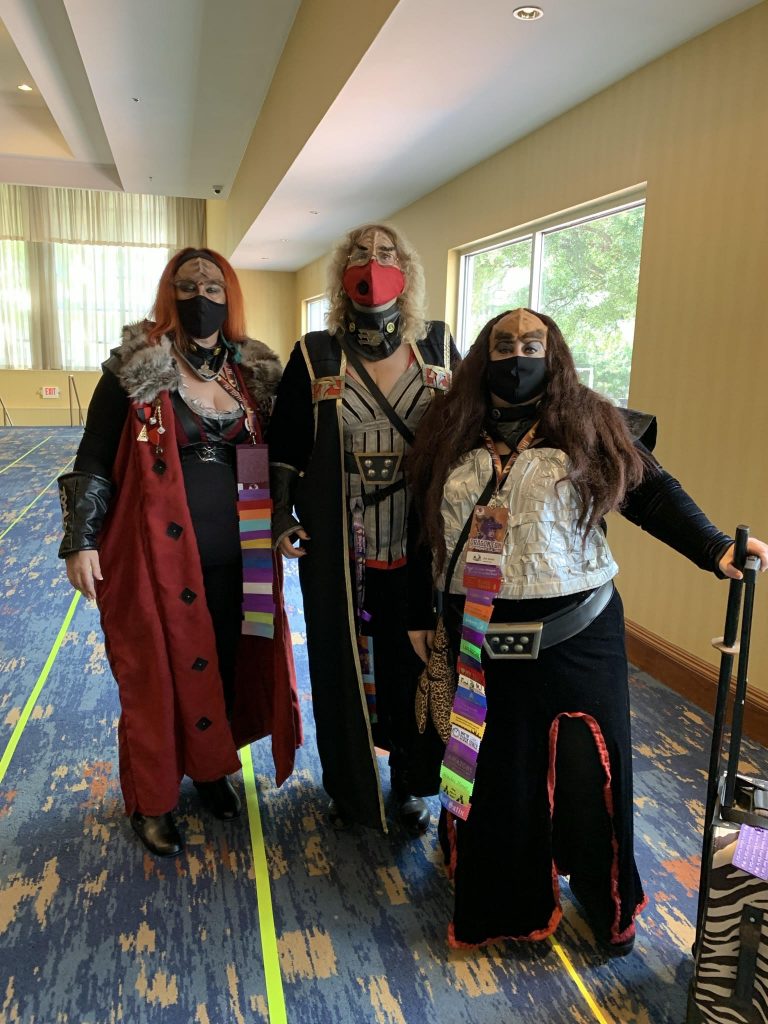 After the pageant photo session, I went back to the Trek Track Room for "Creating the Great Star Trek Novel." IXL Lt. Mythor tai-Mythor (aka Calvin Exum), noble Jem Hadar in service to KAG, had earlier gotten Keith R. A. DeCandido to sign my "Klingon Art of War" for me and placed it in my belongings. Qapla' and may your ketracel white never run out! I was able to get my holoimage made with Keith and the book afterwards.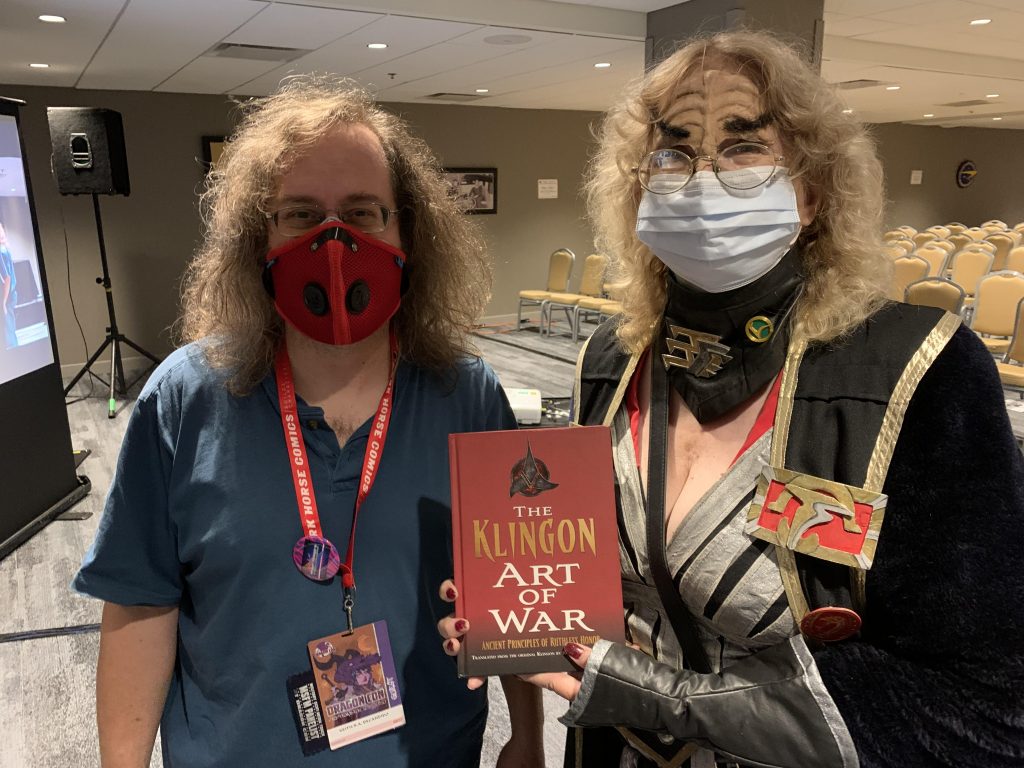 I assisted with the 10 pm panel, but spoke with staff to be allowed to return to my lodging in order to depart early in the morning. I had a great time at Dragon Con and thanks to the strict vaccination and negative COVID policy for everyone, I did not contract the plague.
IXL Brigadier Keela zantai-Septaric, Dark Star Quadrant CO