AER: IKV Raptor's Heart at DemiCon 2015

Stardate:  57154.4
Earth-date:  2 May 2015
Ship's name:  IKV Raptor's Heart
Ship's Class: B'rel class Bird-of-Prey Scout Ship
Commanding Officer: LTCDR Akela sutai-K'Tor/Sharon Boren
Contact info: shaelis@longlines.com/sharonboren549@yahoo.com
First Officer: 2nd Lt. Jorn tai-Vampyr/John Shoberg
Contact info: jshoberg@cox.net
Total Number of Personnel: 15
Number Attending Event: 4
Event: DemiCon 26
Location: Des Moines, IA
Duration:  May 1-3, 2015
Crew personnel present: CO- LTCDR Akela sutai-K'Tor/Sharon Boren
FO-2nd Lt. Jorn tai-Vampyr/John Shoberg
CMO-2nd Lt. Kalesta tai-K'Tor/Honey Davis
Helm-2nd Lt.                              /Trudy Myers
Event Report:
                 We decided to infiltrate the human gathering known as DemiCon 26.  After we checked in, we located the basic amenities and took our luggage to our rooms.  Tadao Tomomatsu was the Toastmaster this year and presided over the Opening Ceremonies to start the weekend off.
On the second day of the event, we donned battle dress and made our presence known.  First on the agenda was the Klingon Jail 'N' Bail. Once again, we assisted the IKV Black Thunder in pulling off this growing event.  After helping to set up, we waited for our first victim.  It wasn't long before the first warrant of arrest was sworn out and we remained busy well past the official ending hour of 3 pm.  A young convention-goer, K'Vin (Kevin Ramsey) asked to join us for this event and help arrest people.  We were happy to oblige him and gave him an afternoon of fun.  When the dust finally cleared, we had raised $300 for the convention's charity and had some very sore feet to nurse.
At 10 pm, we held a memorial tribute to an Honorable Vulcan Ambassador and Diplomat, Spock and the actor who portrayed him, Leonard Nimoy.  The panel was lightly attended due to the late hour and the fact that many of the Room Parties were getting started.  However, this was a trial run for a grand party being planned for Osfest 8 in Omaha, NE July 31 to August 2.  For a trial run, it gave us a good indication of what we need to change and where we need to improve.  As such, it wasn't a bad experience.
All in all, it was a fun weekend and chance to get away from our usual duties.  New ideas and plans are being made for next year. My thanks to 2nd Lt. Kalesta tai-K'Tor, and to 2nd Lt. Trudy Myers for helping with the photography.  Trudy also hosted several panels for budding young writers this year.
LTCDR Akela sutai-K'Tor/Sharon Boren
Commanding Officer
IKV Raptor's Heart
Cold Terror Fleet
Cold Death Quadrant
KAG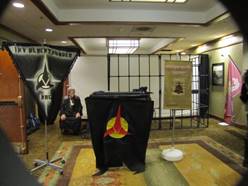 All set up and ready to go.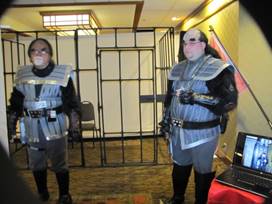 2nd Lt. Jorn tai-Vampyr (John Shoberg) and Ron Folden ready for action.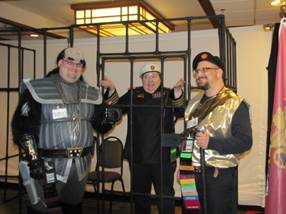 Ron Folden and Ben pose with our first prisoner the Captain of the Des Moines Manticorians.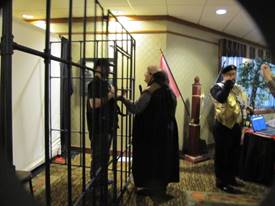 Ben and I (LTCDR Akela sutai-K'Tor) lock another Manticorian
behind bars.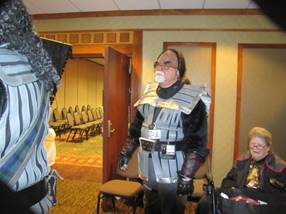 A lull in the action catches 2nd Lt. Kalesta tai-K'Tor (Honey Davis) and Jorn (John Shoberg) with Capt. JaPa (back to camera) in a moment.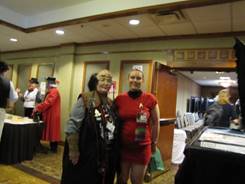 Akela poses with a fellow Trek fan while waiting for the
next arrest.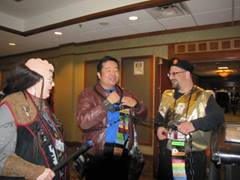 Ben and I bring in Tadao Tomomatsu.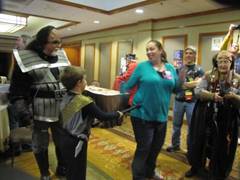 Young K'Vin (Kevin Ramsey) tries out a painstick.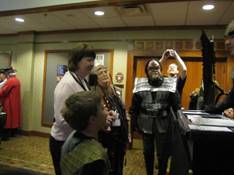 K'Vin had fun arresting his grandmother.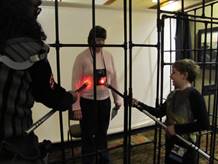 And then he tortured her for a photo op.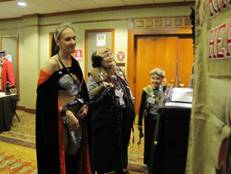 K'vin helped me arrest Christy (David Pedersen's book model).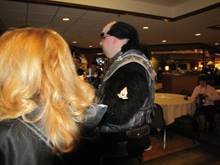 To make things more interesting, Ron Folden is arrested and brought in for his execution.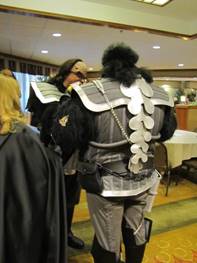 Ron is readied for his execution.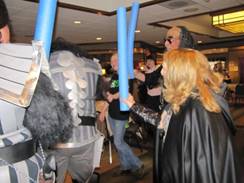 The execution begins.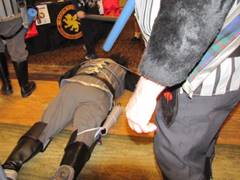 He's dead, Jim!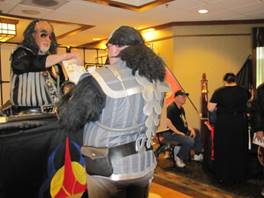 By the miracle of the Genesis planet, Ron Folden receives
his paperwork for his scrapbook.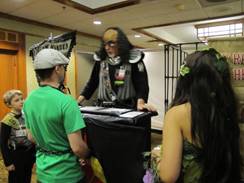 Another attendee is arrested accompanied by Poison Ivy.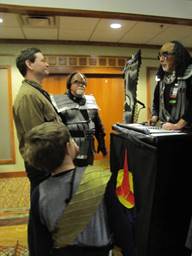 Another arrest, and more money for the charity.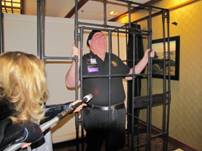 Another Manticorian arrest.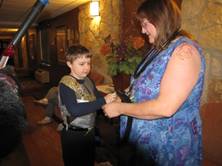 Young K'Vin arrests mom!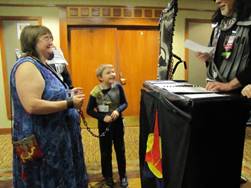 Mom is brought before the judge.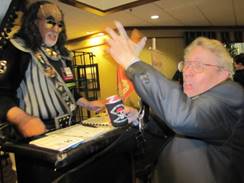 A human prisoner professes his innocence.
Another prisoner comes before the judge and chooses the "Stupid human" trick instead of paying bail.
The "Dying Fish" was performed for the amusement of those
present.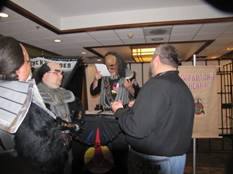 Yet another Manticorian is brought forth.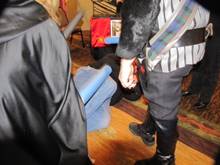 And he is summarily executed as requested.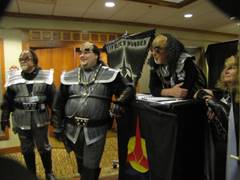 John Shoberg, Ron Folden, JP and his sister look on some of the fun going on in the hotel's lobby.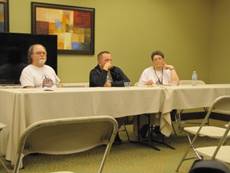 Spock tribute panel, due to the late hour and all the running around at the Jail 'n' bail, we had to give the uniforms a rest.