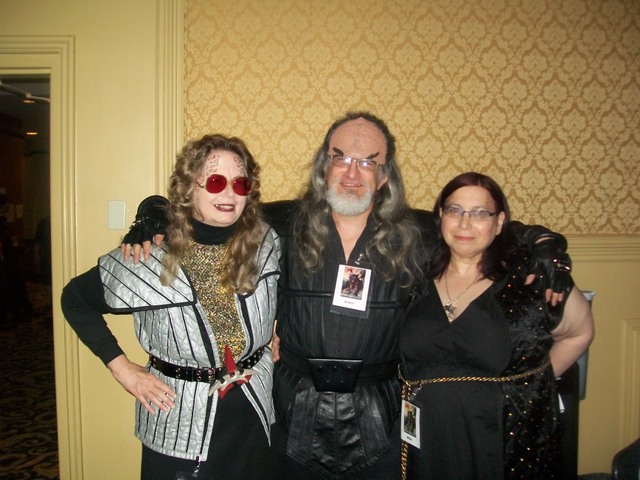 Transmission delayed by Ferengi issues and corrupted by tribble infestation. The Ferengis have been dealt with and the tribbles purged.
FRIDAY
The oversized cargo vessel of the IKV Raging Wolf made it to the con at about 2:00 pm. I got help unloading the Alcove stolen from the Borg into the interactive museum room. And many thanks to a kind Mandalorian Merc there, and others in the room, the Alcove was finally assembled and powered up. My next main worry was the arrival of the Thought Admiral Krikor zantai-jechwI' (Krikor Ajemian) and his party. I had gotten a farspeaker communication from his parmachai, Lt. Commander M'Rel vestai-TawI'yan (Merle Metalin), but was unable to return the call. I picked up their con badges and left them at the hotel check-in so they would not have to go stand in line and pick them up, but wires were crossed. However, they got the badges finally. I spied Krikor from across the lobby and shouted. Then M'Rel (who I had never met) jumped up and gave me the warmest hug I think I ever had. "I thought that was you!" she exclaimed. I had seen Marine Major grelbr sutai-TawI'yan (Dan Evens) at the 20th Anniversary at Marscon, so his was a familiar face. It was so good to see them safe and sound at ConCarolinas!
At some point after that the KAG table was also set up. Apparently there was some kind of snafu with regards to who had the table next to us, but it worked out. I hated I was not able to perform my fan table coordinating duties at ConCarolinas, but that taught me a good lesson. I can't volunteer to work that convention other than Klingon Karaoke because there's just too much other stuff I have to do. My most sincere apologies to Jada in this regard.
Opening Ceremonies were at 6:00 p.m. and a fully armored Krikor returned to the KAG table to wait for his cue to go on stage. This year, they did it kind of differently. They had the various guests wait in their respective areas until called. That meant they missed the full Opening Ceremonies, but oh well. Krikor and Bill Blair (media guest who holds the Guinness book of world records for most Alien faces portrayed by any actor) took the stage. Rich Sigfried, also a KAG member, introduced them. It was glorious and Krikor looked awesome and acted with great honor. I was very proud.
Afterwards, I don't remember much except going to the room and getting everything ready for Keela and Katkith's Klingon Karaoke that night. Karaoke started at 10:30 p.m. with set up and kicked off at 11:00 p.m. We had quite a good crowd. Krikor, M'Rel and grelbr also attended and they performed "We All Live In A Yellow Bird of Prey," to which the audience sang along. Everyone had a good time. Karaoke ended about 2:00 p.m.
The next morning I went to eat breakfast in the hotel. There was a miscommunication about the price of the meal. It was about twice what I was told, but it was very tasty and I ate my fill. My House Sister, K'Trava joined me and it was delightful! I don't remember much afterwards except it was necessary to touch base with as many KAG personnel as I could to let them know when to gather for the KAG Assembly at 4:00 p.m. I did get a chance to talk to Krikor one-on-one and M'Rel. Krikor gave me a set of Cardassian prosthetics (thank you!) and a mold for the battlenotches that the Crimson Knight Fleet uses. Now all I have to do is learn how to make resin pins.
The Warriors gathered about 1/2 hour early. K'Trok saw to the appointment of the Honor Guard. We had the dock area behind the University Hilton overlooking the lake from 4:00 p.m. to 6:00 p.m. so after mustering and lining up to escort our Thought Admiral, we marched to the appointed place, ccompanied by Marine Captain Achbar vestai-Kukura.on the dumbek. Members of the Honor Guard were Lt. Margan tai-Trekkan of the IKV Devastator's Glory and IXL Lt. Nivek tai of Vulcan of the IKV Restless Star. After them was grelbr, Krikor's bodyguard, then Krikor and his mate, and the rest of the assembled Warriors. It was a glorious sunny day, but plenty of breeze to stir our cloaks and cool us down. Several non-uniformed Warriors of KAG watched from the sidelines and one, Jayr of House Tyner, took pictures which are included in the holographic album below.
I welcomed the Warriors and introduced our Thought Admiral Krikor and his party. He greeted Dark Moon Fleet and stated his appreciation for us bringing him down to ConCarolinas. He came bearing gifts from Kerla for me (thank you) and from him for me and the bride and groom to be (Mort'xx and J'Tar). It was very touching. He also announced my appointment as Dark Moon Fleet Deputy CO and Marine Major K'Trok vestai-Majjas' appointment as Dark Star Quadrant Deputy CO. I think I speak for both of us when I say we will do are VERY best for KAG. After Krikor finished speaking to us, the promotions part began. I asked the various ship representatives to step forward and name which ship they were with and where it was located. Also, if they had promotions, to do them at this time.
Representative ships in attendance were: IKV Raging Wolf, IKV Restless Star, IKV Gre'thor's Revenge, IKV Ghostwing, IKV Mica'la's Revenge, IKV Stormbringer and IKV Devastator's Glory. Other ships represented by cloaked crew working the convention were IKV Blood Klaw and IKV Hnoiyika.
The IKV Gre'thor's Revenge out of Charlotte, NC had two promotions: The Trill Tribble Trader, Mejhara, daughter of Cyrano Jones was promoted to IXL Mejhara tai-Jones. T'Marr the Vulcan was promoted to IXL T'Marr tai of Vulcan. The ship CO, Lt. K'Vada tai made a nice certificate for each of her Warriors. Qapla'!
After the promotions part, I introduced the Wedding and began the traditional wedding ceremony accompanied by Achbar on the dumbek. Lt. Korath vestai-Septaric, earth minister, oversaw the ceremony. Here is the link to the finished video if you have not seen it:
Also, many glorious pictures were taken by representatives of Wayward Wolfe Photography.
http://www.waywardwolfephoto.com/Concarolinas/2013/29798981_TzW6sL/4
Once there, click on "Weddings," then "Meet the Klingons" — if anyone wants to order prints, contact Wayward Wolfe Photography.
After the wedding, we Warriors assembled on the dock and had a group photo taken with our KAG banner. It was glorious. J'Tar and Mort'xx shuttled off to celebrate their wedding with friends and family. Then the rest of the KAG Warriors who were accompanying Krikor to Boardwalk Billy's all followed me to the restaurant. I was worried because the KAG Assembly actually finished up faster than I expected and we were a little early. Unfortunately Leo had to miss the meal and headed back to the hotel. Little did we know it at the time, but he was in for a harrowing ordeal.
After a surprisingly short wait, we were escorted to our tables. Lo and behold, they gave us the private room after all! Their contracted party fell through. The room was awesome because it was not so sunny as it was last year, and we had privacy and a great view out the windows. The food was delicious and plentiful, as in years past, and the conversation very lively. During the festivities, Krikor heard from K'Trok all the many accomplishments his crew had done this year and decided on the spot to award both K'Trok and K'Lara the honorific upgrade to sutai. Qapla'!!!
During the meal, I got a phone call from Leo. His roommates were unable to be contacted and he needed to get in the room and the Hotel Wouldn't Let Him! His name was not on the reservation and they refused to allow him inside to be able to change out of his Furry suit into regular clothes. Leo is a patient Furry and bears no ill will, but I thought that was terrible. He was thankful he was wearing clothes underneath the Furry suit, but he had to wander around barefooted until he was able to get back in when the roommates returned.
After the meal, we all trooped back to the hotel. Krikor had to get ready for the costume contest, as he was an entrant. He was going to be Klingon Batman. Plus later that evening, there was a KAG Room Party (and surprise 30th Birthday Party for Jane Willer) and Keela and Katkith's Klingon Karaoke. K'Lara and I went to the costume contest and got seats. For what I saw of it, it was pretty good! I did see Lt. Jatanna tai-Majjas as Velma from Scooby Doo, and a few other entrants. Then I noticed the time. The KAG Party was to start at around 9:30 pm and it was about a quarter till nine. I excused myself, ran and got Jatanna's room key and ran to my room to get the coolers, goodies, tables and decorations. Hurrying down to the KAG party room, I opened the door and came to a screeching halt. The room was occupied by 5 women. Need I say more?
Most of the entrants were in the costume contest so I had the room to myself. Fortunately, the tables and table cloths allowed me to hide nearly everything. The rest went under the beds, behind the curtains or in the bathroom. I want to thank Nivek and K'Trava for helping get ice for the drink containers. It all looked pretty good when I finished, but when the entrants came back, they had to have some of the stuff I hid. I had to leave because it was almost time to set up for Keela and Katkith's Klingon Karaoke. However, the room turned out all right. Everyone found everything after all was said and done. And most of all, the KAG (and Birthday) party was a success! It was attended by both Bill Blair and Timothy Zahn, I heard. Qapla'!
Keela and Katkith's Klingon Karaoke went on at 11:00 pm and lasted a couple hours. We had a problem with one drunk who was being filmed by someone capturing his drunken antics and people's reactions on film. He got banned and the filmmaker should too. Later the lights kept going out in the Karaoke room. We had power to the karaoke equipment, but people had to sing pretty much in the dark with the light from the projector screen and the karaoke monitor. Turned out it was a hotel issue, not the drunk and his cohort who were ordered out of the room by me (and thank you to the huMan who jumped up and went for Security at my request), and it did get fixed. Karaoke was not as crowded as it was the previous night and we actually got to close down a little early.
SUNDAY
In short, I was exhausted. I got reports from all the activities that I missed from various people. I found out that Krikor had won Best Original Costume and that Lt. Kalitta tai (Miss Klingon Empire 2013) and her group (Kim and Mary) from the Legend of Zelda had won Best of Show. A huge Qapla' to all!!!
I helped take down some signs in the hall as the convention neared its end. I had wanted to leave the Borg Alcove up as long as possible for ConCarolinas because right and left people were tearing down and leaving. What I did NOT know was that we had to vacate the premises at 5:00 p.m. So, reluctantly, I agreed to tear it down. Thanks to Jada's drill, K'Trok and all those young huMans who helped do that and load it into my cargo van. Thanks also to Korath, my House Brother, who stayed with me most of the time until I got in my van to leave.
Afterwards, I got to watch the rest of the Closing Ceremonies and see all the volunteers participate in a raffle for cool stuff. Because I didn't get to perform my duties, I got no raffle ticket. Oh well. I learned my lesson this year. I cannot volunteer for anything because Keela and Katkith's Klingon Karaoke is more than enough work.
I said goodbye to Krikor, M'rel and grelbr and wished them safe journey. It was wonderful having the Thought Admiral come down and meet our Dark Star Quadrant Warriors. I hope they had a good time! I want to thank all the DSQ KAG Warriors who armored up at ConCarolinas. It made the convention and especially the KAG Assembly memorable and I appreciate you!
Attending ConCarolinas and participating in KAG activities were Marine Major Achbar vestai-Kurkura, IXL Major K'Lara sutai-Majjas, Marine Major K'Trok sutai-Majjas, Lt. Mort'xx vestai-JolneS, Lt. J'Tar vestai-JolneS, Lt. Jatanna tai-Majjas, Honorary IXL Lt. Bunny tai, IXL Lt. Mejhara tai-Jones, Lt. K'vada tai, IXL Colonel Keela zantai-Septaric, IXL Nivek tai-Majjas, Miss Klingon Empire 2013 Lt. Kalitta tai, Lt. Cmdr. K'Trava sutai-Septaric, Lt. Argan tai-Trekkan, Lt. Cmdr. Korath vestai-Septaric, Lt. Kehlex tai-JolneS, IXL Lt. Dimitri Lev tai-Leonine. Special guests were Thought Admiral Krikor zanti-JechwI, Lt. Commander M'Rel vestai-TawI'yan, and Marine Major grelbr sutai-TawI'yan from the Crimson Knight Fleet, Canada.
I also want to mention that many of the ConCarolinas staff were manned by (mostly) cloaked KAG members: IXL Lt. J'ada tai (Tuscan Raider), Con Chair; IXL Louie the Bantha Whisperer tai (Tuscan Raider), Security and Blood Drive; IXL Lt. T'Marr tai of Vulcan, Registration Director; Lt. K'Vada tai, Registration; IXL Lt. Danlia Rhial tai (Romulan), Registration; Lt. Jatanna tai, Registration; and IXL Major K'Lara vestai-Majjas, Registration. Also working the con were Lt. Maj'vacut vestai-Septaric, IXL Lt. Dimitri Lev tai-Leonine, Lt. K'Trok vestai-Majjas, Lt. ha'Vok tai-Trekkan, and Lance Corporal Jayr of House Tyner; there may have been more, but their names escape me at this time. There were also several cloaked members who attended, including Lt. Cmdr. Katkith vestai (Karaoke), Lt. BeQ'cha vestai-Majjas, Andy Fisher (whose Klingon name escapes me) and Lance Corporal Kelvin Vod (Trill).
Holo-images are found below.
http://imageevent.com/andyf/conventions/concarolinas2013
IXL Col. Keela zantai-Septaric
CO, IKV Raging Wolf
Deputy CO, Dark Moon Fleet
Imperial Xeno Legion Legate