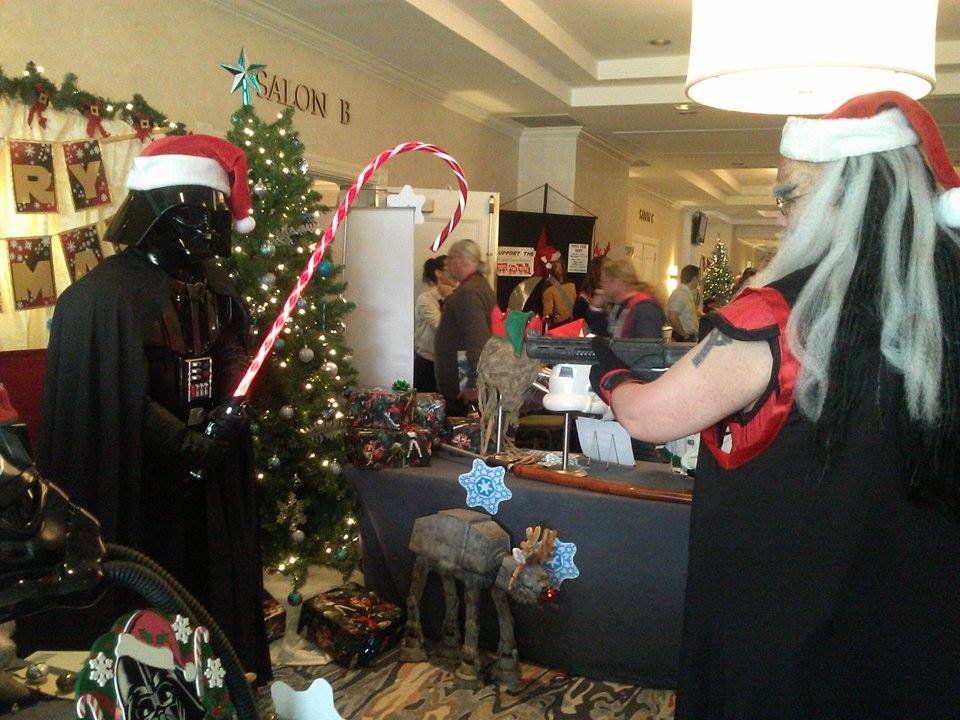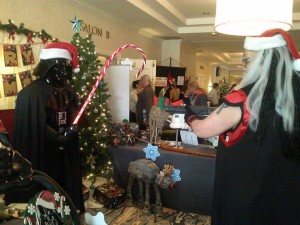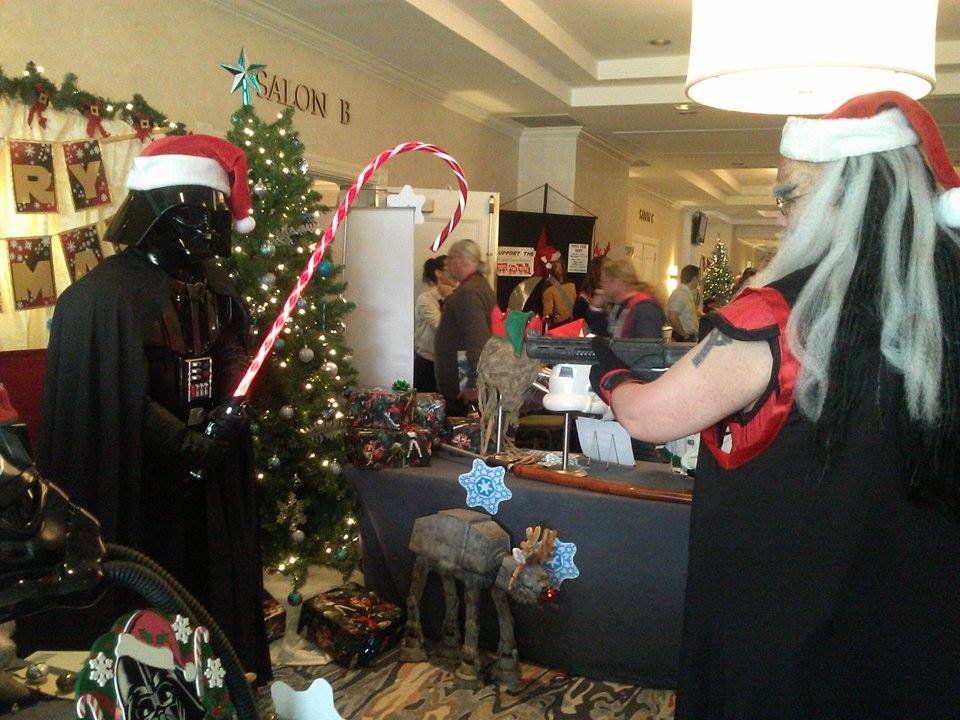 Personal log of Captain Keela zantai-Septaric:
On December 14, 2014, I and Raging Wolf crew members, Lt. S'Risha tai and our half-Borg/half-targ mascot, the Raging Marshmallow (aka Wallaby), picked up the CO of the IKV Executioner, Lt. Cmdr. Kas'Duj vestai-Mjolnir, and headed for the Charlotte sector. Our destination, Charlotte ComicCon where we had a challenge battle with the 501st to see who would raise the most funds for our respective charities: Toys for Tots and Make A Wish.
Weeks earlier I had contacted Hope Roten of the 501st and discovered that they had a Christmas-themed fundraiser going on for Make a Wish. I immediately challenged the 501st to a competition. It was accepted and passed on. (Unfortunately an earth reporter got her facts mixed up when attempting to help advertise the dual fundraisers and it ended up being printed in a local newspaper that the 501st was portrayed as raising funds for Toys for Tots as well. HuMans!)
Notifying KAG of the impending War with the 501st was expedited as soon as possible on the various communication venues available to us. I enlisted the help of Kas'Duj to play the part of Zantai Klaws, S'Risha, a Vulcan, to be an Elf, and the Raging Marshmallow to be a Reindeer-Borg. We were also assisted by IXL Lt. Chamber tai, a Mandalorian Merc, who brought decorations and his big voice to the fund-raising efforts.
A great day was had by all, with plenty of photo ops. Of course, there were friendly clashes with our frenemies, the 501st. At the end of the day we had raised a startling 47 toys and $663.43!!!! The 501st raised $141 and some change for Make-A-Wish, but I have to give them a strong nod of thanks for their support in our fund-raising effort. One of our dual members (in both KAG and 501st), TB-1345, made and brought a decorated box to collect toys in. Qapla'!
Unfortunately, some hostilities ensued as a result of KAG's victory, but I told 501st representatives that we would help them with a Make A Wish fundraiser at a future con in order to keep the peace.
So…. KAG won the challenge!! All participating members of KAG are now allowed to construct a KILL STRIPE for this battle. We can coordinate the style together, but the color should be green, reflecting a victory over Aliens.
Thanks to all who participated in this successful battle and to all who donated to make Christmas brighter for the huMan larvae of our region!
Qapla'!
End log.