AER Vul-con 2018 July 27-29 Vulcan Alberta Canada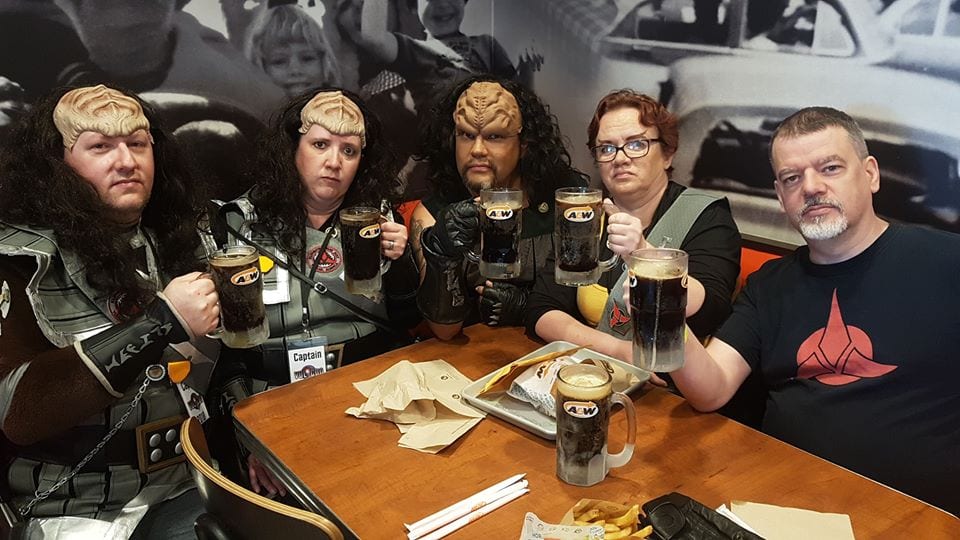 AER VUL-CON 2018
July 27-29
I.K.V. KABAR
Stardate 58556.2 (July 26/2018)
I Lt. Vangor, my first officer Lt. Vixsor, and L/Cpl V'Rell depart from our home base of operations of Medicine Hat, Alberta in route to the yearly trek convention in Vulcan, Alberta known as Vul-con. We loaded up our trusty Bird of Prey at about 10:00 and set course to meet up with the local Federation shuttlecraft Curtana at an earther donut shop just outside of town to convoy to Vulcan. I'd like to also point out that this was L/Cpl V'Rell's first convention, not only as a Klingon, but first one ever.
We arrived and opened hailing frequencies to the Curtana to inform them that we are at the agreed coordinates and are waiting for them, for which they replied we shall be there shortly. While waiting for the feddies to show we proceeded to order food and drink from this place called "Timmies" to sustain us till arrival at Vulcan. Short time later the Federation shuttle arrived with its captain, chief engineer, and communications officer aboard. They entered the "Timmies", supplied their shuttle with food and drinks, at which time we agreed that the Kabar should lead as we have a set course of travel each year that follows major travel routes in case of problems.
We set course for Vulcan at about 12:00 and with the Federation shuttle in tow left the "Timmies" location. A mere few minutes later I noticed the shuttle had fallen behind and had pulled over to the side of the road, their captain hailed us to inform us that they had suffered an impact with an indigenous quadruped animal (they hit a deer). The Kabar then found a place to reverse course and rondeaux with the federation shuttle to render assistance. Damage was not major, but the shuttle was leaking coolant, passenger side light was smashed, and passenger side front panel was pushed back enough to interfere with proper door function. We got the shuttle operational enough to return to town to the communications officers uncles repair shop where we had to replace a rad hose and top up the coolant. Once repairs were complete the shuttle was space worthy to continue the trip, but this time with the shuttle in front, and our Bird of Prey following just in case the repairs weren't sufficient enough.
An hour later we had to make a pit stop so some in the shuttle could use the local restroom facilities. The shuttle captain asked which way to go from here, and I gave him instructions on a short cut through town to get us back on the usual flight plan I use to and from Vulcan, he thought it best if the Kabar just take the lead position again just as long as we keep them in our rear viewer. Once back on track the rest of the trip was uneventful, which was good as we was now almost an hour behind our estimated time of arrival.
Once we arrived in Vulcan at just after 15:00hrs, the Kabar pulled into the usual location for our quarters for the next 4 days, the Vulcan Country Inn, while the federation shuttle continued on to their camp site located next to the convention center. The three of us checked into our room and proceeded to unload all of our belongings, for which I said if we had any more luggage we'd need to trade our B'rel class scout ship in for a K'vort class ship just for the sake of more cargo space. Once we was settled into our room we made our way across the street to the Trek Center to claim our VIP passes for the weekend only to be told they was a little behind and that they weren't able to hand out the passes till the next morning.
So with that I figured lets go pick up the ingredients I needed to manufacture the blood wine and Romulan ale for the next nights tailgate party and made our way to the local spirits shop. Once we procured the needed liquor we went back to our lodging but only after knocking on the door of Admiral Kris who was two doors down from our room. We chatted for a bit, introduced him to our newest recruit V'Rell, and got the low down on his plans for the weekend. Once done with the admiral we returned to our room and off loaded the booze for Friday night's party. By this time it was just after 17:00 hrs was we needed food, so we went across the street to the Admirals favorite eatery in Vulcan, Mama's Pizza and Sub where we had our fill and returned to our room to engage the non-holographic viewing device.
When approaching our room we noticed the room between our room and Admiral Kris's room had a hand drawn notice on the door stating that the Klingons in room 106 (our room) smell like wet targs. Guess they figured out they had honourable warriors next to them as I had placed a flag of the empire in our room window. We respawned by placing KAG stickers I had made on the paper notice, and place one of my business cards on the sign as well. While we waited to see which feddies was in room 107 we messaged Captain K'Rau, CO of the I.K.V. Swifthawk, to which room we was in so when he landed he could find us.
About an hour later I noticed the feddies next door backing his shuttle craft in only to realize it was the former captain of the federation ship from Calgary, Alberta, the USS King Edward. Thought I should greet him as I know that he was recently promoted to Brigadier General of the federation marines, and his wife was with him as well. So we talked for a bit, but pointed out that Admiral Kris was in the room on the other side of him so technically he was surrounded. All was good, but by this time the weather turned bad with thunder, lightning, and lots of rain, my how fast the weather changes in Vulcan as it was warm and sunny just a short time ago.
Just after 20:00hrs Capt. K'Rau showed up to our room and we talked for a bit as the last time we had seen each other was a year ago. Myself and K'Rau went to his ship as he wanted to show me something, that's when I informed him that the Admiral was in room 108 so we went over and had a talk with him while Vixsor and V'Rell stayed in our room. The three of us talked till just about 24:00 about future plans of KAG and the Northern Strom Fleet. We parted ways for the night and agreed to meet up again the next morning as we still had to pick up our passes at the Trek Center, as well as the Admiral, and Capt. K'Rau needed to talk to the new head guy at the Trek Center (Grant Shaw) about somethings.
Stardate 58558.9 (July 27/2018)
We awoke about 08:00hrs in no big rush as we couldn't retrieve our passes till 10:00hrs and the first item on the agenda for the convention wasn't till 15:00hrs for the VIP pass holders. K'Rau showed up shortly after as he slept in his ship as it was still a bit too wet the night before to set his tent up at the camp grounds. We offered him use of our shower area and if he wanted to keep his luggage at our room to keep it safe for the weekend. We sat and chatted for a while till we saw Admiral Kris walking across the street to the Trek Center as he needed to talk to Grant about his donating some Star Trek props to the Center, so we went across as well. K'Rau needed to talk to him about volunteering again this year as the online volunteer form wasn't working, and the rest of us just wanted our passes.
While K'Rau, myself and the rest of the Kabar crew was at the Trek Center, a gentleman on a scooter came in and asked where the Klingons was, we figured that maybe this was the guy that was talking to the Admiral last year about starting a ship in Vulcan. We talked to him for a bit, but once we turned our backs for a split second he was gone before we could fetch the Admiral from his room. Few minutes later we ran into the Admiral and told him we might have found the guy he was looking for but he vanished before we could get his info. We all decided we needed food and walked over to the local A&W for at this time of day, brunch, keeping an eye out for the guy on the scooter.
On the way to the A&W, K'Rau said that rant made him guest relation to actress Jennifer Gatti, known from Star Trek TNG episode Birthright parts 1 and 2 as the half Klingon, half Romulan Ba'el, and as ensign Harry Kim's fiancé Libby on ST Voyager episode Non Sequitur. We all dined on breakfast foods, and drank the human drink root beer, after which we returned to our rooms, the Admiral to his, and the rest of us back to the Kabar's room for some more talk and watching of non-holographic viewings, we never did find the guy on the scooter.
Capt. K'Rau was needed at the Trek Center by 15:45hrs to board a shuttle for High River, Alberta to pick up the three conventions guest for this year, Jennifer Gatti, Tucker Smallwood, and Rekha Sharma, so he needed to go back to the camp ground and get his tent set up before nightfall, and the Kabar crew had the VIP sneak peek of the vendors room at 15:00.
We arrived at the vendor room sneak peek just after 15:00 hoping to snatch up any goodies before the non-VIP people got into the vendors room the next morning, all I can say was what a total let down. Apon entering it was evident that there was not many vendors there, many empty tables was visible. The crew of the Kabar walked around for a bit but not much was there, almost seemed like the area they had set up for the modeller's exhibit was bigger than the total area for vendors. We left with the hopes that more vendors were coming the next morning to fill the empty spots.
The next thing on the agenda was the guest meet and greet at 17:00hrs located at the hall for honoured warriors of wars past (Legion hall), located just behind the Inn we was staying at. Many gathered to meet the guests of this year as Vul-con hadn't done such a thing the last few years. Guests showed up a few minutes late, but who cares. Drinks were drunk, stories was told, questions were asked and answered, song was sung by Tucker Smallwood as he did a replay so to say of the blues rendition of the song "I'll be home for Christmas" as seen when he did it on the short 13 episode show Space: Above and Beyond when he portrayed Commodore Ross, using Admiral Qel'lv guitar, as the Admiral was Tuckers guest liaison for the weekend. Video of this can be found my YouTube channel. The crew of the Kabar was also honoured to have Jennifer Gatti's brother John sit with us at our table, great guy, full of stories as he was on set with his sister when she did the 2 part episode on ST: TNG.
After the meet and greet there was a Trek trivia contest and a Trek Jeopardy game, which Capt. K'Rau competed in and won some prizes. After wards we walked back to the Inn as the tailgate party was about to start and I still had 10 liters of Blood Wine to mix up as well as 5 liters of Romulan Ale. We Klingons behaved while interacting with the Federation at said party, even offering up the Blood Wine and Romulan Ale for all to sample. The Romulan ale went over good, the Blood Wine not so much, must have been too much for them to handle, hence why I still had 8 liters left after the party, but only about 1.5 liters of Romulan Ale, could also be that only half as many people was there for this year's party compared to years past. The party broke up just shortly after 24:00; we informed Capt. K'Rau that we'd be getting up around 07:00 to start getting ready to be at the Trek Center by 09:00 for the Cosplay parade, he said he'd be at our room by then.
Stardate 58561.6 (July 28/2018)
L/Cpl V'Rell being the junior of the crew was tasked to ensure the rest of the crew was up at 07:00 or face the pain sticks Vixsor and I had packed with us, she accomplished her task well. Minutes after we was awake and moving around, K'Rau was knocking at the door, punctual he is I'd say. After fully waking up and performing our morning rituals we set out to dress for the day, K'Rau, myself, and Vixsor wore our best warriors armour and ridges, while V'Rell dawned her Original Series uniform. At about 08:45 we made our way over to the staring area of the parade where some including the Vulcan town Counsel had started to amass. As usual, as soon as the Klingons show up cameras come out and pictures taken a plenty. Admiral Kris and Qel'lv showed up, but wasn't planning on partaking in the 8 block parade, but stuck around for the many photo ops. Admiral Kris then informed up he was going to go over and sit by the Federation battlecruiser located on our 'Klingon Way" that we had renamed last year. Minutes after the Admiral left who should show up, our friend on the scooter. Capt. K'Rau dispatched V'Rell to go fetch the Admiral seeing as she was the junior of the assembled crew, now known as K'Rau's toy'wl"a' (slave). I would have used a more common earther title for this position, but don't want to offend someone. While V'Rell was off to retrieve the Admiral we kept the scooter guy there so he didn't disappear again.
As the parade was about to get underway, Capt. K'Rau announces in his loud command voice, "This car is the lead car, after the lead car it's KLINGONS FIRST, then the Federation, then whatever". As the car containing some of the city council takes off, the Klingon contingent fell in behind it followed by the feddies with the good Captain live streaming the whole thing till we got to the skate park for the costume contest. A long the parade route I had V'Rell running back and forth handing out KAG stickers to all the kids lined up and a few stickers to some adults that wanted them. Apon arrival to the park we were instructed to as where the photographer wanted everyone for the group photo. Photos were taken, plus extra photos by the spec takers assembled to see this group of nerds. The contest got underway, first was the 12 and under category, which had only one participant so we know who won that. Next was best adult, about a dozen contestants as the Klingons was told not to get in on this as we had our own category next, warm fuzzy feelings about that. Winner of that was a young lady dressed in an original series federation uniform, but made up as an Andorian. Next up, you guessed it, we Klingons. There was 5 of us, including one from the USA, Capt. K'Rau won that. Last was best of show which went to a very convincing Borg.
Once the contest was over K'Rau and I called L/Cpl V'Rell back up in front of the amassed people so we could formally promote her to 2Lt. for completion of her TOS uniform, and present her with an honor sash which we had hidden in Vixsor's battle purse.
As the Klingon contingent walked back to the Trek Center we was stopped a few times for pictures, including this one nice lady who also presented us with some homemade Vulcan flags made from plastic canvas. We found out it was her birthday, so after consulting with the phone app boQwl' to see how one says happy birthday in Klingon, we said happy birthday to her in Klingon. She was very tickled about that, also found out later that she was scooter guy's wife.
Once back at the Trek Center we met up with some friends of the empire of K'Rau's and had a look around again. By this time hunger was setting in as none of have eaten and it was getting on close to lunch time. Luckily Capt. K'Rau wasn't needed as guest relations for his guest was only appearing Sunday so plans was made to invade the local A&W again, not only to eat, but to partake in the frosty root beer challenge. Once inside, a few of the newer employees had this weird look on their faces, what, never seen a Klingon before petaQ. We ate, we told stories of past cons, we laughed, but we left the place pretty much as we found it. With that we made our way back to the Inn where we had our ships docked so we could make our way to the convention center.
As we entered the hall, we could tell that the vendor's room was still fairly empty. We also found out we was too late for a photo op with Rekha as she was done at 12:45 and it was 12:50, but as she was being walked out to go for lunch with her guest liaison, she saw Vixsor and I and said," OMG I need a photo with you guys, are you gonna be around for my autograph session"? We was planning on it so pics later?
To kill some time we took in the Q&A with Tucker, very funny and down to earth guy. Once the Q&A was over it was time to get Rekha's autograph. As soon as we approached her table she lit up and was so happy to see us, pretty much jumping up on the table to get in close and have her liaison to take our pic together with both her phone and Vixsor's. After that it was wander around for 30-45 minutes, and then take in Rekha's Q&A session. After the Q&A it was over to a photo op with Tucker. By this time it was getting pretty warm so the crew from the Kabar made our way back to our room to de-ridge, and un-armour.
Once we cooled off, Vixsor and I put on our TOS uniforms and made our way back to the convention hall to pick up our pic with Tucker and get his autograph. We stopped and chatted with a few people for a bit and then sat in the concession area till 18:00hrs when the CRC hall opened for the Saturday night dinner and dance. Again the Klingons was the first into the hall for the nights eats and party, got ourselves a table close to both the stage and the serving line. K'Rau found us there and joined us along with a female Spock and a female JJ Abrams Khan.
Before the dinner started, the guy who ran the trek trivia contest the night before held another trivia contest to get rid of the rest of his donated prizes, of which K'Rau and V'Rell each won a prize. The guests got to the dinner and was sat down, the MC was on the mic saying he wasn't sure how to organize the tables into an order for people to get their food. Once again K'Rau bellows out KLINGONS FIRST, for which the MC agreed with that as he said we scare him. God I love being a Klingon. Good thing we ate first as it turns out the organizers told the caterers meals for 100, but sold 145 tickets, so the last few tables didn't get any roast beef, and only had salads. Same thing happened with desert. After dinner I needed to quickly return to my room and remove my contact lenses as they was dried out and bugging my eyes, I returned for the dance.
Dance was very good, the DJ was awesome. I have videos of the dance which kept K'Rau busy most of the night, videos can be found on my YouTube channel. The Kabar crew left about 23:30 to get some sleep, but K'Rau stayed and shut the dance down.
Stardate 58564.6 (July 29/2018)
We slept in till 07:00 as the CRC hall was putting on a pancake breakfast from 08:00-10:00, and after the previous nights party, we was kind of hungry. Rather than possibly soil our TOS uniforms we went and ate in earther closes. We met up with K'Rau at the breakfast, he was looking rather worst for wear as he hadn't gone to bed till 04:45 and was back up just after 07:00. Breakfast was adequate with pancakes, sausage, coffee, and human peach drink. After breakfast K'Rau followed us back to our room to shower and freshen up for the last day of the con as we had a ceremony to do at 11:00hrs at the Trek Center, lunch with Admiral Kris, and K'Rau had to meet up with his guest at the con hall by 12:30-12:45.
We met Admiral Kris at the Trek Center around 10:50hrs so he could put a command cloak on Grant Shaw and present him with 2 ST:III organisms found on Spock's coffin, and a prop from ST:TNG episode Phantasms that looked like a half loaf of angry break that was attacked to Gordi LaForges neck. Many photos was taking during the hand off of said props, which Grant took inside right away and placed them in a display case. Our friend the scooter guy was there as well as he and both Admirals had a nice long talk the day before about starting a ship in Vulcan.
Admiral Kris before the hand off ceremony handed out medals for various challenges completed as well as other things, never got a medal before for attending a luncheon with and admiral, but it looks good on my honor sash. After the hand off, the Admiral, K'Rau, the crew from the Kabar, scooter guy, and some social media guy went for lunch at Mama's, Admirals treat, oh boy, new metals and a free lunch, joy and rapture.
At lunch Admiral Kris formally introduced us to Lawrence, scooter guy, also now known as Ensign KLAWR of the I.K.V. Proud Victory in Vulcan, Alberta. The Admiral talked about things he'd like to see happen in KAG, not only in the Northern Storm Fleet, but KAG globally. He then "raffled" off a TOS Klingon/Romulan disruptor kit, which yours truly won, sorry K'Rau, you won enough stuff all weekend. K'Rau had to depart before the meeting was concluded to fulfill his guest relations duty.
After lunch the admiral retired back to his room, and the crew of the Kabar went over to the con hall to take in the last couple hours as the con ended at 15:00hrs. Once in we took in Jennifer Gatti's Q&A, did a photo op with her, and got her autograph as she was the only guest on Sunday. I also must point out that this was Jennifer's first Star Trek con. Vixsor picked up a few more trinkets for cheap as the few vendors there really didn't want to take much back home. People started to thin out so we called it quits and headed back to our room to relax till we checked out the next morning.
Just before 16:00hrs, Capt. K'Rau came knocking on our door, first to say good bye as he had a 4 hour drive home, second to make sure he didn't leave anything in our room, and to say we should have stuck around as he had presented Jennifer a KAG patch, and made her an honorary member of KAG, and of his ship the Swifthawk. We said our fair wells, although we'll be seeing him in less than 3 weeks for the Drumheller con, AER of that to follow after Aug 20.
We spent the rest of the day chilling. About 17:00hrs a guy knocks on our door thinking it was Admiral Kris's room cause we still had the empire flag I our window whereas the Admiral took his down. The gentleman was there to talk to Kris about, yep, a ship in Vulcan, we pointed him to Kris's room, and went back to relaxing. Saw the guy leave Kris's room about an hour later.
Stardate 58567.0 (July 30/2018)
We woke up about 08:00, and packed up. Admiral Kris had left before we woke up. We checked out of our room, filled up the anti-matter pods in our Bird of Prey and departed the town of Vulcan to see family couple hours away, and then return home Tuesday July 31/2018.