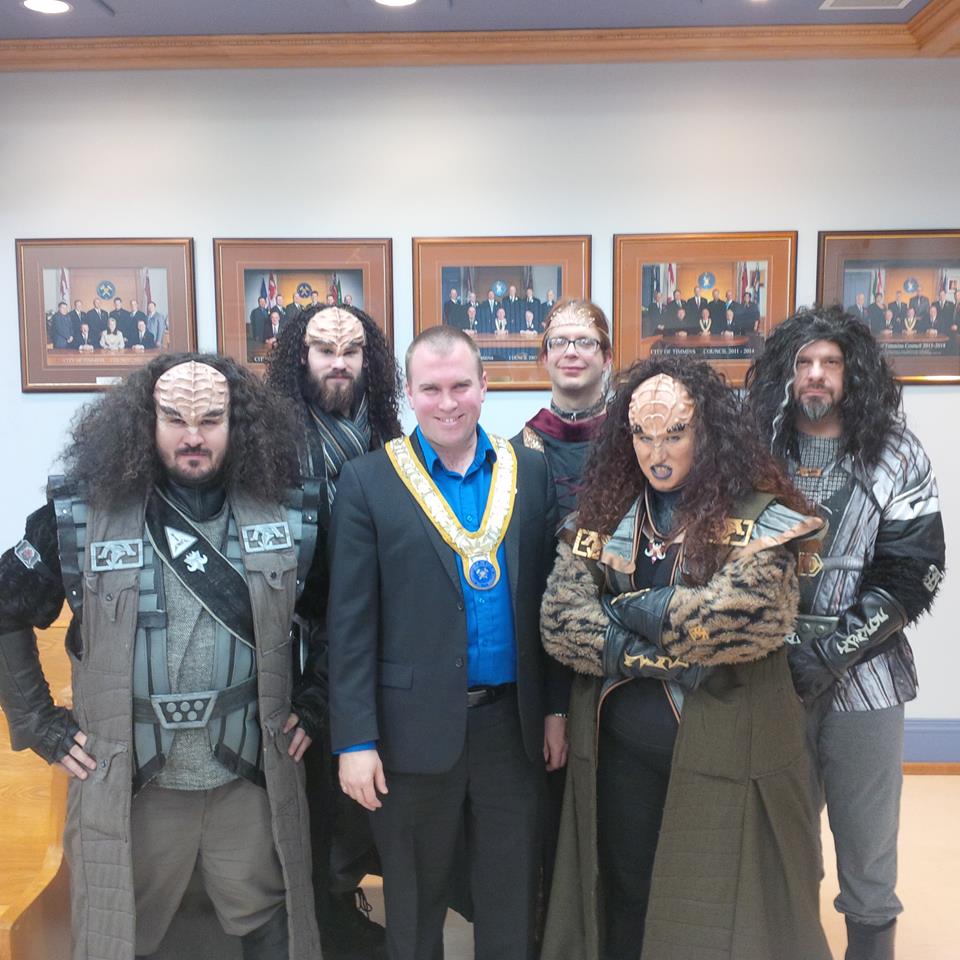 The City of Timmins recently received a request from the organizers of the Northern Ontario Expo to have the fee waived for the use of a municipal facility for the convention. The without going too much into detail, the response from Council was rife with incorrect information, and some of the comments made were downright derisive of costumers and dismissive of the value that such an event could have to the community. The Council concluded on the provision that some of their concerns be addressed that they could tentatively support waiving half of the facility fee (Discussion in Council can be viewed online at: http://timminson.swagit.com/play/04042016-769 Item 4K)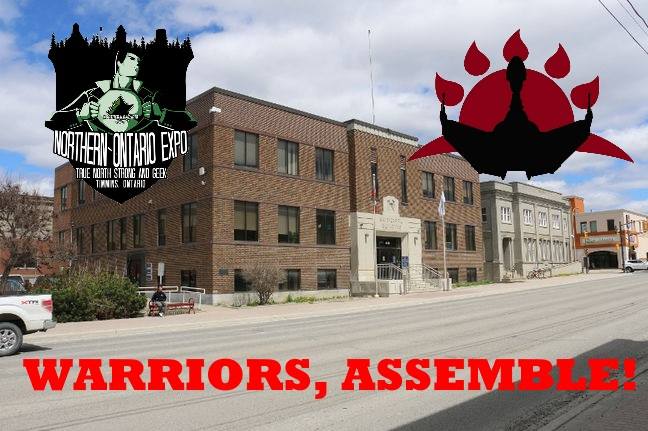 At this, the Crimson Dawn sprung into action! After musing with our fellow Klingons over social media about storming into the Council Chambers, tossing a bat'leth at their feet and demanding satisfaction, we decided to take a more measured approach. Our CO, tlharnoQ reached out to our contacts at the Expo with an offer of support. With that secured, we began to rally members of the local cosplay community. Maj'vIq created a Facebook event calling on members of the community to show up to the Council in a show of solidarity with Expo. The event reached an audience of 3,400 people and acted as a venue for members to coordinate plans and share information about what was transpiring.
For the next phase, building on a discussion involving several members of KAG including Thought Admiral Qob! and Thought Admiral Krikor, we drafted the following:
An Open Letter in Response to Comments by Councillor Joe Campbell
During the second season of Star Trek The Original Series, NBC decided to pull the plug on the franchise. The resulting fan letter campaign not only had the series return for a third season, but gave birth to a culture that would bring about 4 more TV series, 12 movies and 50 years of the most passionate fan base in the world. Fast forward to 2003 and 20th Century Fox learned a similar lesson from the fans of a show called Fire-fly. What the companies that own these shows have come to understand is that these television programs are more than mere entertainment, they are a cultural movement that awaken a passion in people that cannot be dimmed.
Perhaps Councillor Joe Campbell did not realize this when he decided to scoff at the idea of Timmins City Council supporting the Northern Ontario Expo, an event geared toward, in his words, "the guys walking around in Star Wars outfits." I can see how someone wouldn't recognize the value in such an event here in Timmins. For so long, those of us who prefer super heroes to sports teams and space ships to NASCAR have not had a presence openly in the community. We learned in our youth to hide who we are, lest we face public scorn of the sort Councillor Campbell felt the need to express. We're used to the ridicule, so most of the time we shrug it off. Except now we are no longer alone. Since the Northern Ontario Expo started, there is a growing sense of community amongst the geeks of Timmins. And we are here by the thousands! Some of us have grown accustomed to the type of bullying and judgement displayed by Councillor Campbell, and far worse, but Expo provides us with a space to call our own, where we can feel safe and accepted for who we are and what we enjoy. Perhaps if this were just another citizen, we would shrug it off and move on. But Joe Campbell is not a private citizen. He is an elected City Councillor, speaking with the official voice of his constituents. In this capacity, we expect him to hold himself to a higher standard of behaviour.
Putting aside his suggestion that an event being for us is enough to 'rest his case' as to why it should not be supported, I'd like to address his comment that the Northern Ontario Expo does not bring anything of value to the community. In addition to building community in a time when people more and more do not know their own neighbours, Expo is a boon to Timmins' economy. Like any major sporting event or musical performance, it draws people into the community. These people fill our hotels and our restaurants. They spend money in our shops, and visit our tourist sites. The Expo gives local small businesses a venue to reach out to the community and let people see the multitude of things that are available right here in Timmins in the very same way they do at the Sportsman Show. The only difference is that it appeals to a different demographic.
Many of the costumes that the Councillor scoffed at are hand made by local artists who spend hundreds of dollars or more a piece at Fabricland, Home Depot, Michaels and other businesses in preparation for the annual Costume Contest, which has attracted more and more people each year. It also gives artists a chance to show off their skills, and market themselves to the community.
The Expo also works with local organizations to support projects within the community, both directly and indirectly. By providing volunteer opportunities for youth, they are building a culture of citizenship and community service. And as they do in communities all around the world, organizations built around costuming like the 501st Legion and the Klingon Assault Group use events like the Expo to raise funds for important causes.
With this in mind, in addition to calling on Council to support this increasingly significant part of Timmins' culture by voting to approve the funds at the upcoming meeting, we call on all members of Council, and in particular Councillor Campbell, to come to the Archie Dillon Sportsplex on May 7th and 8th see the value of the event themselves. Moreover, we, the members of the local chapter of the Klingon Assault Group challenge them to visit our booth where we will be having our pictures taken with convention visitors in exchange for a donation to the Navy League of Canada Timmins Branch, in support of sending a group of local Sea Cadets to Europe to honour those who fought at Vimy Ridge and Juno Beach. Councillor Campbell threw down the gauntlet asking what we cosplayers contribute to the community. The question now becomes, will he and his fellow Councillors make that same contribution?

Unfortunately due to a late night email curfuffel, Councillor Campbell himself was left off of the distribution list. Thankfully one of his colleagues made sure it got to them. Before long, we received the following response (our reply included):
Hello Karen,
I'm disappointed that you did not see fit to include me on an E-Mail to council regarding my inquiry about the Northern Ontario Expo.
I did not intend to scoff at those who enjoy this pursuit, by my comments, and I apologize if I offended anyone.
My choice of words may not have been appropriate but they were not intended to heap public scorn, or bully, anyone. In fact, I have a 44-year old son that is very much an authority on everything Star Wars from Day 1. He is passing this passion on to his 11 year old son.
Thank you for the information re: your support of the Navy League of Canada Timmins branch and sending a group of local Sea Cadets to Europe. Both my father, and father-in-law are war veterans, so I appreciate this effort.
I will certainly take you up on your offer to attend your event at the Sportsplex May 7th.
If you wish, you may pass this on to other members of your executive.
Respectfully Submitted,
Joe Campbell
_______________________________________________________________
Councillor Campbell,
Thank you for your reply. Our apologies for the oversight. You were definitely intended to be on the recipients list.
We hope that our letter to Council helped in some measure to illuminate the role that the Northern Ontario Expo plays within the community, and the way that your words, however unintentionally, effected members of the community.
We will be in attendance at this weeks council meeting along with members of the community in support of the motion to support the Northern Ontario Expo. We are very pleased that you will be taking us up on our invitation, and look forward to seeing you at the Expo!
-The Crew of Crimson Dawn – Klingon Assault Group Timmins
_______________________________________________________________
With this positive step taken, we prepared for the final phase of operations: the storming of City Hall itself. When we arrived about half an hour prior to the Council session, members of the Northern Ontario Expo's extended family had already begun to gather. In addition to our 4 warriors, people were wearing costumes, geeky T-Shirts, holding signs, and even wearing T-Shirts that had "I SUPPORT NOE" messages written on them. Every single person at the Council session, 26 in all, were there as supporters for the Expo. Representatives of the media began to snap photos and before the end of the Council session their social media feeds all contained pictures of Klingon warriors.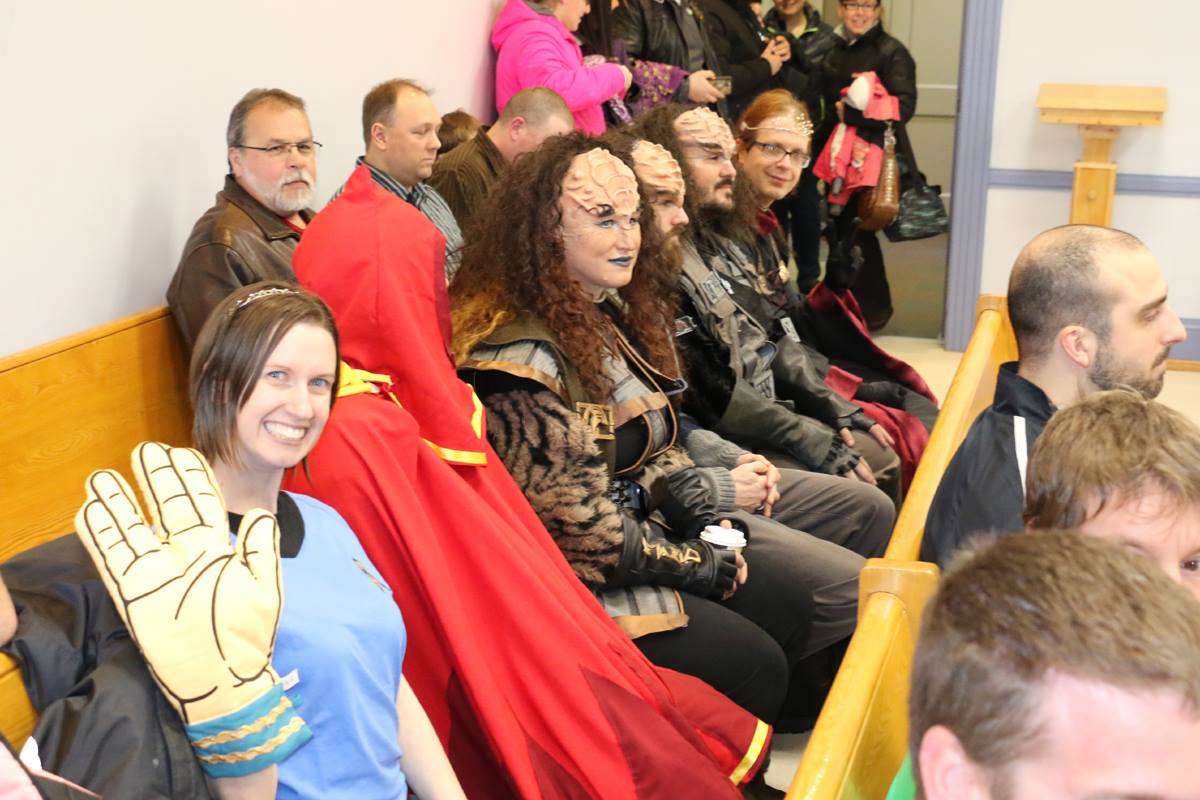 When the time came for the Northern Ontario Expo to make their presentation to Council, the 4 warriors of the Crimson Dawn stood behind them.
NOE's presentation was professional, detailed and passionately delivered. At the conclusion, they addressed the remarks that had been made at the previous session with a respectful but strong reproach of such conduct by elected officials. View it webcast Timmins City Council Session 11 April 2016
The response was exactly what we had hoped for. First the mayor delivered an official apology on behalf of Council, and then followed a very positive and constructive discussion of the role Expo plays and why it is precisely the sort of event that the City needs to be partnering with. When it came time to vote, every member of Council present, including Councillor Campbell voted to grant the Northern Ontario Expo the full amount of the cost of the venue.
With the business at hand concluded, the NOE's supporters took their leave until the crew of Crimson Dawn and one other member of the local costuming community were left to observe the remainder of the Council session. Once the meeting was adjourned we took some time to talk with a couple of the City Councillors, including Councillor Campbell and the Mayor. We are looking forward to their joining us to help raise funds at the NOE in May.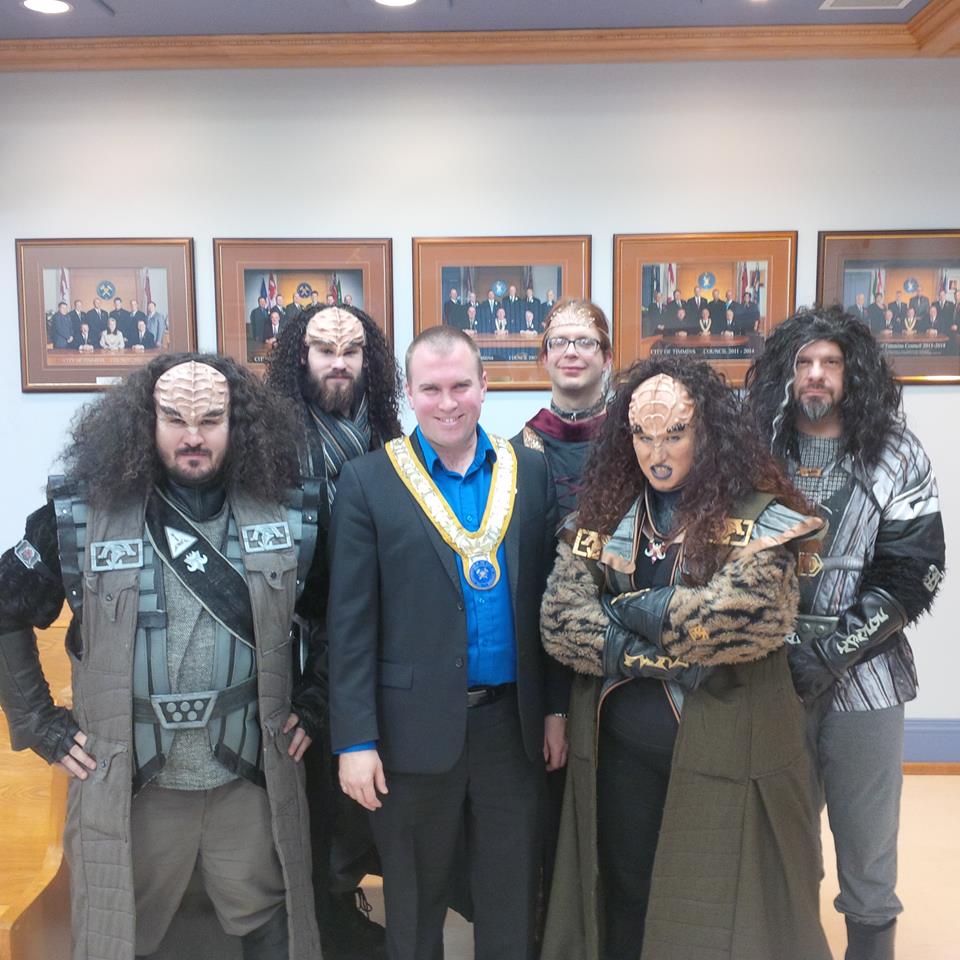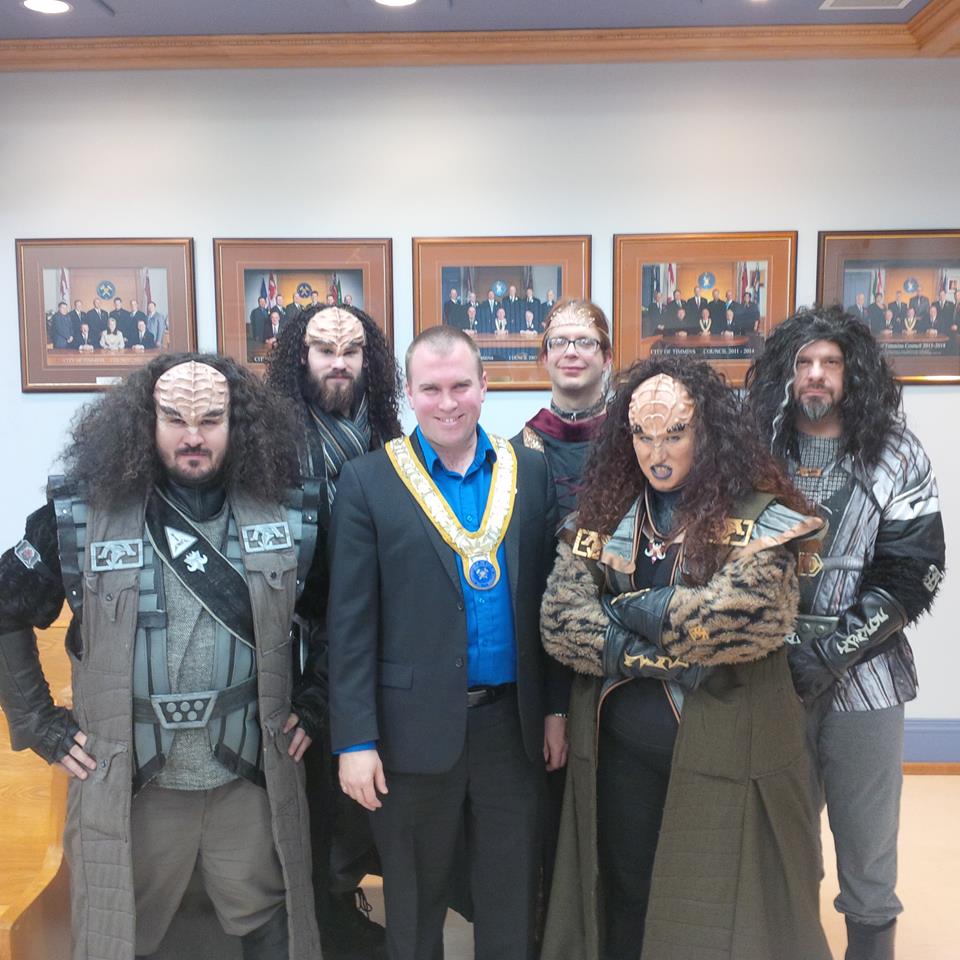 With victory in hand, we proceeded to Christopher's Coffee House around the corner from City Hall for a raktajino in celebration. It was a glorious evening!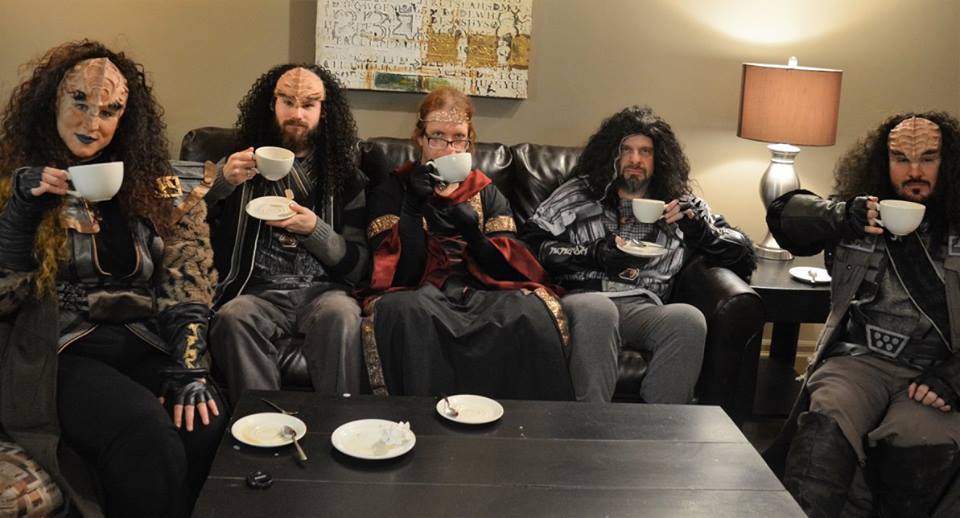 Present on behalf of the Crimson Dawn were:
tlharnoQ
Maj'vIq
O'C'Tav
Ghob'Qan
You can read more about the council session at Timmins Today 
Lt tlharnoQ will soon be interviewed by the local radio station about the event.
2nd Lieutenant Maj'vIq tai-Mk'naj
Executive Officer
Crimson Dawn