AER – Space City Comic Convention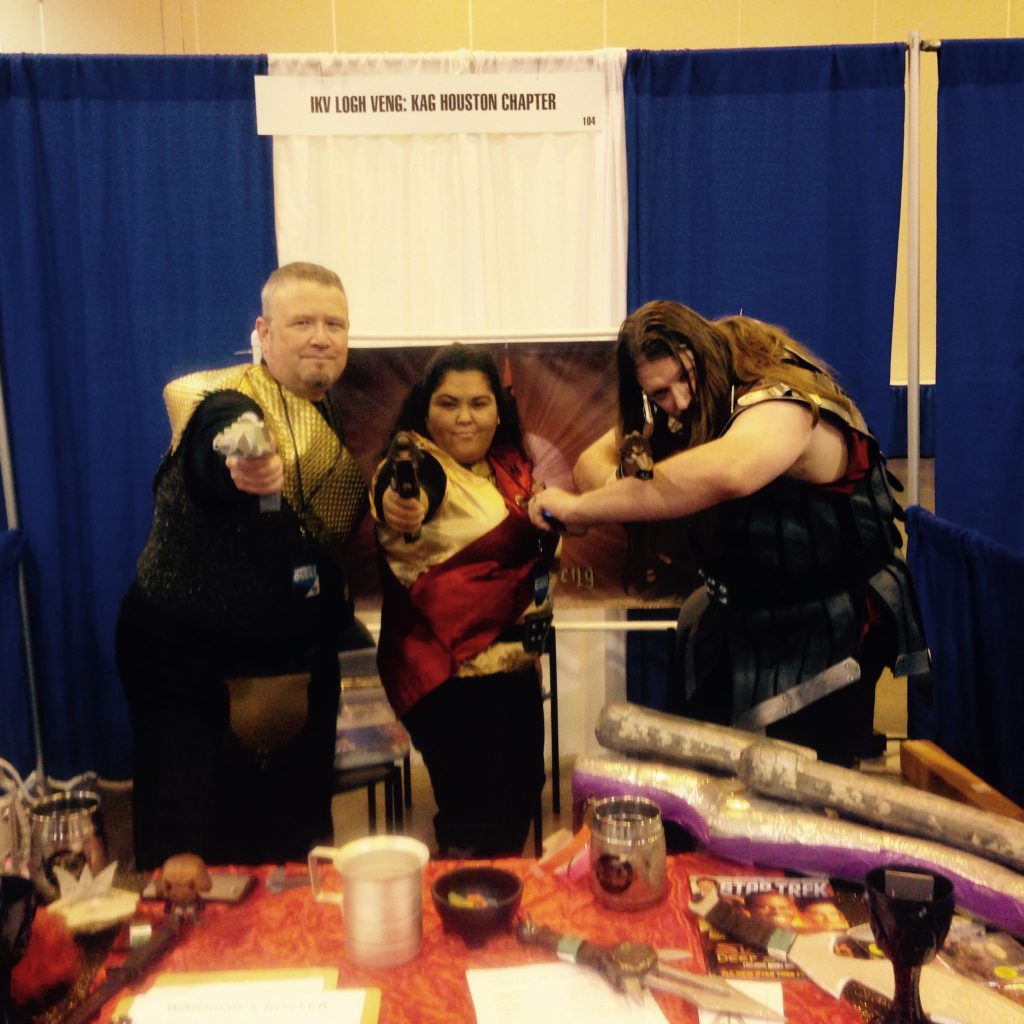 After Encounter Report
Space City Comic Con
May 27 – 29, 2016
NRG Convention Center
Houston, Texas
2nd Lieutenant tai Martek, son of R'Nald of House Konjah, reporting. I am submitting this report on behalf of my shipmates of the IKV Logh Veng as authorized by our Commanding Officer 1st Lieutenant vestai Q'alara.
IKV Logh Veng crew in attendance at Space City Comic Con 2016
1st Lieutenant vestai Q'alara (Mirakel Mayoral) Commanding Officer
2nd Lieutenant tai Morakh son of Korus (Brian Jordan-Dean) Executive Officer
2nd Lieutenant tai Martek son of R'Nald (Mark Andrew Faulkner) Communications Officer
Lance Corporal Kovar of House Mektor (Andrew Godwin) Ship's Dahar Master
My shuttle brought me to rendezvous with my shipmates of the IKV Logh Veng. Our mission was to spread knowledge of the Klingon Empire and recruit potential warriors. Many individuals of diverse origins appeared at this conference. As the ship's communication officer, I met a number of them. These are photographic records of our efforts to spread word of the Klingon Assault Group to bring glory and honor to the Empire.
There were numerous organizational issues with this convention. The members of the organizing committee seemed to be out of communication with each other and at times have been odds with one another. Communication issues hampered every aspect of the event I am familiar with along with troubling contract issues.
A significant portion of the invited media guests have reported that part or all of their contracts were not honored as specified. Photo opportunity sessions were haphazardly organized at best, resulting in a number of attendees missing out on the sessions that had already been paid. Several vendors of the merchant quarter named the 'Dealers Room' reported they also encountered problems with contracts being honored as specified. Volunteers were not properly informed of their duties nor supervised in any meaningful way.
Specific to our group, a number of other media fan club guests reported consistent problems with panel scheduling such that several scheduled sessions did not occur at all. One of those was ours on the subject of Klingon fandom and the Klingon Assault Group. We took this setback in stride by exploring the merchants sector, interacting with the attendees and whenever possible spreading the glory of the Empire to those interested in learning more.
We have also made contact with a number of individuals interested in learning more about the Klingon Empire and have sent recruiting information to them. These efforts have born fruit as we have added two new warriors to our ship's roster. We look forward to adding even more to our ranks on the IKV Logh Veng. Qa'pla!
2nd Lieutenant tai Martek
Ending Report Transmission