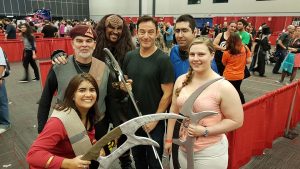 Commanding Officer «Marine Captain D'Gor son of Mar'eJ vestai house of Remjar
Friday 7th July, I got ready to pick up my XO and drive to the metro Angrignon. We set out without expectations, however we went full steam ahead as we aimed to conquer for the Klingon Empire!
Friday 7th July was a reconnaissance party of K'Oron and myself D'Gor. We met Jason Isaacs whom we thanked for being in the new Star Trek Series and also welcomed him in the club (Star Trek world). He did take a selfie with us with his own phone.
Walking around, being stopped at several occasions as tera'nganpu' wanted to take pictures with mighty warriors of the empire. Each time a picture was taken, we asked them to sent it to the email on the business cards I had printed out the previous evening.
Later in the day, I was privileged to meet Capt Kurn (aka Tony Todd). He greeted me with the Klingon handshake "How are you doing my brother!". After about 10 minute talk, he took a selfie with me.
Next day, Saturday 8th July, we gathered up with several crew members. We went to visit the booth of Jason Isaacs. I told him we had a gift for him, his reply : "don't tell me it's a bat'leth…" it was exactly what we were giving him in name of the IKV Rising Phoenix. As he only could take carry on on board of the flight he had later that day, his agent offered to have it sent to her and she would then hand it to him. We had missed the photoshoot with him, however he said we could not be there all geared up without having a picture with him.
Sunday 9th july we were honored with the presence of our fleet commander General Botaq zantai bir JablU. He went with our crew to Tony Todd where he offered him Honorary membership with KAG and honorary crew member with IKV Rising Phoenix.
The day closed with our panel : Klingon 1 on 1, explaining all about KAG, how to make costumes and bat'leth and Klingon Culture. The panel was well received and ended with photoshoot outside of the room.
The aftermath of Montreal Comicon 2017 : Klingons are putting their mark back in Montreal. 2 new confirmed KAG members, attached to IKV Rising Phoenix, though one of them may soon start his own ship.
People have started to send their pictures…
On Sunday evening, an email was sent to scott@montrealcomiccon.com about having a table and a booth at Comicon 2018.
Qapla'!
D'Gor
CO IKV Rising Phoenix
Aka Alain De Mol