AER: IKV Wildfire at Central Canada Comic Con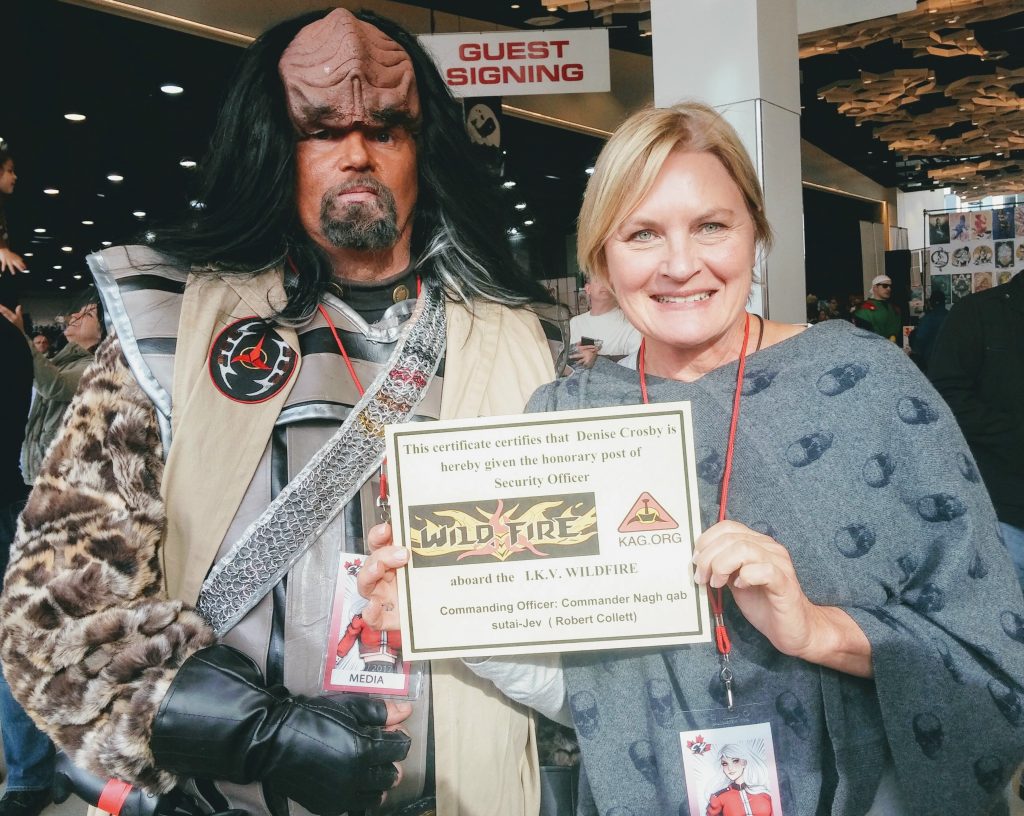 AER: C4 – Central Canada Comic Con. Winnipeg MB  with the IKV WILDFIRE
Commander Nagh qab sutai-jev reporting
On stardate 2017.10.27 the IKV WILDFIRE attended the Central Canada Comic Con in Winnipeg MB. My self and my fist officer Sergeant Dranna Aika Sobek
Once arriving at Central Canada Comic Con we checked in and were assigned to our posts for the weekend. My post was as head of Programming where I was assigned to the job of over seeing the programming part of the con, and my fist officer Sergeant Dranna Aika Sobek was assigned to help me with programming and with the Accessibility Department. As part of my duty on running Programming, I oversaw the Presentation (Q & A) sessions with the artist and celebrity guests that included Allison Mack (Smallville), John Rhys-Davies (Indiana Jones, Sliders, and Lord of the Rings), Jim Beaver (Supernatural and Breaking Bad), Renee O'Connor (Xena Warrior Princess), and Denise Crosby (Star Trek TNG and The Walking Dead).
I also had the honor of making Denise Crosby a honorary member of the IKV WILDFIRE as a security officer on the ship and she was glad to be given the honer. I presented her with a certificate that made her a member of the IKV WILDFIRE. I also had the honer of promoting
my first officer to the rank of 2nd Lieutenant from the rank of Sergeant as she has completed a uniform.
In closing, the con went over well and we might have added some new crew members to the ship as a few cards with the ship's info on them had been handed out at the con. And thus ended the first mission of the IKV Wildfire. It was a very honorable mission on behalf of the KLINGON Empire and KAG.
Commander Nagh qab sutai-jev
IKV WILDFIRE
Northern Storm Fleet