AER: IKV Heart Of Honor Claims Syndicate Games For The Empire!
AER: Syndicate Games Invasion
On August 18, 2018, the crew of the Heart of Honor staged an invasion of a new gaming store in our home base of Kearney, Nebraska. All eight members of the crew were on hand for the event as we occupied the store for a few hours gaming and interacting with other customers and the store's staff. Only me, the ship's commander was in uniform this time as uniforms for other crew are all works in progress.
Cadet Chrissy and I played Star Trek: Attack Wing, a miniature tabletop game that is a battle simulation game. Chrissy ran a Romulan Fleet and I was in charge of a Klingon fleet. It was a close battle with Chrissy flying a Scimitar that hits like a hammer. She managed to take out one of my Vor'cha class chips, but with another Vor'cha and the Neg'Var, I was able to destroy her two Romulan heavy cruisers and the Scimitar went down in flames.
While Chrissy and I battled in the stars, the rest of the crew played two other Star Trek based games. One was Star Trek: Panic and the other was Star Trek: Five Year Mission.
Everyone had a great time and after we were assured that we were in total control of the store, we all retired to Freddy's Restaurant where I treated the crew to ice-cream.  Later in the evening, we gathered at our home base to continue playing games. The adults played Terraforming Mars while the Cadet Corps enjoyed an evening of WiiU video gaming.
All in all, it was a great day for gaming in the spirit of KAG rule #1: Have Fun!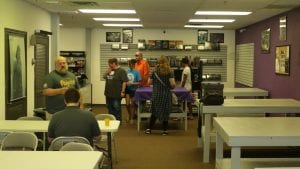 1st Lt. Ja'Jim, Commander of the IKV Heart of Honor. Qapla'!