AER: Good Day to Dine – Midwest – March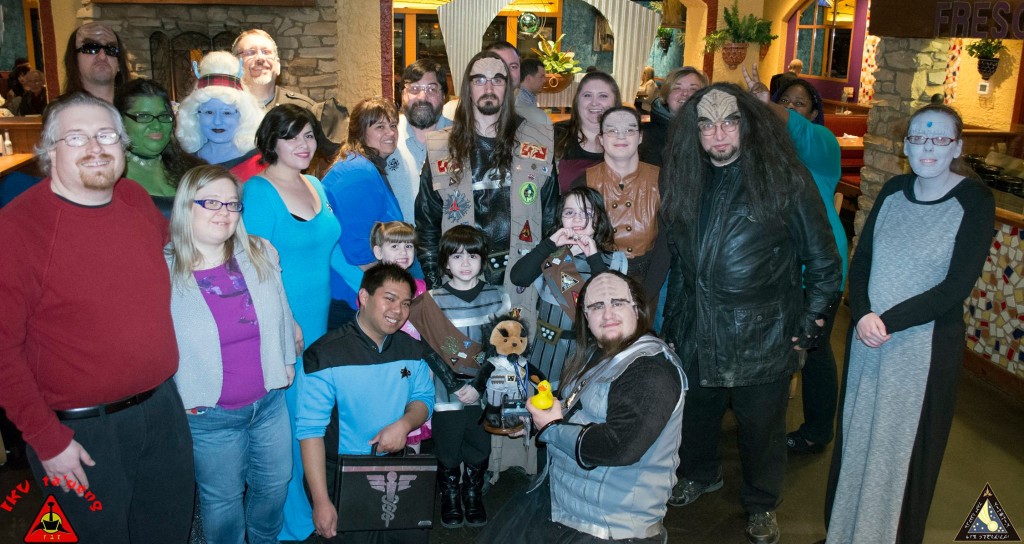 While buried under several feet of snow, the crew of the IKS pongHa'lu' made plans for after the great thaw.
And so on March 29th, despite early morning flurries, we met up with members of the IKV ta' veng (out of Cincinnati) and some local Feddies at On The Border in Indianapolis.
The final headcount was 24, which seemed to be the limit for us all sitting together.
The staff was very nice and thanked us for coming.
I was told that we made their day and helped them stay energized for their shift.
"If we have to have a table of 30, they might as well be wearing fun costumes."
They did not seem very enthused by their other large group…
The manager thanked us for choosing them and informed us that he was a huge Trekkie and used to have all of the episodes on VHS tapes. He now watches them on-line.
A couple of staff members even asked for pictures.
The food and company was excellent, and loose plans were made for our next dinner in May.
This was the first event for both ghunchu'wI' and Anjala.
Our Captain of Cadets, Cadet Lt. cha"Iv, worked with our QM to make sashes for all of the cadets.
Upon arriving at OTB, cha"Iv presented a sash to Cadet Lance-Corporal Olivia.
cha"Iv also made sure to instruct the photographer (who was K'Temok for most of the evening) to take pictures of just the cadets.
In attendance:
mIl'oD
Heather
Ian
Anj
loSpev
Jon
Christopher
K'Temok
Alin tai-Prinna
Sarah
K'Duck
Kerdan
Derek
ghunchu'wI'
Carol
SanHuD
Mäe
Olivia
naHQun
Varra
cha"Iv
Scotland
Kim
Jonny
qu'wI'
Our next GDtD will be on May 31st.
~naHQun
Commander of the IKS pongHa'lu'
CO CSQ