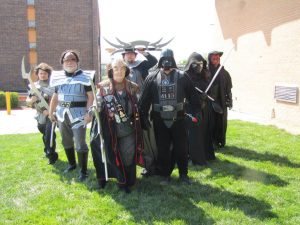 These are the voyages of the IKV Raptor's Heart. It's continuing mission; to patrol the Cold Death and Cold Blood Quadrants; to seek out new challenges and new Klingons. To honorably go where ever we want:
Earth Date: April 22, 2016.  We established geosynchronous orbit over the Comfort Inn and Suites in Omaha, Nebraska and beamed ourselves and equipment to our base camp.  Having been offered a diplomatic post within the Earthlings Pop Culture symposium, we took the opportunity to establish a research facility where the human attendees would be temporarily transformed in Klingons.  A few of the bolder ones availed themselves of the experience.
We sent members of the crew to provide part of the honor guard to begin the weekend's festivities.  Then provided the humans with a learning experience in terms of our Klingon Jeopardy experience.  This Star Trek trivia game, modeled on the human Jeopardy game, was well received.  Participation was enthusiastic.  Many received chocolate, some received pain.
The next day, we demonstrated Klingon Culture to the attendees through allowing them to experience Klingon Speed Dating.  Human gentlemen were provided with love poetry to recite to their beloved, who in turn presented them with numerous stuff objects hurled across the room.  I am glad to say, no human was injured in this endeavor.
The crew also participated in a photographic shoot with members of local Star Wars fandom.  Many poses were struck.  Much attention to portraying the accurate use of the various (prop) weapons of the two fandoms.
At the end of the festivities, LTCDR Akela sutai-K'Tor, Lt. Qurras vestai-Kurkura, 2nd Lt. Kalesta tai-K'Tor, Lance Corporal Kor'taj, Lance Corporal. Karhammur, and I repacked our base camp and returned to the Raptor's Heart.