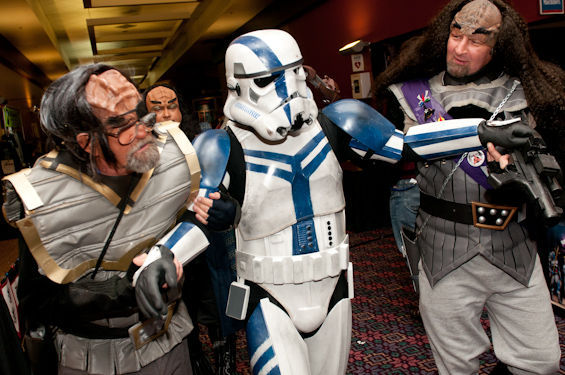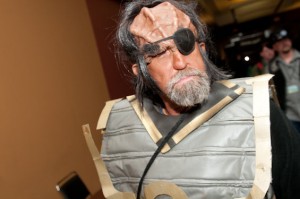 On Monday, September 29, the contingent of Force Recon Klingon Assault Group based in Baraboo, Wisconsin departed home-base at approximately 1030 hours, in the Cadre Reconnaissance Vehicle with group leader SoghHom (Lieutenant) marSal of House Hurric (Bob Poole), his parmaqqay, Skele (Eilene Sullivan) and two scout critters (cats), Mr. Miley and Wilhemena (Wilma, for short) enroute the the Area of Operations for ARCHON 38 and the 25th Anniversary of KAG, as well as the first anniversary of our joining together as life partners. We arrived in Caseyville, Illinois, the location of our temporary quarters at a Motel 6, the nearest facility to the Convention Center in Collinsville, at approximately 1700 hours. We spent the evening settling in and unpacking.
Tuesday, after locating a place to eat, we proceeded across the river to St. Louis proper and to Forest Park, where we visited the St. Louis Zoo in Forest Park. Skele had never been to this marvelous attraction before, and I have not visited it in many years. Skele recorded holo-images of our visit, as we spent most of the day hiking around the Zoo. This is a beautiful, and massive place, much larger than the last time I saw it, and constantly growing and being added to. By the end of the day we were completely exhausted, even though there was much in the Zoo that we did NOT take time to see. It's just too big to see everything all in one day. We headed back toward our temporary quarters in Caseyville, and stop off for something to eat
on the way.
Wednesday, we took a quick trip to the Shrine of Our Lady of the Snows, not far from our Motel. Skele captured a few images, and we made a brief visit to their gift shop. I had never visited this site in my life, even though I lived in the St. Louis area for 25 years prior to returning to Wisconsin in 2002. The remainder of our day was spent in searching for places to eat, and in relaxation in between, as well as some minor site seeing. We did manage to return to the St. Louis side of the river to visit with an old friend, who's more like family, for a while, then returned to our Motel.
Thursday, after locating a late breakfast spot, and some brief shopping nearby, we proceeded to the Convention Center and to the pre-registration desk to retrieve our documentation and appropriate security clearances for the mission to follow on the weekend.
Friday morning, October 3, I suited up as marSal, and Skele donned her Little Red Riding Hood attire, and we proceeded to the Convention Center. The first Klingon that we encountered, coincidentally, was the founder of KAG, retired Thought Admiral Kris (John Halvorson). He was attempting to locate the correct ball-room where the first Klingon session was scheduled. We joined him in his search, and found what we believed, by the signage, to be the correct ball-room and took seats therein. We chatted a while as we waited other Klingons to arrive. Shortly, we discovered that we were not only in the wrong ball-rooom, but in the wrong building. We promptly re-located to the adjoining convention hotel, and found the correct ball-room, complete with other Klingons already in session. We joined them, and re-united and renewed old friendships with Klingons I hadn't seen in a few years, as well as meeting new Klingon family. This was basically a "getting to know you" session, and it was wonderful to meet all these people I'd never met before, many of whom I communicate with frequently via the internet. The remainder of the day, as I assumed my Honor Guard duties for the weekend, was spent "hanging out" with other Klingons, roaming the Convention, posing for pictures here and there, bumping into old friends, and meeting new friends. There were more Klingons present than I've seen at a convention in quite a few years. It reminded me of the old days when Klingons virtually "owned" any convention that I ever attended (even before I realized that I was Klingon and joined KAG) Saturday, marSal returned to the Convention Center, and resumed roaming the Con. This was to be the "Big Day" as far as KAG was concerned.
More Klingons had managed to arrive. Met my "House Father" for the first time, after being a member of his House, by his invitation, for quite a few years. Saturday was the day of the scheduled Klingon wedding ceremony between two of our international KAG members from Germany. Komonda, of the IKV Muljnir stood as House Mother of the groom and performed the ceremony. I was a part of the Honor Guard, and stood with my bretheren as such. The pageantry was glorious. Skele captured a few holo-images, as did many other Klingons. Also, on Saturday, my loving parmaquay thought it would be amusing to have me incarcerated by the 501st (in their charity fund-raiser Jail 'n' Bail for the Challenger Project), and paid $5 to have me locked up for five minutes. Unfortunately for me, the jail cell was also the recharging station for the remote controlled R2D2 that was roaming the Convention (operated by Chris Moody of the Starfleet (SFI) ship, USS Umiak), and R2 had just been placed in there for recharging when the bounty hunter came to escort me to my cell. I saw this as an opportunity to escape the chaos of the Con, and possibly grab a quick nap, so I acquiesced (besides, I've been involved in Klingon Jail 'n' Bails before,and they're all in good fun, as well as helping out a local charity). Once I entered the cell, I settled down on the chair and relaxed, attempting to take a nap. Evidently, however, R2 is quite a chatty fellow, and he proceeded to bleep, blurp, and chirp raucously, perhaps protesting the presence of such a magnificent Imperial warrior in HIS cell, or just in his proximity, making a nap virtually impossible. I attempted to convince him to quiet down, so that I could nap, but he continued his cacophony. A passing conventioneer requested to take my holo-image in the cell, to which I agree on the proviso that she bail me out (by making a contribution to the charity). She thought that was an agreeable condition and was about to go get the money before taking the holo-image, but I suggested she capture the image first, then retrieve the bail money. Soon, I was free of the din within the cell, and walking among the conventioneers again. Skele, however, was disappointed, as she had attempted to convince a few others to provide funding to KEEP me inside the cell for an extended period. She doth love me so.
Needless to say, they were copious requests to capture my holo-image throughout the weekend (at least Friday and Saturday), as I made such a gloriously impressive picture of an Imperial Warrior, an Imperial Marine, no less. I did look  quite intimidating.
We attended the Klingon room party both Friday and Saturday nights, and I remained in Klingon Imperial Marine persona both nights (no point in driving the ten to fifteen minutes down the road just to take an hour and a half to take off all the Klingon garb and make-up, only to return to the Convention area to party. I was already in party mode). Skele was in her Little Red Riding Hood garb all day Friday, but changed into a more casual outfit for Saturday. Skele had the time of her life at the Klingon room party. She was fitting right in. She is becoming a truly Klingon mate. She is but a mere breath away from placing her name on the form, online, for KAG membership. She loved meeting all the wonderfully gregarious and fun-loving Klingons of 25 year old KAG. Prior to our joining, she was a much more introverted, and closed in, person. Since meeting me, and becoming my mate, she has started to open up, and come out of her shell, and enjoy life. She is becoming KAG Klingon, and loving it. She has begun to make many new friends (some of them, my old friends), whose names she most likely won't remember – at least not for a while, but whose faces she will always enjoy seeing at an event, or gathering.
Sunday, as I have not yet assembled my Original Series Klingon outfit, I dressed as my "Casual Me" convention persona, for KAG's "TOS Klingon Day." We proceeded to the Convention area, and again, "hung out" with our Klingon brothers and sisters, and attended a few sessions. Skele collected the items she had secured in the Convention Art Auction. She made a pretty good haul for a "pretty much" Con Virgin (this year's ARCHON is only her fourth CON in her life). The saddest and most disappointing moment of the weekend came at the "Klingon Farewell" session when Qob, filling in for Krikor who had to hit the road to get back to Canada, uttered the words "This Klingon gathering is over. Leave now." It meant that all the marvelous fun of the weekend was coming to an end, and our time of fellowship and comraderie among our bretheren and sisteren, was over. We would have to be returning to our daily lives as "mundanes." Or at least, our lives AMONG the "mundanes." The "Fun" was over. When we are in our Klingon persona (in the attire or not), our lives are full of fun and adventure, good fellowship and comraderie, and bright and fulfilling. We feel a little bit of sadness when we must stop being Klingon, or at least dial it back to return to an existence among the "mundanes" that occupy our world. We can barely contain ourselves, hardly wait until the next event or gathering when we can get together with our fellow Klingons, even if we don't dress up for it, regardless of the nature of the get together. We (all of us in KAG) so look forward to these gatherings. And, on a personal level, even more so for Skele and I, now. These adventures, these get togethers that we must travel to, are moments that enhance our (Skele and mine) lives greatly. They give us (Skele and myself) the opportunity to spend time together, and to enjoy each other's company, well beyond the sitting-around-the-living-room-asking-"what-do-you-want-to-watch" parts of our lives. Skele and I elected to not attend the Convention Closing Ceremonies, or the Dead Dog Party, but rather, to return to our temporary quarters to rest up and begin packing for the return to home-base on Monday, October 6.
Monday, October 6, we departed our temporary quarters at the Motel 6 in Caseyville, Illinois at approximately 0930 hours, with Skele again at the controls of our vessel. She managed to pilot the vehicle all the way to just south of Rockford, Illinois before requesting relief. She had done all the driving from the time we left home-base in Baraboo, Wisconsin on September 29, and for the entire week that we were in southern Illinois, and all the way to that moment just south of Rockford. I took over the controls, and continued my duties as navigator, as well, and piloted our craft for the remainder of our journey back to Baraboo. We arrived at home-base at approximately 1730 hours. Skele entered the residence and cleaned up and changed into more comfortable attire, and began a load of laundry (yeah, she's one of those). I executed the unloading of the craft of our equipment, supplies, and critter passengers, and started the unpacking. After completing this task, I changed into more comfortable footwear.
We began planning and preparation for our next adventure, possibly to Minnesota, in March. I began reviewing and uploading the holo-images that Skele had recorded during our week-long sojourn. Some of those images are included with this report.
This report is now concluded.
SoghHom (Lieutenant) marSal
House Hurric (Bob Poole)
KAG Imperial Marines, Force Recon
Honor Guard
Baraboo, Wisconsin