11/29/19-12/1/19 Invasion of Starbase Indy 2019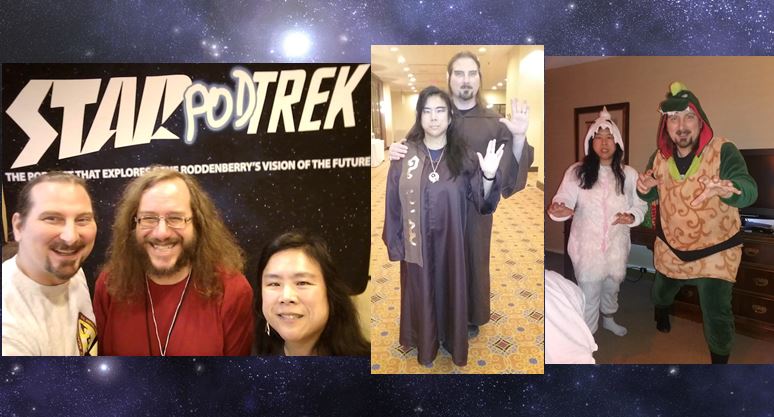 Nayr and Kavura, leaders of the XLV Predator in
Nashville, TN and the Phoenix Rising Quadrant of the Southeast, invaded
Starbase Indy on Thanksgiving weekend. Starbase Indy has been going on for
decades. It is a fan-run Star Trek convention that always tries to have guests who are fan-friendly, not just celebrities who
are only there to make money. The atmosphere is always fun, and you can feel
the Star Trek spirit in the air at
all times. The con also promotes STEM and has many science panels to boot. It
is very much an event that embraces the Star
Trek ideals of science and infinite diversity in infinite combinations.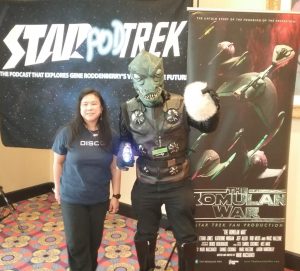 To begin with, the opening ceremonies had the introduction of the staff and this
year's guests. The main stage had a set modeled after the bridge of the
Enterprise-D. There was a captain's chair right at center stage. The highlight
of the opening ceremonies was the appearance of Gene Roddenberry, Jr., son of Star Trek's creator, Gene
Roddenberry, via Skype. He said that there will probably be a Captain Pike
series in a couple of years. That was something everyone had been dying to
know. He also talked about the Roddenberry Foundation—a charity organization he
founded to promote the Star Trek
ideals of creating positive social change on a global scale. It is a most
worthy foundation.
There were so many panels and so many other things going on that there was no way to
see everything. Starbase Indy is considered a small con, but they really pack
in a lot of programming. We went to a panel called "Games People
Play", about games on Star Trek.
The solo panel was led by our friend Ann Burton. Of the games mentioned, of
course, there was the usual 3-D chess played often by Kirk and Spock. But there
have been so many other games mentioned on Trek,
she barely got through them all in her one-hour panel. There were things like
Kal-toh, racquetball, parrises squares, Dom-jot, poker, strategema, etc. One of
the most famous was a game called "Chula" from Star Trek: Deep Space Nine. Now that name may not sound familiar,
but you do most likely remember the famous (and most hated) episode it came
from, "Move Along Home", with its shouts of "Allamaraine!"
Ann asked for volunteers to join her in the little hopscotch and chant from the
episode. Nayr and I were the only ones willing to do it. We had a lot of fun!
Too bad no one recorded it! "Allamaraine!"
You just can't have a Starbase Indy without a Klingon room party led by KAG's
Thought Admiral, Qurgh. Always well attended by Klingon warriors, aliens, and
humans alike, the party this year got kicked up several notches because con
guest Mary Chieffo, the beautiful actress who plays L'Rell on Star Trek: Discovery, made a heavy duty
appearance. She came and stayed for over an hour, walking around, seeing all
the decorations, and talking to people. She actually had casual conversations
with all of us fans! She even let us take a group picture with her. I was just
amazed at how friendly and sociable she was. She really liked mingling with us
fans and spending time with us. Right before she left the party, she gave Nayr
and I hugs. Hugs! She is a most honorable mother of all Klingons!
Adding to the Klingon fun was the Klingon Pop Warrior. She was one of the musical
guests. She has a very warm and welcoming personality, but we won't hold that
against her! She is also a great singer who can belt out the best opera or pop
songs with equal fervor. She did several concerts at the con. During one
performance, Mary Chieffo got on stage with her, and they sang a song in
Klingon together. It was a blast! We should give a battle notch to both of
them!
Even with all of our excitement, we still found time to walk around the con. There
was a large room with fan tables and celebrity autograph tables. Keith
DeCandido–author of "Klingon Art of War" and many other Klingon and Star Trek novels–was there, and he was
as gracious as always. He spoke to us for awhile about his books and Trek and autographed another of his
books for me.
We had so much of our own things going on at this con to honor the Imperial Xeno
Legion of KAG. This was the most interactive we have ever been with a con.
First, we had a Vulcan Tea Party on Friday night. We wore our Vulcan cosplay
and served hot tea and cookies. We even had serene, soothing music playing in
the background. We also had Saturday and Sunday morning breakfast and cartoons.
On Saturday morning, we showed the Star
Trek animated series episode "The Infinite Vulcan" and on Sunday,
we showed "Beyond the Farthest Star". For both breakfast parties,
Nayr wore a Gorn onesie, and I wore a Mugato onesie. We were both fierce and
adorable at the same time! We served cereal and cookies. In addition to the
room parties, we did a panel on "Evolution of Vulcans", discussing
how Vulcans changed from one Star Trek
show to the next. We labored hard and brought glory to the Empire and the IXL.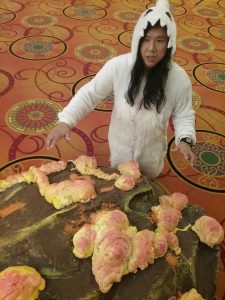 In closing, Nayr and I would like to thank Lisa Meece, who was the con chairperson, and all of her
staff and volunteers for putting on a wonderful con and for letting us have our
panel and room parties. If you are a Star
Trek fan and can attend this con, it's well worth it. It's very
family-oriented, so bring the kids and enjoy!
-by The Honorable Kavura